Azra Feriz and Nick Kolz in Palm Springs.
Writer: Hailey Allen
Photographer: Jessica Blanco
Azra Feriz and Nick Kolz always wanted a destination wedding. They'd set their sights on a 2020 ceremony in Croatia, which would have been an easy trek for Azra's extended family in Bosnia, but the pandemic swiftly derailed all plans for travel and gatherings. After three years on pause, the Des Moines couple tied the knot in a destination wedding a bit closer to home: Palm Springs, California.
The stylish oasis is known for its namesake hot springs, picturesque scenery and abundance of resorts that offer both relaxation and rejuvenation. Nick's extended family has lived in Palm Springs on and off over the years — many of his relatives still escape there during the winter — so it seemed like the perfect place for the wedding.
Azra had initially purchased a wedding dress for the 2020 nuptials they planned for Croatia. But about six weeks before the new Palm Springs date, Azra tried on the dress again to make sure it didn't need alterations. To her horror, the dress had taken on a yellow tinge during its three years tucked away in the closet.
"I went to Schaffer's. It was a total emergency and the people there were really empathetic and kind," she said. "Luckily, they had some dresses in their basement that had been ordered in the wrong size for other brides. They had some in my size that they let me try on, and I found something I was obsessed with. I was extremely lucky. I didn't even have to get it altered."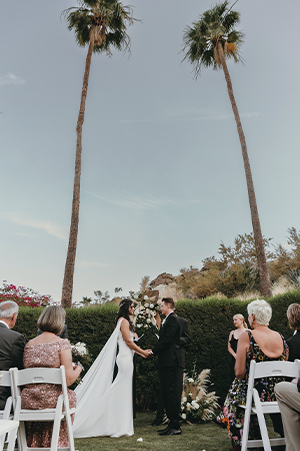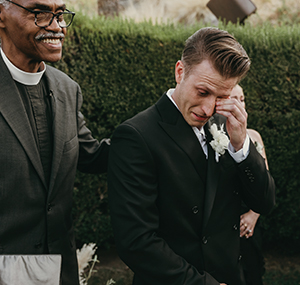 Nick's parents had a touching surprise waiting for him in Palm Springs: They secretly invited the Rev. Henry Doyle from Nick's school days at Shattuck-St. Mary's School in Faribault, Minnesota, to officiate the ceremony.
"A lot of other alumni from the school and I have a deep respect and appreciation for Father Doyle. I get holiday cards and birthday cards from him every year since I graduated almost 17 years ago," Nick said. "The fact that he was involved was truly a cherry on top of the ice cream."
The couple said they wanted to evoke an old-Hollywood-meets-European-garden-party vibe for their celebrations. The festivities began on a Wednesday with a welcome party at the Hohmann, a contemporary art gallery. The rehearsal dinner took place the following evening at the Kimpton Rowan Palm Springs Hotel. On their big day, June 9, they held the ceremony, cocktail hour and reception at Spencer's Restaurant, with stunning views of the San Jacinto Mountains.