Great Plains Sauce & Dough Co.
Writer: Beth Eslinger
Photos: Duane Tinkey and discoverames.com
Iowans try not to brag, but in Ames it's hard to be humble when even the tap water tastes good. It pumps up from an alluvial aquifer and has won a few state and even national awards.
But other local delights run just as deep. There's a steady stream of arts and culture, sporting events, recreational opportunities and hot spots for a drink and a good meal. As a popular Raygun shirt proudly proclaims, the city "Ames to please."
---
Friday
Check in at one of the newer hotels on the south side for easy access to Iowa State University or try a homey vacation rental in the historic neighborhood north of downtown. After you unpack, head out for a night on the town.
Care for a glass of wine, beer, seltzer or root beer? Take your pick at Alluvial Brewing Company and Prairie Moon Winery & Vineyards, two side-by-side properties just beyond the northern city limits. Both places have plenty of seating inside and out, with expansive views of the surrounding countryside.
On the north end of town, the Village of Somerset has some of the city's favorite places to eat. At The Café, the menu changes with the seasons, from Iowa sweetcorn risotto to miso salmon with black rice and coconut-carrot puree. (The Cafe's owners also run Provisions Lot F, which serves upscale comfort food, in the ISU Research Park.) Nearby you'll find Wallaby's Bar and Grill, a mainstay since 1988, and another sports bar called the Brick City Grill.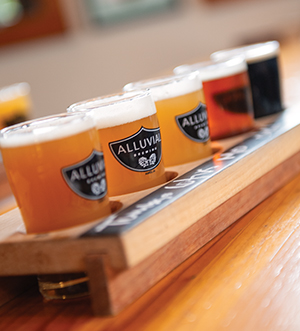 Alluvial Brewing Company
---
Saturday
Start early in the nationally designated Main Street Historic District with a coffee flight at Morning Bell Coffee Roasters, a fresh cup from Cafe Diem or tea from Little Woods. Downtown bustles year-round with eclectic shops like Dog-Eared Books and Cooks' Emporium, plus Nook & Nest and Z.W. Mercantile for home decor. Poke into the Octagon Center for the Arts gift shop for Iowa-made art and jewelry. For lunch, dig into barbecue at Cornbred in the old train depot or Great Plains Sauce & Dough Co., where those in the know save the thick-as-a-rope outer crusts for last and drizzle them with honey. And if you like ice cream, you'll love Marmalade Moon.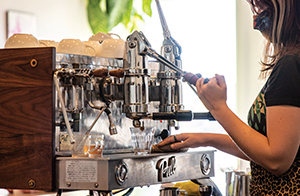 Morning Bell Coffee Roasters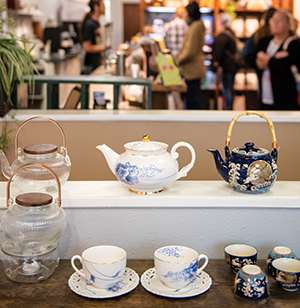 Little Woods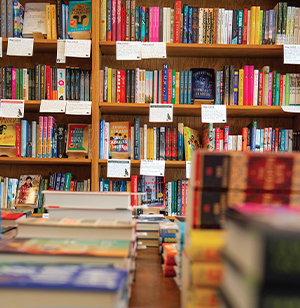 Dog-Eared Books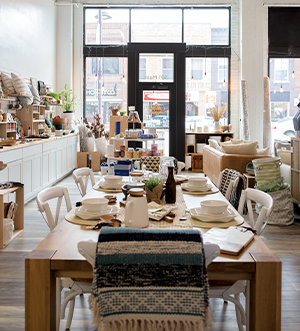 Nook & Nest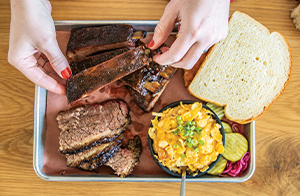 Cornbred
Cruise to Campus
If it's a game day, just follow the crowds to Jack Trice Stadium or Hilton Coliseum. But there's plenty to do on campus on all the other Saturdays, too. At the Iowa State Memorial Union, you can shop for Cyclone swag at the bookstore, enjoy a round of bowling or pool, or take an art class at the Workspace, a thrumming hive of creativity. Exit north through the Gold Star Hall (but don't step on the zodiac medallion — it's bad luck) to start your walking tour. Right outside is the famous "Fountain of the Four Seasons" by sculptor Christian Petersen, who initiated the Art on Campus collection that now comprises more than 2,500 artworks and is the largest campus public art program in the country (with a top-notch guide online). Explore rotating art exhibits at Morrill Hall as well as the 17-acre Reiman Gardens, which is beautiful year-round and includes a greenhouse filled with some 800 butterflies representing up to 80 species.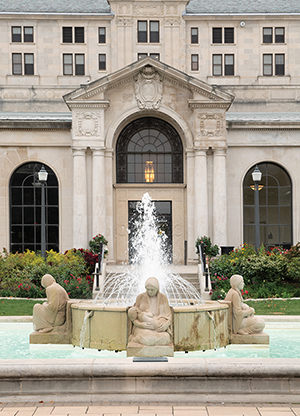 Christian Petersen's "Fountain of the Four Seasons"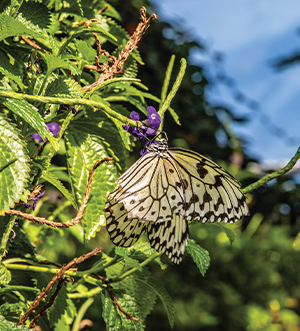 Reiman Gardens Butterfly Greenhouse
---
Sunday
For a brisk walk or hike, hit the trails at Brookside Park or East River Valley Park or take a lap around the lake at Ada Hayden Heritage Park, named for the first woman to earn a doctorate from Iowa State. Three disc golf courses near campus offer a good excuse to play outside even in the winter. And when it snows, local kids hit the big hill at Veenker Memorial Golf Course.
Before you head for home, tuck into brunch at the west side Daytime Diner or out east at Flip'N Jacks Pancake House & Eatery. Oh — and remember to refill a water bottle with some of that top-notch tap water.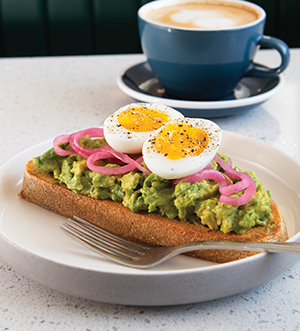 Daytime Diner