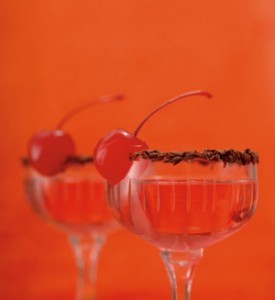 Written by Diana McMillen
Photos by Duane Tinkey
Is it your turn to host ladies' night at your house? Balance your meal by serving something nutritious along with a big dash of indulgent. By mixing store-bought specialties with simple recipes you cook, this three-course menu makes a fuss over your friends without making you crazy in the kitchen.
Ladies' Night Menu
(based on four people)
Meet and greet:
• Chocolate Martini main dish salad:
• Harvest Salad Masterpiece with Tangy Apple Cider Dressing
• Sparkling water with slices of lemon and orange
Decadent dessert:
• Extreme Chocolate Sundae
• Espresso or coffee
All recipes developed by Diana McMillen
Meet and Greet
Following the notion of "eat dessert first," greet your friends with a chocolate martini as they arrive. The chocolate-coated martini glass rim adds a touch of flavor to each sip.
Chocolate Martini
Chocolate syrup and grated chocolate
3 ounces chocolate vodka
1 ounce clear creme de cacao
Dash of maraschino cherry juice
Maraschino cherry with stem
On two small plates, make a circle of chocolate syrup on one and a circle of grated chocolate on the other. Rim stemmed glass with grated chocolate by first dipping in the chocolate syrup, then the grated chocolate; set aside. In a shaker with ice, pour vodka, creme de cacao and cherry juice. Cover and shake. Strain into the glass. Garnish with cherry. Makes 1 or 2 martinis.
Main Dish Salad
This dinner salad spills over with some of the season's best produce. Greens, other veggies, apples and feta cheese bring a crunchy-tender and sweet-tangy contrast to the plate, which also features chunks of so-easy rotisserie chicken. See what raw choices you can find, such as yellow carrots instead of orange, along with a texture/color palette of lettuces and greens. Salted, roasted pepitas (pumpkin seeds with the shells removed) and crisp purchased wonton strips finish the salad, which is then splashed with a light apple dressing. Every bite brings with it a new, refreshing taste. Keep the flavors clean with a glass of iced sparkling water.
Harvest Salad Masterpiece
Tangy Apple Cider Dressing (recipe below)
6 to 8 cups salad greens (look for a mix
of crunchy and tender, mild and pungent)
2 medium apples, cored and sliced into thin wedges
1 cup baby yellow carrots or regular baby carrots, halved
1/2 cup sliced celery
1 2-pound rotisserie chicken, meat removed and coarsely chopped
1/2 cup crumbled feta cheese (2 ounces)
1/2 cup roasted pepitas (pumpkin seeds)
Freshly ground black pepper
Wonton crisps or other crunchy salad topper
Make your dressing and chill. Place greens on oversized individual dinner plates. Arrange remaining ingredients over greens. Drizzle with dressing and serve with wonton crisps. Makes 4 salads.
Tangy Apple Cider Dressing
Blend 1/4 cup apple cider vinegar, 1/4 cup thawed apple juice concentrate and 1/4 teaspoon dry mustard in a blender or food processor. Slowly add 1/4 cup canola oil, blending until the mixture thickens. Transfer to a small container and chill until serving time. Shake before serving. Makes about 1/2 cup.
Decadent Dessert
Just when you're feeling smug about the nutritious salad, your sassy side rejoices at leveling the meal with a decadent sundae. It's not just any sundae, though. This everything-chocolate fantasy dessert layers chocolate ice creams, dark chocolate fudge sauce (microwave easy) and chocolate whipped topping in a tall sundae glass. Crown it with whatever chocolaty tidbit you find—candy, chocolate-covered treat, cookie. Finish with a steaming cup of espresso or coffee.
Extreme Chocolate Sundae
2 to 3 kinds of chocolate ice cream
Fast Fudge Sauce (recipe below)
Chocolate Whipped Cream (recipe below) or purchased chocolate whipped topping
Chocolate candy or cookie
Layer scoops of assorted chocolate ice cream in sundae glasses. Spoon warm fudge sauce over the ice cream. Top each with Chocolate Whipped Cream and a candy or cookie. Makes 4 sundaes.
Fast Fudge Sauce
Combine a 14-ounce can of sweetened condensed milk with 2 tablespoons of milk and 4 ounces of a dark chocolate bar (broken into pieces) in a microwave-safe bowl. Microwave on high (100 percent power) for 1 minute; stir. Microwave on high for 1 to 2 minutes more, stirring after each minute until the sauce is smooth and hot. Don't overcook. Makes 1 1/2 cups sauce.
Chocolate Whipped Cream
Beat together 1/2 cup chilled whipping cream and 2 tablespoons chocolate syrup until soft peaks form. Makes about 1 cup.
Pie-to-Go
Sometime during the evening, after everyone arrives or between the salad and sundae, encourage each guest make her own edible craft: a mini apple pie. You supply refrigerated pie crust, apples, sugar, spice and a streusel-like topping. Each person can peel and slice her apples while fitting the unbaked pie crust into an individual aluminum pie tin. Like a modeling clay project, each pie looks a little different. Bake the pies (it takes 45 to 50 minutes) and let them cool. They're a parting gift to take home, a remembrance of an evening with good friends.
Mini Apple Pie
1 single refrigerated pie crust or enough homemade pastry for a 9-inch single-crust pie
5-inch disposable aluminum pie pan
2 cups peeled, cored and sliced baking apples, such as Golden Delicious, Cortland, Jonathan or Granny Smith
(2 to 3 apples)
1/4 cup granulated sugar
1/2 teaspoon apple pie spice
Crumble Topping (recipe below)
On lightly floured surface, roll out the pie crust and fit into the pie pan. Trim crust about 1/2 inch beyond edge of pan, fold under crust edge and flute or decorate with pie crust cutouts. In a bowl, toss the apples with the granulated sugar and spice. Transfer that to the pie crust. Apples will be piled high. Top with Crumble Topping.
Place all pies on a baking sheet and bake in a 375-degree oven for 30 minutes. Cover with foil to keep from pies from over-browning. Bake 15 to 20 minutes more or until the filling bubbles. Cool pies on wire rack. Makes 1 mini pie.
Crumble Topping
In a bowl, mix 1/4 cup rolled oats, 1/4 cup all-purpose flour and 2 tablespoons brown sugar. Cut in 2 tablespoons butter to make a crumbly blend.
Diana McMillen, a Des Moines freelance food writer, has been known to get carried away creating and presenting main-dish dinner salads. One time the unwieldy amount of greens, vegetables, fruit and meat for four required a turkey platter for the presentation.