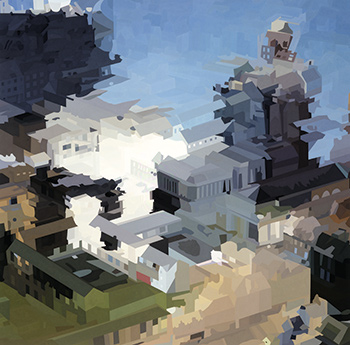 Artist Alex Brown's 3,000-square-foot studio in a converted warehouse just south of downtown is filled with some very big things. When framed, some of his paintings weigh 250 pounds or more for shipping to prestigious galleries in New York City, Montreal, Japan and Europe. On one recent day, unpacked crates had just been returned from both Geneva and Brussels.
"Some of these shipping crates are larger than our freight elevator," Brown says, pointing to a box several feet taller than he is. "This one … took four people to move it."
Sometimes his paintings, which typically sell for $25,000 to $80,000, get lost in transit.
"They can float around for weeks between various galleries and airports. This is a nontraditional business," the 46-year-old artist explains. "My relationships with art dealers are weird. There are no contracts. There are no strict rules. It's all driven by personalities, which differ considerably from one place to another. But they provide a definite service."
Though Brown has gained international acclaim for his abstract works, and can demand the prices that go along with that prestige, he keeps a low profile in Des Moines—so low, in fact, that few people outside the local art community even know who he is.
"It's extraordinary, and so fortunate, that such a highly complex artist, with gallery shows in New York, Geneva, Japan, etc., chose Des Moines to work and make his home," says Des Moines Art Center Director Jeff Fleming. The Art Center has purchased one of Brown's works for its permanent collection, and next year Brown will be included in a new museum catalog.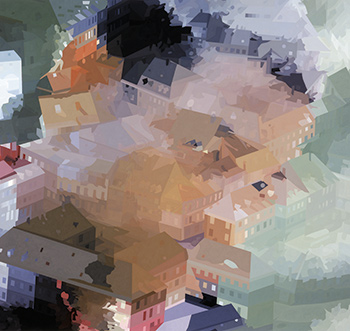 How did Brown come to hang his hat in Des Moines? The answer is part family history and part punk rock history.
Brown, who grew up here, attended Roosevelt High School for one year "and then was shipped off to boarding school in New Hampshire," he says. Next, he moved to New York City and began hanging around CBGB, the legendary Manhattan club that nurtured such new wave music luminaries as The Ramones, The Patti Smith Group, The Talking Heads, Blondie and Joan Jett & the Blackhearts. Brown became friends there with musicians Anthony "Civ" Civarelli, Walter Schreifels, Arthur Smilios and Luke Abbey. They asked him to join their hardcore punk band as guitar player.
Named Gorilla Biscuits, after a nickname for the then-popular recreational drug Quaaludes, the band became a headliner at CBGB in the late 1980s, when the club began morphing into a hardcore punk venue. Gorilla Biscuits cut some hit records and stayed together until 1991, touring the United States and Europe twice.
"The drummer and I were dropped then, to add more polish to the ensemble," Brown says. He also played with straight edge hardcore bands Side by Side and Project X and had roles at the New York City-based fanzine and record label Schism. However, he was becoming increasingly disengaged from the rocker life.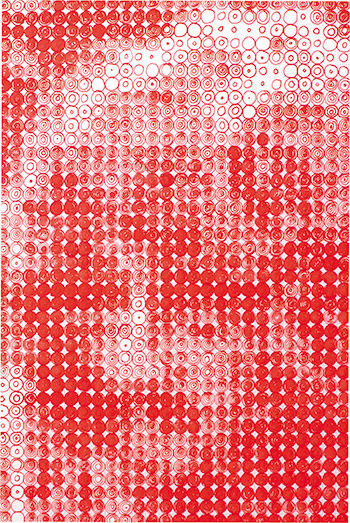 "Playing in a band is so different from painting. Touring is brutal. Dealing with the other personalities can be brutal," Brown says. "You're usually exhausted and ragged and you're never at home. It's loud rather than quiet and crowded rather than solitary. Playing in a band is a good excuse to hang out with talented friends and get free beer, but painting is more reflective of my personality."
Brown began concentrating on painting, and after three semesters at New York University, he transferred to Parsons The New School of Design. "I felt that an undergraduate art school was the right path by then," he says. "I looked at Cooper (Union for the Advancement of Science and Art) and Parsons. I had a crush on a girl who went to Parsons, so I went there."
Shortly after graduating from Parsons in 1991, Brown joined painter friend Alexander Ross to work on a project building architectural models for mega-developer The Rockefeller Group in New York.
Ross "took it upon himself then to send slides of my paintings to Hudson," Brown says, referring to an art world figure so cool that he goes by a single name, like a Brazilian soccer star.
Hudson is owner and director of Feature Inc. in New York, a trendy gallery that could be called the CBGB of fine art. The Art Center's Fleming calls it "one of the more cutting-edge galleries anywhere." Hudson liked what he saw and sent Brown a box in which to ship his paintings.
"I was so naïve then I didn't even know how to pack for shipping," Brown recalls. "I don't know what he saw in my slides, but Hudson started Feature in Chicago and has always been more conscious of Midwest artists than some others."
Brown had his first solo show at Feature in 1997 and has held seven there to date. He's also had solo shows in galleries in Geneva, Brussels, Montreal, Tokyo, Chicago and Miami. "I like at least a year between shows. It takes that long, without distractions, to make eight to 10 paintings that I like, plus a few drawings," he says.
After signing with Feature and taking a hiatus from the punk rock wars, Brown realized he could afford far more studio space and a much nicer house in Iowa than in New York City and moved back to the state in 1995.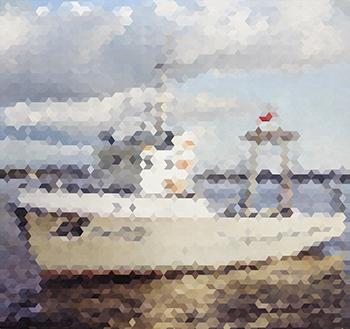 His typical day begins at 9 a.m. with an hour on the computer. Then he usually paints until at least 7 p.m. Friend and Des Moines artist Travis Rice says that Brown's work ethic amazes him but not as much as his generosity to other artists.
"He busts his butt," Rice says. "An amazing thing about Alex, though, is how he helps other artists. He's a hard-core critic. You can kill yourself on something, and he will tear it down in a moment. His advice is priceless and harsh. He's willing to mentor anyone and he will give them time if they are wiling to listen."
Brown works in a top-floor space at Art 316, which houses artist studios in a century-old building on Southwest Fifth Street just south of Martin Luther King Jr. Parkway. His studio provides a bird's eye view looking east over Principal Park, the Science Center of Iowa and downtown toward the Des Moines River and state Capitol. It's difficult, though, to integrate that perspective, or any rooftop perspective in town, with his 2004 painting "The City of Des Moines" (see page 114). In that work, one can perhaps distinguish several buildings and the river, but their relationships to other things fluster the eye with rearrangements and geometric reconstructions.
Brown "employs highly technical skills, visually engaging on many levels—complex explosions of simple images into abstraction and out again," Fleming explains. "He uses so many sources—cubism, op art and others. Yet he always comes back to abstraction in the fashion of a virtuoso."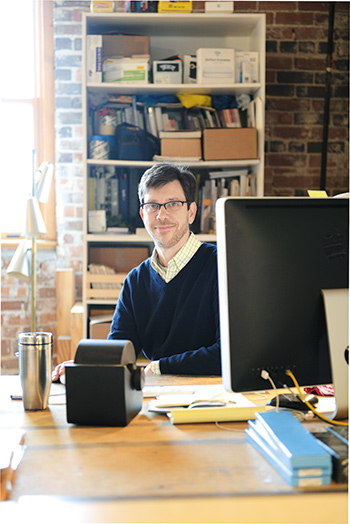 In many paintings, Brown appears to update several traditions: landscapes and seascapes, portraits and still life. He says he often works from found photographs taken from postcards, travel brochures and the Internet. He imposes a series of usually geometric transformations on that material, then breaks the images up into pixels. Those pixels have evolved over time from squares to overlapping circles and interlocking tile patterns. Lately he's been recomposing with just dots and points.
Critics have been explaining the significance of such abstractions for most of the last decade.
"A mirage is something thought to be seen which is not in actuality there; the mind creates an image for the eye to believe. Some of Alex Brown's paintings appear to be mental pictures of exactly this sort," New York critic and curator Bob Nickass wrote reviewing a 2003 exhibition in New York City.
"The images that appear out of their disorganized forms are more like apparitions than appearances—phantasmagoria emerging from the surface of the painting. In this way, Brown's work maintains its link with photography: The image is revealed slowly, as in the developing of a photographic print," French critic Vincent Pécoil wrote in a review of a 2005 show in Geneva.
Drake University law professor Ellen Yee, who was the subject of a Brown portrait, admires the way the artist provokes viewers to contemplate what they think they see.
"Alex's complex mastery of color causes a viewer to intuitively respond to the beauty," she observes. "But then he ultimately structures the images with textures created through a syncopated synchronization of shapes. That provokes deep, thoughtful observation in a manner that has become uncommon in modern life."
What's next for Brown?
"This is the first time in 15 years I am not working on an imminent deadline for a show, but my daily schedule is still much the same," he says.
Gorilla Biscuits "has sort of reunited too," he adds. "We did a benefit concert for CBGB in 2005. That clicked, and we've done reunion tours of the U.S., Australia, Europe and Japan since then. Last year, though, our drummer was injured badly in Chicago. He ripped his biceps completely apart and still finished the set. We're going ahead with a tour of Germany now and hope to help him with his medical costs."
Rock on.