Written by Sophia Ahmad
Photos by Duane Tinkey
Catherine Dreiss
Printmaker
The Fitch Building in the Western Gateway area was one of the first buildings printmaker Catherine Dreiss and her husband, painter Jeffrey Thompson, saw in 1995 when they moved to Des Moines. Its concrete floors (that she doesn't "worry about messing up") and its large, north-facing windows were both selling points. "Northern light tends to be more consistent throughout the day, with less shadows being cast," she says.
Dreiss spends three days a week in her 900-square-foot studio (she teaches at Drake University two days a week), although she'll spend nights and weekends there if she has a project to finish. The conceptual stage of her woodcut prints takes place on her iMac at home. But the rest of the creative process occurs in her studio, where she's commonly at a drafting table laying out woodcuts for carving.
Although the studio is a dedicated workspace, it strikes a balance of function and comfort. The couple keep their stereo system and Dreiss' extensive collection of vinyl records there. And they typically enjoy the company of two other family members: Frankie, a 14-year-old English setter, and Ruby, a 6-year-old French bulldog, who lounge on dog beds while their owners work and create.
---
Jordan J. Weber
Painter
Jordan Weber works with toxic mediums like spray paint, oil, acrylics and roofing tars when creating his pieces, many of which tackle social issues like race and the environment. "Literally, I use the same tar that you put on a roof," he says.
Exposure to these materials is what prompted him to move his studio from his apartment into Western Gateway's Fitch Building. Working in a space with other like-minded people was important, too. "I like being in that environment where there are other artists around you. It kind of rubs off on you—it's contagious," he says.
Weber, who also owns Fluxx Gallery in the East Village, spends at least six hours a day in his studio, painting and creating works that resemble collages. The space's white walls juxtapose against concrete floors splattered with epoxy resin, paint, rags, pastels and spray paint caps. "It's pretty gritty. It looks like a bomb went off in that place," he says.
Weber keeps both unfinished and finished works in his studio because he likes to monitor the cohesion in an entire series of works. Upbeat music such as hip-hop, experimental and electronica fills his space when he begins his projects. When he's close to completion—he can spend from one week to five months on a work—he shifts to ambient, transient and classical music. "It's crazy how music will influence your work," he says. "If you're really trying to finish a piece and you're listening to loud, rapid music, it could alter the piece and its direction."
---
John Brommel
Sculptor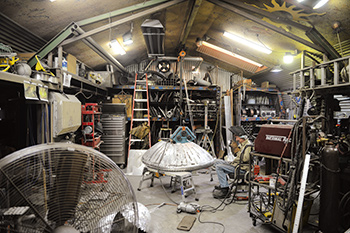 John Brommel literally built his studio from the ground up. In 2004, the Des Moines metal sculptor spent about three months constructing an 832-square-foot workspace adjacent to his home. In it, Brommel bends, cuts and welds mostly reclaimed materials into unique, large-scale pieces of art, such as the giant aluminum frog that consumed a portion of his winter.
More than three decades as a steamfitter and five years in trade school prepared him to customize his studio with sufficient lighting, a radiant heating system and an 8-inch-deep concrete floor that accommodates the heavy-duty artistic construction that takes place within its spark-resistant walls. "Everything I work with will smash you, cut you and set you on fire," he says.
The tallest point in his studio measures 12 feet, which provided him with just enough space to create a recently completed piece called Moai Dude, an 11-foot-tall, 1,800-pound rusted steel sculpture that resembles an Easter Island stone head. Altoona's first piece of public art, Moai Dude is scheduled to be dedicated May 18.
In the winter, Brommel keeps his studio at 50 degrees to counterbalance the heat from his welding. Temperatures in the space can reach up to 120 degrees in the summer, he says. And fans are out of the question since they can blow away the protective gases that bind Brommel's welds.
Though the space is utilitarian, he finds ways to keep inspiration around him, like surrounding himself with several hundred photos of nature that relate to his artistic ideas. "Quite often I'll throw them on the floor in different piles," he says.
His favorite spot is an open space in the middle of the room. "I don't know why," he says. "It's like some places have a better vibe than others. Visually, there's so much chaos all around–for me to bring whatever I want in the center is something."
---
Brian Bergstrom
Furniture Maker
When Brian Bergstrom was in search of a workspace for his custom furniture business 13 years ago, he knew it would have to be large and in a central location. He landed a studio in Art 316, a century-old converted warehouse building on the southern edge of downtown Des Moines. Ironically, that building used to house a furniture manufacturing business.
Every aspect of the construction process for Chadwick & Bergstrom Furniture occurs in that 1,300-square-foot space, from wood milling and assembly to finishing. The studio contains an array of tools required for projects, such as a drill press, table saw, planer, mortiser and jointer, as well as multiple hand tools and sanders. Some days, the air is dust-free. Other days, shavings float through the space, filling it with earthy aromas of pine, cedar and oak.
With its exposed brick and worn wood floor, the space is broken in and worked, reflecting Bergstrom's construction process and providing a contrast with his polished portfolio of modern residential and commercial projects that include sleek armoires, clean-line benches and even booths at Zombie Burger + Drink Lab in the East Village.
Bergstrom's favorite aspects of the space include its western views (ideal for sunsets) and that Art 316, which is home to more than 20 artist studios, has an open-door policy. "The building itself is neat because you're in there with like-minded people," he says.
---
Wendy Delsol
Writer
Novelist Wendy Delsol and her family moved from Los Angeles to Central Iowa seven years ago, drawn by her husband's job and the area's attractive housing prices.
Although Delsol really needs only a pencil and paper (more specifically, her spiral-bound notebook) to write, her Waukee home office has become an oasis in which her artistic creativity flows freely.
Some writers like the hustle and bustle of coffeehouses, but Delsol prefers a quiet environment. That means no background music and an intentionally serene space. Turquoise walls in a Venetian plaster finish offer a calming backdrop, and large windows allow natural light into the room.
Delsol has written a popular and critically praised trilogy for young adults –"Stork," Frost" and "Flock," all published by Candlewick Press—as well as an adult novel, "The McCloud Home for Wayward Girls." To start her day, she jots down notes longhand in a paper notebook, which she says "slows down my thought process." Still, she uses her desktop computer for both research and for writing her final draft.
Paintings include two watercolors—one of a New Orleans street scene by a college roommate and another of a house that she found curbside by her sister's home in Chicago. "I'm not above a little garbage picking," she says. Books on her shelf mostly focus on the craft of writing and include The Chicago Manual of Style and Anne Lamott's "Bird By Bird: Some Instructions on Writing and Life," plus young adult novels and a handful of reads written by her Iowa friends.
Her faithful cat, Valentine, is a constant presence when she's at work in her studio. "Everywhere I go, she follows me," Delsol says.