Written by Tom Perry
Photos by Duane Tinkey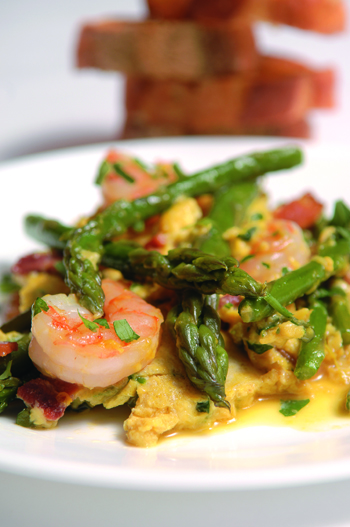 May
Scrambled Eggs with Asparagus and Shrimp
Except for the shrimp and olive oil, everything in this Spanish recipe is usually available at the farmers market by the end of May. Here's a use for garlic scapes, which are the edible but curling tops of garlic plants. Until about six or seven years ago, garlic scapes were cut and discarded by most local growers. Now, they're fashionable. Scapes are aromatic but a bit less pungent than garlic bulbs. The Iowa asparagus, farm fresh eggs and local artisan bacon make it seem as if this dish belongs here. This recipe was adapted from Claudia Roden's "The Food of Spain"
Ingredients:
1/2 pound asparagus (thinner is better)
1/4 cup olive oil
4 to 5 slices of bacon, coarsely chopped
4 garlic scapes, cut into 1-inch lengths, or 2 to 4 garlic cloves, sliced
Salt to taste
1/2 pound small shrimp, peeled
4 to 5 large eggs, lightly beaten
2 tablespoons chopped flat-leaf parsley
Cut asparagus into 1-inch pieces and discard the rough ends. Boil them in salted water until they are soft; drain. Cook the bacon. In a separate large skillet, heat the oil over medium heat. Add the cooked bacon and garlic. Before the garlic begins to color (almost as soon as you can smell it), add the asparagus and sauté for about 30 seconds, stirring and turning the pieces and adding a little salt. Add the shrimp and cook, turning once, just until they turn pink. Pour in the eggs, add the parsley and a little salt, and stir for a few seconds—the eggs should still be liquid. They will turn creamy off the heat. Another option is to cook the eggs for a minute or two before taking them off the heat; just be careful not to over-cook them.
---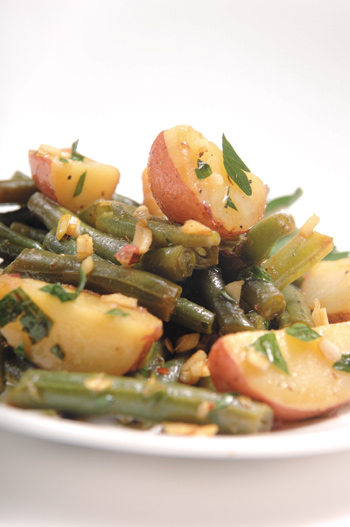 June
Provvidenza Madonia's
Green Bean Salad
Green beans, which have a long season, begin showing up in June. Locally grown new potatoes tend to arrive later, but there were some at the Downtown Farmers Market earlier than usual last year. This recipe comes from market director Kelly Foss, who learned it from her Sicilian grandmother. "This recipe had never been written down," she says. "I honestly have never measured when I've made this. Nonna didn't even own measuring spoons or cups. I use whatever I am in the mood for or whatever I have in the pantry. This is a recipe to tinker with."
Ingredients:
1/2 pound potatoes (any kind you like)
1 pound fresh green beans, trimmed and snapped in half
1/3 cup olive oil
3 tablespoons wine vinegar
2 to 3 garlic cloves, chopped
1 tablespoon (or more) oregano
1 tablespoon chopped fresh parsley
1 pinch dried red pepper flakes (optional)
Salt and pepper to taste
Steam beans until tender (8-10 minutes; do not cook the life out of them). Drain and place in bowl or on a serving platter.
Wash and boil the potatoes. They should be soft but not mushy. Do not rinse. Drain and cube them, leaving the skin on. Add to beans.
Using a large spoon, gently toss the beans and potatoes with the rest of the ingredients. Serve warm or cold.
---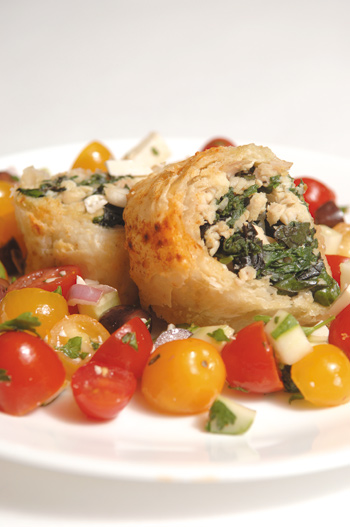 July
Feta Chicken in Phyllo
A poultry dish may seem an odd choice for July, which is when much-anticipated sweet corn is ready. But, really, fresh Iowa corn is so good it should be allowed to stand on its own. This recipe, provided by a friend, allows for the use of the handmade feta cheese sold by Reichert's Dairy Air of Knoxville. An Iowa wine, locally grown spinach and free-range Iowa chicken are also used, making this somewhat light but elegant dish a perfect summer treat.
Ingredients:
2 tablespoons olive oil
1 medium onion, peeled and chopped
10 ounces fresh spinach, stemmed and chopped
1 to 3 ounces feta cheese
2 tablespoons dry white wine
1/4 teaspoon freshly ground black pepper
1 egg, lightly beaten
3 cups cubed cooked chicken
10 sheets phyllo pastry, thawed if frozen
1/2 cup butter
2/3 cups dry bread crumbs
1/2 teaspoon paprika
Preheat oven to 375 degrees.
Heat olive oil over medium heat in a large skillet. Add onion and cook until tender, about 5 minutes. Wilt spinach by stirring for about 3 minutes. Remove from heat and stir in feta, wine, pepper, egg and chicken.
Place phyllo on a flat surface. Trim to 16 by 12 inches. Work with one sheet at a time. Keep remaining phyllo covered with plastic wrap and a damp towel. Brush unwrapped phyllo sheet with melted butter and sprinkle with 1 tablespoon of bread crumbs. Continue brushing, sprinkling and layering, for a total of five layers.
Spread half of the chicken mixture, in a 2-inch strip, along the short side of the phyllo. Leave a 1/2-inch border. Roll up, jelly roll style, starting with the chicken mixture edge. Repeat with remaining ingredients to form a second roll.
On a large baking sheet, place the rolls seam side down, 2 inches apart. Brush with butter. With a sharp knife, carefully cut halfway through the rolls in 1-inch increments. Sprinkle with paprika and bake 15 to 20 minutes, until golden brown. Remove from oven and let stand 10 minutes. Slice along cuts and serve.
---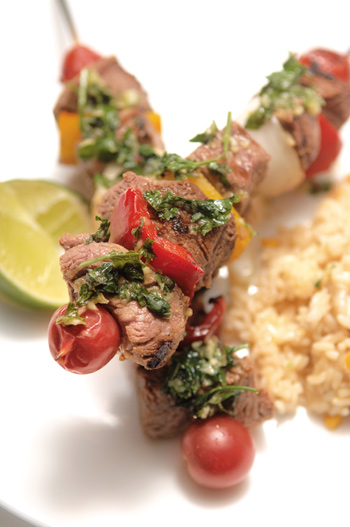 August
Espetadas (Portuguese beef skewers)
About a half-dozen market vendors sell beef from the cattle they raise on their farms. The beef is processed and frozen by a meat locker. With local garlic and cherry tomatoes in season, August becomes the month to wrap a skewered beef recipe from the Portuguese island of Madeira in Iowa goodness. The longer this dish marinates the better. In Madeira, the skewers come to the table with butter dripping off them and onto chunks of crusty bread. Go in that direction if you dare. Or eschew the butter and go with a bed of rice.
Ingredients:
2-1/2 teaspoons coarse salt or to taste
4 to 6 cloves garlic, coarsely chopped
4 bay leaves plus extras for grilling (Use fresh bay leaves if you can get them.)
3/4 teaspoon fresh ground black pepper
1-1/2 tablespoons red wine vinegar
2-1/2 tablespoons olive oil
2 pounds beef sirloin or rib-eye, cut in 2-inch cubes
Wooden skewers, soaked in water a minimum of 30 minutes
About a dozen cherry tomatoes.
Using a mortar and pestle, combine the salt and garlic, mashing the two until the garlic becomes a paste. Mix in the bay leaves, pepper, wine vinegar and lastly, the olive oil.
Put the meat cubes in a shallow non-reactive bowl and dump the seasoning paste over the meat. With clean hands, turn the meat to coat thoroughly on all sides. Cover the bowl with plastic wrap and marinate in the refrigerator for 8 hours or overnight.
Soak the wooden skewers in warm water for at least 30 minutes.
When ready to cook, thread the cubes of meat, alternating with a bay leaf and tomatoes, onto the skewers. The beef can sit out for 30 minutes or so to take off some of the chill. Grill over medium heat approximately 5 inches above the flames. Adjust cooking time to your desired doneness. Medium rare is about 2 to 4 minutes per side.
(Note: The skewers will look prettier with the tomatoes alternating with the beef and bay leaves. But it is easier to control the cooking of the tomatoes if they're on their own skewers.)
---
September
Historic Court Avenue Pork Chops
This dish is named after the street where the main ingredients—the pork chops, sweet potatoes, apples and cider—were purchased. Almost any kind of pork chop works well. Sweet potatoes steal the show here. Typically thought of as a Southern tuber, sweet potatoes are now making an increasingly larger splash at the
Des Moines market. Beer or dry white wine can replace cider.
Ingredients:
1/2 cup all-purpose flour
Salt and pepper to taste
6 loin pork chops, about 1-inch thick, excess fat trimmed
1/4 cup vegetable oil
4 medium sweet potatoes, peeled and cut into 1/8-inch slices
1/2 cup firmly packed light brown sugar
3 medium-sized cooking apples, peeled, cored and cut into 1/2-inch-thick rings
1/2 cup apple cider
Preheat oven to 350. Grease a 2- to 2 1/2-quart casserole and set aside.
Combine flour, salt and pepper on a plate and dredge the chops in the mix. Shake off excess. Heat oil in a large heavy skillet over moderate heat. Brown the chops on both sides and arrange them in the casserole.
Layer half the sweet potatoes over the chops, sprinkle a little brown sugar over the top, and season with salt and pepper to taste. Layer half the apples over the potatoes and sprinkle with a little more brown sugar on the top. Then repeat the layering with the remaining potatoes, apples and sugar. Pour the cider over the top, cover and bake until the chops are tender, about 1 1/4 hours. Uncover and continue to bake about 15 minutes, until slightly browned.
---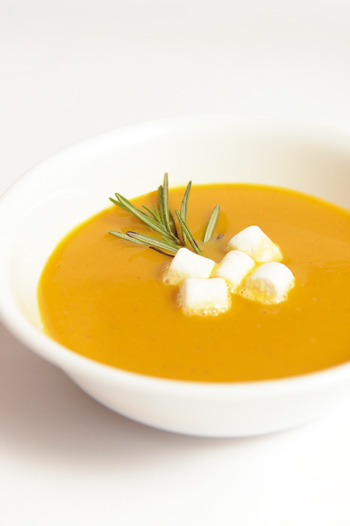 October
Butternut Squash Soup with Smoked Paprika
Fall squash always seems to be plentiful in Iowa. Newer varieties of squash have been showing up at farmers markets in recent years. More are likely to appear in the years ahead. But there's something comforting about butternut squash, which seems to embrace different flavors gleefully. Smoked paprika, now relatively easy to find, lends a smoky flavor. Quick and easy, this soup has a bit of a sweet kick to it and makes for a nice meal starter.
Ingredients:
3 cups of butternut squash, peeled, seeded and cubed
Water to cover squash
1 1/2 cups chicken broth or stock
1 teaspoon hot sauce
1/8 teaspoon white pepper
1/8 teaspoon cayenne pepper
Dash of salt
1 teaspoon dark brown sugar
1/8 teaspoon smoked paprika
1/2 cup sour cream
1 cup mini marshmallows
Boil cubed squash in a medium saucepan until softened (about 10 minutes).
Drain squash and return to pan. Add chicken broth to pan with squash, sugar and seasonings. Simmer for a few minutes. Put mixture in blender and puree until smooth. Pour back into pan. Over very low heat, add sour cream and blend until smooth and warm. Garnish with marshmallows.