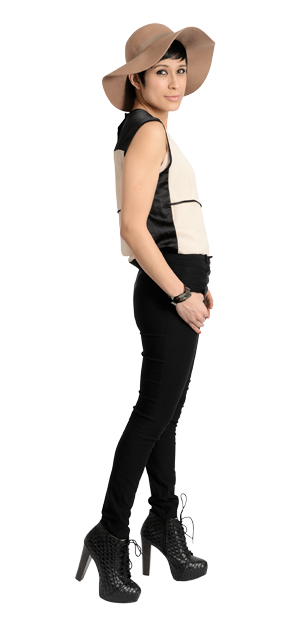 Written by Shawnna Stiver
 Five things to know about fashion designer Laura Rodriguez
1
She's a self-taught clothing designer. Rodriguez's earliest memories are of a dressmaker sketching in a shop in her hometown of Guadalajara, Mexico. "I still remember the pencil and paper he was using," she says. "Five minutes later, he turns the paper around and, whoa, there was a dress." She taught herself to draw at age 6 and the basics of sewing at age 8. "I started by making clothes for my Barbies and I just fell in love with it," says Rodriguez, who about nine years ago moved to Des Moines with her mother and her siblings to join extended family here.
2
A love for fashion runs in the family. "My mom always dressed up. Even to take us to school, she grabbed a pair of heels to throw on," says Rodriguez, adding she would get lost for hours in her mother's closet, admiring her dresses, massive shoe collection and hoard of Vogue magazines. As Rodriguez's biggest fan and critic, her mother pushes her to be better. "One day I was rehearsing for a fashion show and my mom said, 'I can see the threads on that dress,' and she was right. She has this eye for things," Rodriguez says. "I still do everything for her approval."
3
She's inspired by Mexican painter Frida Kahlo. "Her story, her art, everything about her inspires me. I even named my basset hound Frida," she says. Rodriguez, who's had no formal design training, vows to maintain her heritage through her work by incorporating Mexican embroidery or a pop of color into some of her designs or adding more prints. She loves creating dresses the most.
4
She has 2-year-old twins. Rodriguez is a mother to Azul, a girl, and Luca, a boy. After working at her part-time job as a restaurant server and tucking her children into bed, she retreats to her basement studio and becomes a one-woman design and dressmaking operation. "I pull all nighters all the time," she says, adding that her work ethic and intense passion drive her to maintain the exhausting schedule. "People confuse the money with the passion," she says. "If I wanted to make money, I wouldn't be doing this. There's nothing that makes me happier than designing clothes."
5
She dreams of moving to Europe. "I've always had this fascination with Europe: the Eiffel Tower, outside cafes, girls wearing stripes and berets. I think French women are the best-dressed people in the world," she says. Her children have one more year before they can start preschool, which gives Rodriguez time to learn the business side and then move to pursue her dream. "I am a fashion designer, but I'm a mom first," she says. Her twins "changed my life completely. They make me want more. My dreams didn't change; the path is just a little different. It's time. Time to dream big."