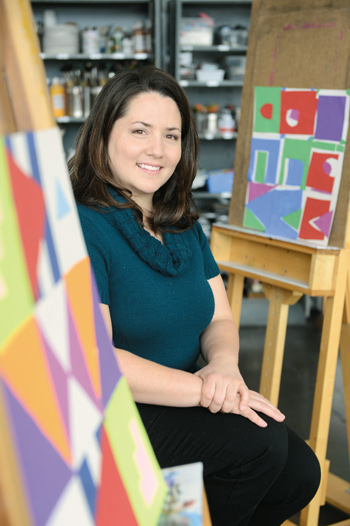 Tracy Duran-Torres
Art for Life
In junior high school, Tracy Duran-Torres got into trouble for forcing a classmate into a locker. As dubious as it may sound, it was an act motivated by a burgeoning sense of righteousness: That classmate had been picking on someone else.
It may have been one of the first times that Duran-Torres, now 33, stood up for the underdog, but it wasn't the last. A Colorado native, she moved to Iowa in 2007—by way of Las Vegas and Southern California—to be a visiting artist at the Des Moines Art Center. Part of that job included teaching adult and teen education classes, a role that eventually expanded into Duran-Torres' new position as the Art Center's outreach and adult programs coordinator.
Decades ago, it may not have been the future that Duran-Torres imagined for herself, but in the story of her life, advocacy and outreach are always there, lapping at the edges of whatever else she finds herself doing. While in the Master of Fine Arts program at California State University, Fullerton, Duran-Torres, an oil painter, began teaching and running outreach programs; before that, she had mentored at-risk children who were enrolled in an after-school boxing program.
Today, every day, local kids ramble across the threshold of the venerable studios at the Art Center. They represent a cross section of our society's hardest-hit youths—at-risk, abandoned, abused, in trouble or trying to get out of trouble—and come from Children and Families of Iowa, Homes of Oakridge, Youth Emergency Services and Shelter, other organizations, schools and foster homes. There are also classes for elderly people with dementia and Alzheimer's disease.
The challenge for Duran-Torres is using the sessions to make art meaningful for diverse groups of people. What point is there to art when a teenager is trying to escape an abusive adult? Or when the challenges of mental illness make day-to-day interactions impossible? What purpose can art serve for kids and adults who may lack a safe and secure home, or for adults who can no longer take their memory and ability to learn for granted? To Duran-Torres, art represents both potential and possibility—for helping these children eek out some sense of self-worth and accomplishment, improve decision-making and problem-solving, and perhaps discover beauty and gain a sense, however inchoate, of what binds us together as humans.
Duran-Torres talks to students about how what they're learning and creating relates to life outside the Art Center's walls. "I make it personal for whatever person I'm dealing with," Duran-Torres says. "It's about being able to walk into a room and not being judgmental no matter who you are dealing with. No matter what they've done in life, every human deserves kindness and respect, and they deserve the possibilities art can open up for them."
Those possibilities include steps big and small. There are the students who studied the Underground Railroad, then wrote stories of their lives on paper and stitched them together into quilts. An autistic boy, uncommunicative at the beginning of a program, could walk through the museum and discuss any piece of art by its end. When a boy with schizophrenia started, he couldn't write; while in the program, he learned to hold a brush and pencil and began to record his thoughts.
"Tracy with her clear rules and guidelines creates the environment for creative expression," says Margaret Toomey, who works with Children and Families of Iowa. "Her patience and understanding coupled with 'redo because you didn't follow directions' make (her) the perfect person for outreach programs."
Six years after moving to Des Moines, Durran-Torres has a job she loves, a husband and a daughter. She still paints, in whatever windows of time she can find. "To be able to balance is hard, to have a family and this career, but I think I'm lucky," she says. "I work with kids who think they have nothing in the world, no one in the world, and give them a new form of expression. That release is very fulfilling."
Written by Kelly Roberson
Photo by Duane Tinkey
---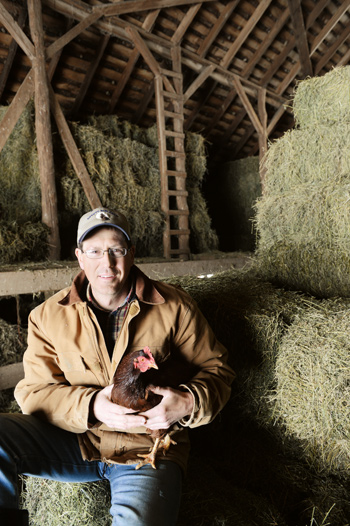 Matt Russell
Egghead
For a few years, the buys went down during winter in the parking lot behind The Shops at Roosevelt.
The transactions took place as darkness gathered. Between 4:45 and 6 p.m., customers drove up, making their purchases from a slender man working out of his car. When neighbors inquired, the deal was revealed: They were shown 50-quart ice chests full of fresh eggs from Coyote Run Farm.
"I'm sure it all looked a little strange," farmer Matt Russell says. "One spring, we made arrangements with customers to come and get their tomato plants in that parking lot, and a few people from across the street did come by to ask, 'What's going on?' "
In peak season, Coyote Run's pasture-roaming hens lay about 100 dozen eggs per week. Often there are not enough eggs to meet the demand of the regulars on the farm's weekly email list of 300 people who are willing go out of their way and pay extra ($3.50 a dozen at press time) for these eggs.
"They really are so much better than store-bought," says Sara Springer, a printing company manager and avid home cook. "The texture is smoother and creamier. As an eggs-sunny-side-up person, I see more sunshine in these eggs than other eggs."
The pick-up point for Coyote Run Farm's eggs moved indoors to Plymouth United Church of Christ on Ingersoll Avenue this past winter. "It's a lot warmer," Russell says of the east lobby, where customers also collect pre-ordered vegetables and grass-fed beef, when available. For the past six years, customers also have been buying from Coyote Run at the Des Moines Downtown Farmers Market. The farm was among the first to introduce local cooks to dozens of varieties of heirloom tomatoes.
Set on 110 acres in Lacona, about 30 miles southeast of Des Moines, Coyote Run Farm has been owned and operated by Russell, 42, and his husband, Patrick Standley, since 2005. While Standley works the farm, Russell commutes to the Drake University Law Center, where he is state food policy project coordinator.
The Drake center is the headquarters for the Greater Des Moines Buy Fresh/Buy Local Campaign, which Russell coordinates. With about 120 farmers, producers and local businesses as members, Buy Fresh/Buy Local embarked in 2004 on its mission to build bridges between growers and consumers.
"I think we've been eating a lot more of what we grow in Iowa and growing a lot more of what we eat," Russell says. He cites "unbelievable" increases in his business at the downtown market, which he describes fondly as "the place where Des Moines comes to meet itself on Saturday mornings between May and October."
As a native Iowan with feet planted firmly in farming and academia, Russell has the credentials to "have a global view of what's important to local food and our local market community," says Kelly Foss, director of the Downtown Farmers Market. "We were ecstatic when he agreed to be on our vendor advisory committee."
The news is good for food enthusiasts, such as the egg junkies who have gone out of their way to buy from Coyote Run for the past five winters, Russell says.
"More farmers and producers understand that people will pay a little more for what we sell because what we're selling is a passion for doing what we do," he says. "And usually that translates into something local that's really going to taste fantastic."
Written by Tom Perry
Photo by Duane Tinkey