Bookshelf
What We're Reading
The Bully Pulpit: Theodore Roosevelt, William Howard Taft, and the Golden Age of Journalism
by Doris Kearns Goodwin (Simon & Schuster, 2013).
Fascinating exploration of the first decade of the Progressive era, focusing on Roosevelt and Taft's relationship and the influence of famous investigative journalists such as Ida Tarbell.
Modern Farmer
Engaging, surprising and beautifully designed quarterly magazine covering the "people, issues, animals, plants and technology of contemporary farming and food."
Des Moines Art Center Collects
Edited by Lea Rosson DeLong (Des Moines Art Center, 2013).
Includes more than 300 selected works from the Art Center's permanent collections.
Winnie Davis:
Daughter of the Lost Cause
by Des Moines author Heath Hardage Lee (Potomac Books/UNP Press, April 1, 2014).
Chronicles the life of the youngest daughter of Jefferson Davis, president of the Confederacy during the Civil War. Lee will give a talk on the book at the Salisbury House April 17 at 7:30 p.m. as part of the organization's History Series.
Aimless Love:
New and Selected Poems
by Billy Collins (Random House, 2013).
Collection of more than 50 new poems and selections from four previous books by one of the nation's most acclaimed and popular poets.
---
Insider
Our take on where to go and what to do around town
Experience …
… the Alvin Ailey American Dance Theater at the Des Moines Civic Center March 18. Famous for its eclectic repertory and evocative performances, the ensemble incorporates a dynamic mix of ballet, jazz, and modern and African dance. The late Alvin Ailey, who drew inspiration from spirituals, gospel music and the blues, founded the troupe in 1958; since then, it has performed for some 23 million people in more than 70 countries. Tickets for the Des Moines performance range from $15 to $70 (the top price is subject to change), available through the Civic Center box office, Ticketmaster locations, online at DesMoinesPerformingArts.org, or by calling 800.745.3000.
---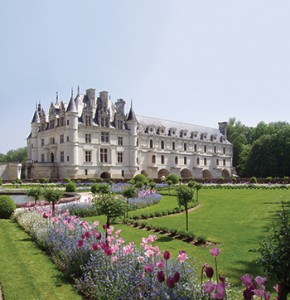 Explore…
… the beauty and grandeur of French gardens on a trip sponsored by the Friends of the Greater Des Moines Botanical Garden. The "Gardens of France Tour," June 22-July 1, will include stops in Paris, the Loire Valley and Normandy. You'll tour, among other gardens, the Luxembourg Gardens in Paris; the famous Gardens of Versailles; Claude Monet's Garden at Giverny; and the Château de Chenonceau (pictured), claimed to be France's most photographed chateau. The price is $3,400 per person, based on double occupancy, and includes hotel accommodations, many meals, ground transportation and more (it does not include airfare). Registration deadline is March 31. For more details, contact Amanda Jordan, 323.6265 or ajordan@dmbotanicalgarden.com.