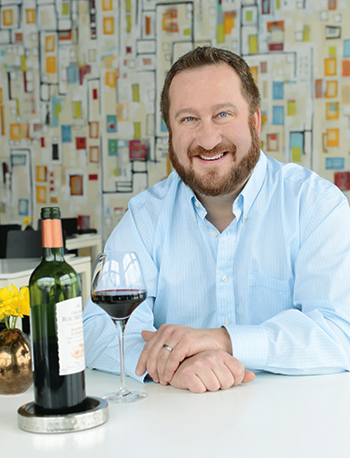 Reviewed by Wini Moranville
Photos by Duane Tinkey
I've often felt that I would put any of America's lavish dining splurges up against their French counterparts. Dollar-to-euro, restaurants like Tru in Chicago, Michael Smith in Kansas City and Campanile in Los Angeles usually thrill as much as the high-end French temples of gastronomy I've visited.
For sure, America knows how to dazzle, especially when a lot of money is changing hands.
But where France has us beat, and the style of dining I miss most when I come back to America after a trip abroad, is in the "everyday pleasures" category. I dream of the unassuming restaurants on the back streets of lesser-known towns—places that may never snag Michelin stars or make it into a guidebook, but always attract a core of neighborhood habitués.
Le Jardin, which reopened last fall, seizes this niche like no other French restaurant in Des Moines. Go to Baru 66 for highly detailed, head-turning cuisine, and count on Django for hearty, Iowa-friendly takes on brasserie cooking.
Head to Bistro Montage for classic French fare and to romance your date.
But when you want to eat in the casual-yet-refined way a French person might eat on a Tuesday night, get yourself to Le Jardin.
Food lovers may have already enjoyed owner-chef Tag Grandgeorge's cooking in years past. From June 2008 to September 2010, Le Jardin shared space with La Mie; the latter served breakfast and lunch, while Le Jardin took over the space for dinner. As both restaurants swelled in popularity, one roof could no longer house them both.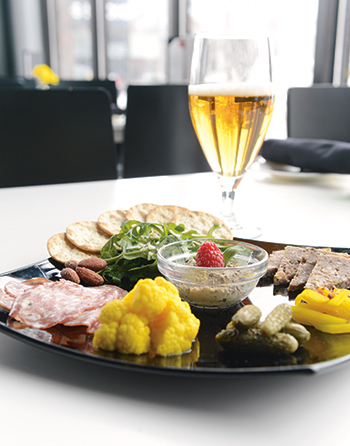 Grandgeorge pulled out to find his own spot. In the meantime, he focused on catering. Last fall, he landed in Beaverdale, in the modern brick storefront formerly occupied by Flarah's, the charming lunch-and-cheesecake spot that closed last year.
These days, a whimsical cityscape mural charges the room with color, and the tall, wide windows frame the sparkle from neighborhood lights. Nevertheless, with its exposed ceiling, concrete floor and sleek black-and-white furnishings, the ambience can feel somewhat stark. I started to wonder if tablecloths might soften up the hard edges.
But start asking for tablecloths and up go the expenses—and suddenly the sweet spot that Le Jardin strikes so well could get lost.
The menu kicks off with charcuterie and cheese, and yes, you'd be forgiven for thinking that this is just another on-trend venue hopping on the charcuterie bandwagon.
But let's remember that long before some local chefs started feeling all righteous and radical about transforming organs and offal into crazy-good pâtés and mousses, Grandgeorge was already serving lush and swoon-worthy pâtés in 2008 at Le Jardin at the La Mie venue. Charcuterie first fired his imagination while on a working sojourn in 2004 to his ancestral home of Alsace (whence hailed grandfather Grandgeorge).
Steeped in tradition, Grandgeorge's approach to charcuterie feels more about bonhomie than badass-itude. On a recent visit, I reveled in a lusty yet finesse-filled pork pâté—when I closed my eyes, it tasted like France. Also look for his rabbit liver mousse, tweaked with shredded apples, shallots and brandy.
Seasonal French cooking grounds much of the menu; most plates come with locally raised meats and well-chosen gifts from the good earth (Le Jardin means "the garden," after all). On a February visit, robust, winter-flavored choices included roasted pork shoulder with apples and dried cherries; Bordeaux-braised duck with turnips and carrots; and truffle roast chicken with wild mushrooms and kale. Side dishes, including a parsnip mash, potato cakes and farro (an ancient grain now trending in the United States but long appreciated in France and Italy), were equally tuned in to what we craved on cold nights.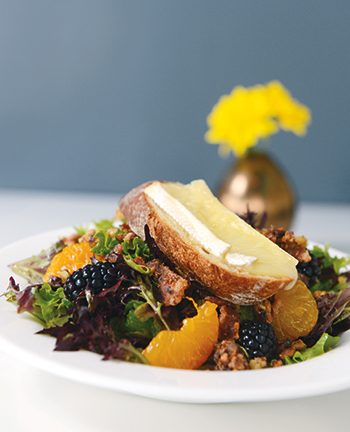 As our local growing season hits its stride, Grandgeorge looks forward to brightening the menu with produce from local gardens in dishes such as his Niçoise salad, featuring anchovy-crusted walleye, baby fingerling potatoes, green beans and heirloom tomatoes. Another fresh-focused offering: pan-fried trout with warm lentil salad, smoked pork belly, and butter-poached leeks, served with lemon- and fennel-enhanced sauteed green beans and radishes.
Even when Grandgeorge marches to a contemporary American beat, he polishes it with French touches. Kale, considered a gustatory abomination in France, gets braised with bacon then glossed with a peppercorn gastrique (a classic French reduction of vinegar and a sweetener). American chefs love creating signature versions of meatloaf; Grandgeorge makes his with rabbit, a favorite French ingredient.
Casual prices also distinguish Le Jardin. In a culinary landscape where such seasonally focused chef-driven entrees often climb into the middle to high $20s price range—with $12 glasses of wine inflating the bottom line—it's a delight to see most main dishes priced $20 and under, with wines going for $7 to $9.
You can go even more casual with the artful omelets (such as a wild mushroom omelet for $13) and stay especially true to France, where omelets
are typically enjoyed at lunch and dinner.
---
"I want to make quality food that is affordable," Grandgeorge says. "We don't want to be known as the place you go once a year for your anniversary. We want to be the place you stop in once a week for a great meal featuring local ingredients."
---
Le Jardin
2815 Beaver Ave #101
515.255.5787
Dinner: Wednesday through Saturday,
5 p.m. to close
Brunch: Saturday and Sunday,
9 a.m. to 2 p.m.