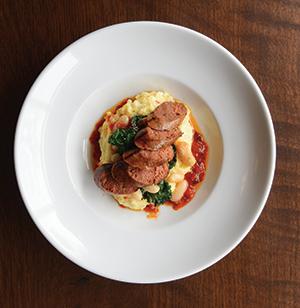 Reviewed by Wini Moranville
Photos by Duane Tinkey
Every decade or so, a restaurateur with talent and drive opens a restaurant that brings a sea change to the Des Moines dining world. I predict that's exactly what Jason Simon has done with his new venue, Eatery A, which opened at the end of April.
This Ingersoll Avenue hot spot is set to shake up polished-casual dining in the same way that Centro rocked downtown dining when it opened in 2002, and in the same way that Bistro 43 smoothed the path for chef-driven bistros in 1997.
Simon first turned heads at Alba, his flagship East Village restaurant. I especially applauded the way he handled vegetables, starches and grains as artfully as he did the proteins. Garlic mashed potatoes? Alfredo-sauced pasta? No indeed. Simon and crew have trusted our culinary zeitgeist enough to star hearty meats with the likes of quinoa, black lentils, farro, kohlrabi, beet greens, red chard and rutabagas.
Though I've always found Alba's prices exceedingly fair considering the quality of ingredients and level of imagination at play on each plate, for most of us, a meal there wouldn't be a once-a-week thing.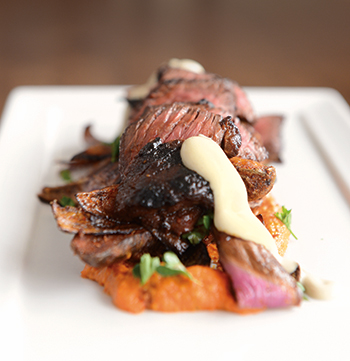 Enter Eatery A, where nothing is priced over $15.
"I want to make it more friendly for everyone," Simon says. "I'd like to see people heading here two times a week rather than once every two or three weeks at Alba."
When you think of places you can go for a lively bar scene while staying at the $15-and-under mark for entrées, you'd be forgiven if you mostly envision burgers, sandwiches, predictable pastas, and piles of lettuce topped with salmon, chicken or tuna, along with other mainstays of moderate-priced dining.
Instead, how about starting dinner off with sambusak, a flaky turnover filled with lamb and hummus. Or nibble on some papas bravas, a Spanish snack of toasty, appetite-rousing potatoes flecked with a spicy rub and drizzled with aioli. Plenty of similarly exciting small bites kick off the menu.
If your dining life isn't complete without a salad to start, there's still no need to sleepwalk through this course. Get the fattoush, a Levantine bread salad, which in this case brought arugula, delicately diced tomatoes and cucumbers, and lavash (a Turkish cracker bread) in a tangy yogurt dressing.
By now, you might be sensing a Mediterranean bent to the food here; if so, you're right on track. Simon has described the food as "Mediterranean—with the focus on the wood oven."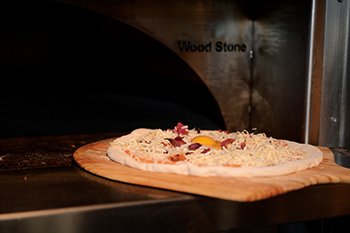 That wood oven fires up the 14 specialty pizzas, and while selections veer off the beaten pepperoni/green-pepper path, the kitchen isn't playing the kooky card, either. Combos such as figs, prosciutto and greens; olives, capers, feta and preserved lemon; and Italian sausage, braised fennel and mushrooms are inventive, yet grounded in flavors that would be at home from southern Europe to north Africa.
I enjoyed pizza #1, with mortadella, pistachio pesto and watercress atop an olive-oil-glazed puffy-yet-light crust that had just enough smoky char to spotlight the pizza's wood-oven origins.
And while the $13 price tag for these pies is insanely reasonable, they go even lower during happy hour (3-6 p.m. daily), when pizzas, wine and draft beer are half price.
Yet the menu moves well beyond small plates and pizza; in fact, the main dishes are where Eatery A most forcefully distinguishes itself in the casual dining realm. The kitchen, headed up by chef Nic Gonwa, who's worked with Simon since Alba opened, sends out fresh and imaginative takes on lamb, steak, scallops, shrimp, mussels and pasta, all at the promised under-$15 price point.
Highlights on two preview visits included the flavor-charged hanger steak, served with potatoes bravas, charred onions and romesco—a lively Catalan sauce anchored by tomatoes, sweet peppers and almonds; and the merguez, a spicy lamb sausage, served with polenta and a white bean ragu.
As for pastas, Eatery A will always be etched in my culinary memory as the place I first tasted gnudi, a dumpling-like pasta now trending in the food world. This version arrived delightfully chewy on the outside and creamy on the inside; the carrot beurre blanc sauce provided a bright, light foil to the rich pasta disks.
My preview visits brought only one out-and-out dud: The stuffed calamari had a strong fishiness (rather than a bright and sweet fresh-sea taste). Fortunately, an expert scallops dish in a charred eggplant puree bodes well for the seafood side of the menu.
More good news: The ambience is as ambitious as the menu. Reclaimed wood gleams throughout, while vintage chandelier crystals are refashioned to dangle in sleek, contemporary lines. Old-fashioned hand mirrors make a retro wall relief, and curved booths invite friends to pile in (or lovers to huddle up).
Simon has mentioned that all that wood is a nod to the wood-oven focus of the menu, yet I think it's symbolic of something equally compelling: Just as Simon has given dashing new life to old materials, he's breathed daring new life into our dining scene, making the midrange drinks-and-dinner meal anything but middling.