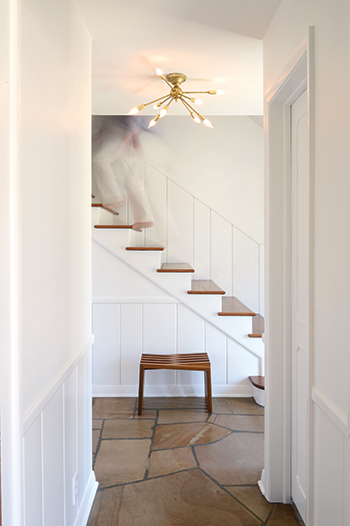 Written by Sophia S. Ahmad
Photos by Duane Tinkey
With a background in buying and restoring homes, Des Moines interior designer Hal Davis and pharmacist Doyle Tweet frequent open houses. On one such outing last year, they discovered a midcentury house South of Grand and became intrigued with the 2,400-square-foot home's hilly backyard, walkout basement and scenic views to the west and south. However, its period décor, including olive green walls, heavy drapes and out-of-date fixtures, made it difficult to love at first sight.
"We looked at this house three times before we considered purchasing it," Davis says. "We were attracted to the originality, but it was very dated."
But after a few visits, its quirky characteristics and quality construction began to appeal to them. The house was built in the mid-1950s by Gerald A. Jewett Jr., one of the namesakes of Gilcrest/Jewett Lumber Co., who lived there with his family until he sold it to Davis and Tweet last September. Jewett had handpicked the diverse species of wood—including walnut, white pine, Philippine mahogany and pecky cypress—that cover large portions of the walls in the house, even in the garage. (Scroll down to read about Jewett's memories of the house.)
"We look for homes that are untouched so we can keep the integrity of them," Davis says. "This house could have been torn down and a big McMansion built on (the lot). .… We love homes, and we love homes with a history. We find it very important to keep these homes alive and to preserve history."
They spent four months renovating the house, using its roots as a jumping-off point while updating it for today's living. The result is midcentury style with a contemporary flair, highlighted by clean, modern elements.
"We really live with the idea that less is more," says Davis, who last year starred in the HGTV series "West End Salvage." "We purchase things that we love and that have a story. … We just don't fill our house up with stuff."
---
The Jewett Home
Invention, drive and excellence run in Gerald A. Jewett Jr.'s DNA. His great-grandfather, George A. Jewett, was an early founder of Jewett Lumber Co. and
the Jewett Typewriter Co. As a member of Drake University's founding community, George A. Jewett became legendary for signing every diploma issued by the university until 1934. Four generations later, Gerald A. Jewett Jr. was instrumental in merging Gilcrest Lumber Co. with Jewett Lumber Co. in 1985.
As a boy, Gerald A. Jewett Jr. played on the land on which he would eventually build his dream home. He graduated from the University of Iowa in 1950 and married the same year. Two years later, he bought the lot, and two years after that, he began building his house. He spent many hours in his basement crafting the paneling that covers many of the walls in the home.
He lived there for more than five decades. "When I built the house, I was very fussy about staying in for a long time, which I did," Jewett says.
The home's unique features include a pre-molded membrane on the basement floor to prevent moisture from seeping in. A two-inch water pipe from the main to the house ensures strong water pressure. Window panes are crafted from insulated glass, and Jewett insisted that the sewer lines be made from cast iron instead of the traditional Orangeburg bitumenized fiber pipes. Forty pipes, each carefully labeled at the furnace, deliver hot air to different rooms throughout the house.
Jewett handpicked the 30,000 paving bricks that cover the exterior of the house, the back patio and the basement fireplace. He bought them
from the construction company that was building Veterans Memorial Auditorium at the time, loading and hauling the bricks back to his home himself. The bricks had covered Fourth Street.
"The house was my pride and joy," he says. "I built it to raise my family in, and it worked out."