Written by Vicki Ingham
Photos by Ignatius Widiapradja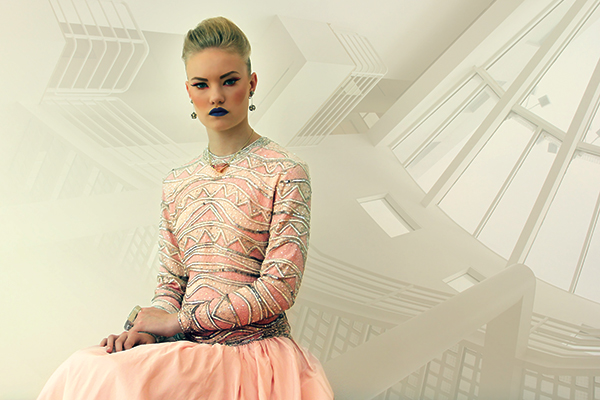 Models: Eden, Oxana, Liz Lidgett
Casting director and wardrobe stylist: Lucy Shay
Hair and makeup supervisor: Lindsey Mollenhauer
Hair: Brianne Cummins, Amber Hathaway
Makeup: Patrick Boltinghouse and Hunter Wilhelm, both with Vanity & Glamour Cosmetics; Lindsey Ritland
Styling assistant: Mayim Yael
Jewelry: Ann Au, 2AU Ltd.; Leona Ruby
Shoes: PeepToe
[dropcap]T[/dropcap]he Younkers department store chain in 1976 brought Halston, then America's preeminent fashion designer, and his entourage of New York models to the city to stage a benefit fashion show for the Des Moines Art Center. It was a homecoming for Halston: He was born in Des Moines and remembered seeing his first fashion show in the elegant Younkers Tea Room with his mother and grandmother. Halston's show, held in that same Tea Room, was so successful that the department store hosted similar fundraisers for the Art Center in 1979 with Bill Blass and in 1981 with Geoffrey Beene.
Today, the art and fashion worlds are joining forces again to support Art Center programs and its free admission policy. This time, however, the event is much more than a one-time show. Art Meets Fashion is an unprecedented weeklong celebration Sept. 13-20 with events ranging from an East Village "window crawl" to the opening of a major exhibit (see story, below) to a black-tie gala and late-night finale party. Other highlights include a pop-up boutique of vintage and gently used designer-label clothing and a luncheon with award-winning menswear designer Todd Snyder and More magazine editor Lesley Seymour. (Scroll down to find details on all the Art Meets Fashion events, including a story on the Warhol/Halston exhibit.)
"I don't think anything like this conjunction of fashion week, gala and exhibition has happened before, at least not in my experience," says Art Center Director Jeff Fleming. "The stars just seemed to align—it's extraordinary how it has all worked out."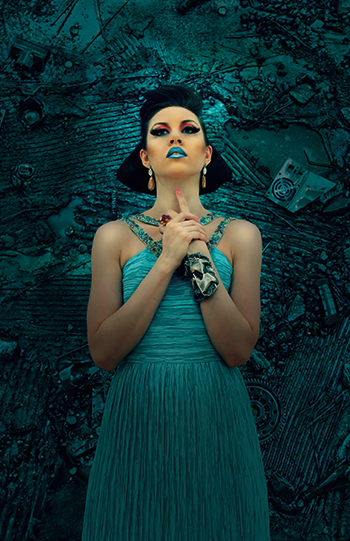 The Beginning
Art Meets Fashion will be the culmination of about two years of planning. It all started on a May evening in 2012, when Ellen Hubbell invited some friends to her home for an informal focus group. She had been thinking about an Internet-based project that would allow people to connect with others who treasured the couture in their closets, even if they no longer wore it. Pamela Bass-Bookey recalls, "Everyone talked about their item, why they bought it and when, and the problem of making sure someone who appreciated it would get it."
The women agreed they felt a sense of stewardship toward the art in their closets, but the idea of simply selling it wasn't satisfying. "The surprise for me," Hubbell says, "was to realize that disposing of these treasures had to serve a higher purpose than to simply put it in a box and ship it off." And so the idea of a benefit to support the Art Center was born.
Soon after, Hubbell and Loulou Kane approached Fleming with the proposal. As it happened, the timing was perfect: Fleming revealed that still-confidential discussions were underway for an exhibition bringing together couture by Halston and works by Andy Warhol. He endorsed the idea of a fashion-week fundraiser anchored by the exhibition. "Before I knew it," says Kane, "we were a team, and Ellen was saying, 'We can do this.' " Together with Bass-Bookey, Rusty Hubbell and Janis Ruan, Hubbell and Kane formed a planning committee. Working closely with Art Center staff, they started brainstorming. "We didn't want the event to be too serious," Kane says. "We wanted it to be fun and draw in a lot of people. So we came up with the idea of making it a week long and started filling in with events, some ticketed, some not."
The committee approached likely donors for recent and vintage couture to sell at an auction. The response became increasingly enthusiastic and generous as word spread about the project. Couture even came in from as far away as Santa Fe, N.M., Denver, Chicago, and Naples, Fla., as friends of Art Center patrons joined in. Gorgeous gowns by the likes of Geoffrey Beene and Mary McFadden, classic suits by Coco Chanel, and iconic outfits by Missoni and Yves St. Laurent began to fill the climate-controlled storage space donated by Ruan Transportation Management Systems Inc.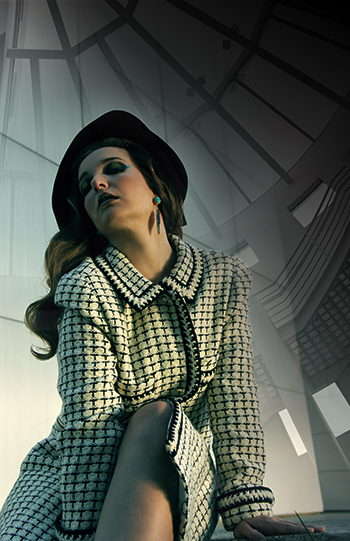 Men's Designer Wear
With the help of Frank Vaia, who has experience in menswear retailing, the project expanded to include men's designer clothing. "A lot of kind, generous people willingly donated some outstanding pieces," Vaia says. Many had been his customers, but one was a new acquaintance: Bill Friedman. The former president of Younkers contributed a 9-foot-long cashmere scarf that Halston had given him after the Younkers fashion show. Friedman contributed other items as well, and, Vaia says, "The best part of this experience was the opportunity to get to know Bill. I loved his modest, softly spoken quips about Younkers, his hospitable manner and just his presence."
Vaia and his team collected other prizes, including a long black rabbit-fur coat, Gucci blue suede loafers, and custom suits and sports coats by Armani, Prada, Bill Blass and Etro.
Both men and women "found real joy in sharing the things they've loved and kept," Ruan says. In fact, the project garnered so many high-quality donations that the planning committee moved beyond the original auction idea. While a core collection of vintage couture will be auctioned by Leslie Hindman Auctioneers of Chicago, the remaining items will be for sale in the Art Center lobby in a weeklong pop-up boutique.
Members of Art Noir, the Art Center's group for younger adults, are organizing this event, which has been dubbed "Eliel's Closet" in homage to Eliel Saarinen, the architect of the original Art Center building. "We're lucky that pop-ups are catching on, so we can really use social media to let people know what's happening" says Art Noir member Jonathan Brendemuehl, who, along with Liz Lidgett and Lindsey Mollenhauer, is leading the event. "But what's unique here is the sheer scope of the inventory. We're actually changing out elements of the collection daily, and we can use social media to highlight individual items every day. We have two fantastic retail experts, Frank Vaia and Lana Jones-Gould, helping to curate the inventory and create cohesion in the collections."
In keeping with the art-and-fashion theme, even the fitting rooms in Eliel's Closet will have an artistic aesthetic. Designed by Ames artist and architect Peter P. Goché, the stacked-lumber structures will double as an installation piece titled "The Body Hutch."
"The more we spoke to people about the original idea," Kane says, "the more we realized how much local talent and creativity there is in Des Moines that could be showcased" through Art Meets Fashion. Some of that talent includes nationally and internationally recognized artists, such as Alex Brown, Larassa Kabel and Mitchell Squire. They will be among about 20 artists creating fashion-inspired displays in the windows of East Village shops. The displays will be up until Sept. 27 for the public to enjoy, and the opening night will provide another fundraising opportunity for the Art Center.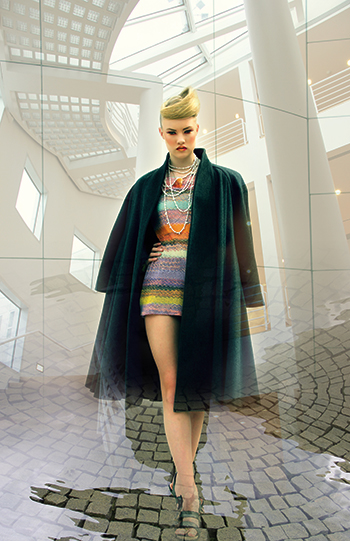 Gala and Finale 54
The main event for the Art Center's annual fundraising effort is the gala. dsm contributing photographer Ben Easter and Des Moines architect Tim Hickman are lending their talents to transform the World Food Prize Hall of Laureates for the gala dinner. "It's going to be spectacular," Hickman says. "The guiding principle is one of transformation. I won't say more—we want it to be a surprise."
When the gala ends, anyone who isn't ready to go home can wander over to the Hub Spot, where Finale 54 will be underway. Reinterpreting Halston and Warhol's favorite nightclub, the party promises to be high-energy. "The event will be phenomenal," says Lindsey Mollenhauer, who co-chairs the organizing committee with Lucy Shay. "We'll have crazy cocktail servers, flash mob dancing, Alex Brown as DJ—it will be a great party."
One of the real achievements of the Art Meets Fashion project is bringing so many new people into engagement with the Art Center, notes Rusty Hubbell, who's on the planning committee. "The most exciting thing is the way all the different talents are coming together, all the different people who are working together," she says.
The project may be a smart form of outreach as well. "Fashion is something people can relate to," says Bass-Bookey, "so it's a good way for museums to bring in more people who might not have come to the art museum before." Citing the example of the highly acclaimed 2011 Alexander McQueen exhibit at the Metropolitan Museum of Art, she adds, "I hope it will have the same effect on a smaller scale here, a new way for people to think about art."
---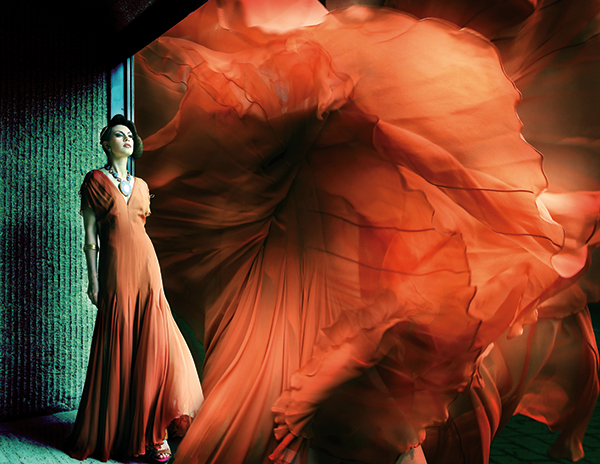 Schedule of Events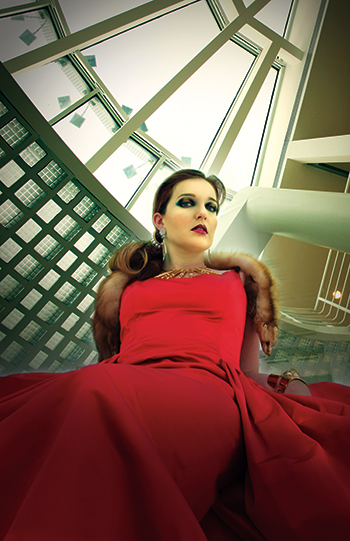 Window Dressing
Sept. 13-27
About 20 nationally recognized Central Iowa artists, plus Iowa State University students, are creating fashion-themed installations in the windows of East Village shops. The event opens Sept. 13, 5:30-8 p.m., with a "window crawl." Tickets are $20 per person ($15 for Art Center members), available through eventbrite.com. The price of the ticket includes a wristband that provides access to participating shops for refreshments and conversation with the artists. Wristbands will be available for ticket-holders to pick up in the Des Moines Art Center's Museum Shop. Some of the participating artists include James Bearden, Alex Brown, Catherine Dreiss, Larassa Kabel, Mitchell Squire, Chris Vance and Jordan Weber.
Eliel's Closet
Sept. 15-19
The pop-up boutique at the Des Moines Art Center opens Sept. 15 with a party from 5 to 8 p.m. Admission is $20, with tickets available through eventbrite.com (free admission for Art Center members). The rest of the week, the boutique will be open during regular Art Center hours, with no admission charge. With about 1,000 items organized into curated collections, Eliel's Closet will change daily, so watch Facebook, Instagram and Twitter for updates.
Fashion Fare Luncheon
Sept. 17
Guest speakers Lesley Jane Seymour, editor-in-chief of More magazine, and noted menswear designer and Ames native Todd Snyder will share fashion do's and don'ts. The luncheon, at The Temple for Performing Arts, will recognize Des Moines fashion designer Khanh Hamilton and also include a fashion show featuring original designs created by Iowa State University students in response to artwork at the Des Moines Art Center. In addition, the winner of a raffle for an original hand-knit sweater by Tina Dahl will be announced. Tickets to the luncheon are $200 each and can be reserved by calling Debra Kurtz at the Art Center, 271.0336.
Exhibit Preview Party
Sept. 18
The Des Moines Art Center will host the opening party for the Warhol and Halston exhibit at the Des Moines Art Center. Members only 5-6 p.m.; open to the public 6-7:30 p.m. Free admission for members, $5 for nonmembers. The exhibit (whose title hadn't been determined by press time) runs through Jan. 18, 2015. See story, page 134.
Black-tie Gala
Sept. 20
The gala dinner will be held at the World Food Prize Hall of Laureates. Cocktails start at 7 p.m. and dinner at 8 p.m. Tickets are $300 per person; $150 for those age 30 and under. For reservations, call Debra Kurtz at the Art Center, 271.0336.
Finale 54
Sept. 20
This late-night party at the Hub Spot is open to the public and runs 11 p.m. to 1:30 a.m. Tickets are $27 per person, available through eventbrite.com and at the door.
---
Commemorative items
The Art Meets Fashion theme has inspired creative contributions from local artists that further benefit the Des Moines Art Center. To commemorate the entire project, Ellen Hubbell approached Ignatius Widiapradja, an artist and art professor at Drake University, about creating fine-art images of some of the couture for a keepsake book. Using local talent—all donating their time and services for the cause—Widiapradja photographed models wearing selected gowns and garments in front of Art Center collections and architecture. (Some of the photos from the book appear on these pages.)
One of the models, art consultant Liz Lidgett, donned an Escada gown and a Chanel suit belonging to her aunt, Suzie Burt, to pose for photos. "It was a very glamorous experience," she says. "The Escada gown (pictured left) was one of the most beautiful things I have ever seen, let alone worn."
Widiapradja then digitally manipulated the photos, working in layers in a manner similar to Old Master painting techniques, to produce a visual tribute to the art of fashion. The book, designed by Connie Wilson with text by Vicki Ingham, documents the connections between Des Moines, Halston, Warhol and Younkers, bringing attention to little-known or partially forgotten local history. Copies will be for sale in the
Art Center Museum Shop.
Other commemorative items include a limited-edition S-shaped charm capped with a circle of diamond dust, referencing both Saarinen and Warhol, created by jewelry designer Ann Au. (In the late 1970s, Warhol began adding diamond dust to his paintings and prints.) Also, fiber artist Tina Dahl has designed and knitted a one-size-fits-all sweater (detail, above) that will be raffled off during the week.
---
Halston & Warhol: Friendship, Fashion and Fame
A groundbreaking Des Moines Art Center exhibit explores how the megastar artist and fashion designer collaborated and socialized with each other.
Written by Vicki Ingham
In the 1970s and 1980s, Halston and Andy Warhol were superstars—Halston in the world of American fashion and Warhol in the realm of contemporary art and culture. What may not be so well-known is that they were also good friends. They collected each other's work, spent holidays together, and moved in the same glittering circle of rock stars, Hollywood celebrities and international jet-setters.
A groundbreaking exhibition (whose title hadn't been decided as of press time) opening Sept. 18 at the Des Moines Art Center will be "the first of its kind to merge the two friends' creative energy," says Jeff Fleming, the Art Center's director. "The exhibition presents the work of these iconic figures in the context of their friendship and the explosive times in which they lived."
"It's an opportunity for us to look at Warhol through the lens of Halston and to look at Halston through the lens of Warhol," adds Nicholas Chambers, Milton Fine Curator of Art at the Andy Warhol Museum in Pittsburgh. "It's not a retrospective, but it tracks their co-evolution as a young artist and young designer coming to New York City, how their careers develop, moments of correspondence and moments of direct influence and collaboration."
Eric Shiner, director of the Andy Warhol Museum, has been thinking about this project since 2008. "I wanted to memorialize and celebrate their friendship," he says. The two men, who came from similarly modest backgrounds and gravitated to New York City, "rose to superstardom together," Shiner adds. "I knew there was a great story there."
The Des Moines Art Center was a natural partner for the project: Halston was born in Des Moines and spent his first eight years here. In 1986, he donated a large portion of his Warhol collection to the Art Center. "The show came out of conversations between the Art Center and the Andy Warhol Museum," Fleming says. "We have some of the quintessential works by Warhol, the 'Liz,' the 'Jackie Onassis' double portrait, some signed 'To Halston from Andy.' "
Adding a distinctively personal aspect to the show are contributions of family photographs and ephemera by Lesley Frowick, Halston's niece, who is co-curator and a contributor to the catalog. Frowick enjoyed unique access to Halston as both a family member and an insider in his business and professional life. Her insights help create a richer understanding of the world-famous designer as a real person.
First Meeting
Halston and Warhol first met around 1960. Warhol was still a freelance commercial artist drawing illustrations of shoes for I. Miller, and Halston was creating hats for an elite clientele at Bergdorf Goodman. A mutual friend, illustrator Joe Eula, introduced them. "I was fascinated by his one name—Halston," Warhol wrote in "Andy Warhol's Exposures." "Later I found out Halston is his middle name." (Halston's birth name is Roy Halston Frowick.)
After that initial meeting, however, their paths didn't cross again until the early 1970s, when Warhol's manager, Fred Hughes, began hanging out with "the young fashion crowd." Hughes took Warhol to Eula's parties, where models and fashion designers mingled with aspiring actresses entertainers. "I remember Halston all in black, standing in the corner watching all the glamour girls," Warhol wrote.
By the time of their first collaboration, in 1972, Warhol was known as much for his avant-garde films and his celebrity-focused magazine, Interview, as for his silkscreened prints. Halston, who had established his own company in 1968 and expanded into high-end ready-to-wear in 1972, was considered America's preeminent fashion designer. Tall, handsome and invariably dressed in black, he was as much a celebrity as the rich, powerful and beautiful women he dressed.
Social Scene
Warhol's diaries, which he kept from 1977 until his death in 1987, recorded dinners, holidays and parties at Halston's home, evenings at the trendy nightclub Studio 54 and a memorable group trip to Paris.
Halston collected Warhol's work, and Warhol collected Halston's. In addition to gifts from the designer, such as a heavy beaded dress, Warhol owned entire product lines, a vast collection of shoes and even a box filled with Muppet memorabilia. Jim Henson had sent the material to Halston in appreciation for his sketch of a wedding dress and a selection of fabrics for Miss Piggy. Curator Chambers says, "Halston didn't like clutter, so he signed it all and sent it to Warhol, who boxed it up in a time capsule." (The time capsules were boxes into which Warhol threw almost anything that crossed his desk—canceled stamps, letters, junk mail, dead batteries. As each box was filled, he taped it shut, dated it and set it on a shelf.)
Midwestern Roots
In spite of Halston's superstar status and fast-paced life, he never forgot his Midwestern roots. According to Lesley Frowick, he remembered his early childhood in Des Moines as idyllic and hoped that his gift of 47 Warhol works to the Des Moines Art Center might be the centerpiece of a wing dedicated to his parents, Hallie Mae and James Edward Frowick. Although that dream was never realized, his donation forms the core of the Art Center's Warhol collection, which now includes 69 pieces.
Except for the iconic "Liz," most of the pieces Halston donated date to the late 1970s and early 1980s. During this period, Warhol revisited themes from the 1960s, relentlessly pursued portrait commissions, and began to add expressive brushwork and gestural marks to the silkscreened prints. In 1979, he discovered the shimmery possibilities of diamond dust, an industrial byproduct, and began adding it to paintings and prints.
The Halston and Warhol exhibit opens in Pittsburgh before coming to Des Moines and will travel to at least one other venue afterward. The list of prints and works on paper to be included will likely remain somewhat fluid until just before the opening.
Exhibit's Couture
Couture is coming from a variety of sources, including the Fashion Institute in New York. Fleming notes: "Much like works on paper, textiles mustn't be exposed to light, heat or extremes of
temperature, so the show will travel with a set of mannequins, and the fashion items will change for each venue."
One item Des Moines can count on seeing is Jackie Kennedy's famous pillbox hat, which she wore to her husband's inauguration in 1961. The hat, which rarely leaves the John F. Kennedy Presidential Library and Museum, brought international attention to Halston and marked a turning point in his career.
Andy Warhol Museum director Shiner hopes that visitors will come away with "new insights into both Warhol and Halston. But even more important, I hope they catch a glimpse of a special moment in time, those decades in New York City, as that history is told through the friendship of two of the most creative individuals of our age."