Written by Kellye Crocker
Photos by Justin Meyer
Styled by Kevin Hansen and Jessica Miller
Clothing by Badowers
Model: Nathan Bartels
Hair and grooming: Salon Spa W's artistic team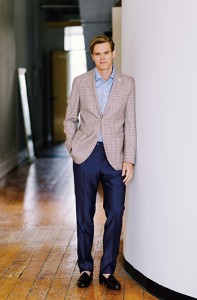 If clothes make the man, that khakis-and-polo combo isn't doing you any favors, guys. We get it: You're busy, you want comfort, and you're not about to wear something silly. Some of you don't mind shopping, though given a choice, you'd take a poke in the eye with a sharp stick.
But busting out of your wardrobe rut can help you look and feel your best, says Kevin Hansen, manager and buyer at Badowers. "The better dressed you are, the smarter you look, the more creative," he says. "With so many different price levels, there's no excuse. Any guy can look good."
Although menswear designers unveil new looks every season, we're betting you haven't seen many guys strutting through the skywalk in Gucci's new floral suit. Truth is, fashion trends for "real men" evolve oh-so-s-l-o-w-l-y. Over decades. (Maybe that's why they called it the "leisure suit"?)
Yet, styles do change. Baggy, pleated pants with oversized shirts, a trend that lasted 20-some years, has given way to a streamlined look, with narrower, flat-front pants, Hansen says. It's time to shop if your pants are wide at the ankle, he says, or if you could blend in with Joey, Chandler and Ross in those "Friends" reruns. Their shirts are extra-large, but today they would look better in medium, Hansen says.
"No matter what your size, if your clothes are too big, you look sloppy," he says, adding that wearing your correct size won't feel uncomfortable. "Even today's slim-fit pants are designed with more room where a guy needs it but less where he doesn't."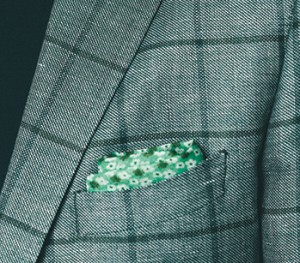 Try some color. Blue hues, from robin's egg to royal, as well as all shades of pink and soft browns, greens, oranges and reds abound. "When a color is pronounced, it's hard on your eyes," Hansen says. "This is softer. Most of the fabrics have a washed look, so they don't look as harsh." Besides shirts, try a sports coat, pants or even a suit in a non-traditional color.
When J. Hilburn released new fabrics last February, the boldest colors and patterns sold out in a month, says Drew Emerson, a Des Moines-based independent style consultant for the company. But the men buying them don't necessarily live here. "I always say Des Moines is a slower market," Emerson concedes. "Men are scared of color. If they don't know what to do with it, then they won't wear it." A lavender shirt can offer a good gateway out of a man's color comfort zone. "Most men don't know it's basically light blue," Emerson says. "I tell them it's a red version of blue. You can put it with anything."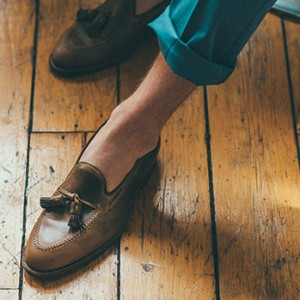 Flaunt your flair. Men's accessories are no longer limited to standard black or brown shoes and belts. You'll find a wider range of brown tones than in the past, as well as bone, sage green, red, gray, blue and even yellow. Or try a two-tone oxford in black and brown. Some designers add a pop of color to loafer tassels, shoelaces and even soles.
More guys also are wearing bracelets, lapel pins and pocket squares, Hansen says. Other add-ons include watches, hats and scarves. Changing up accessories is one of the best ways you can add seasonal pizazz to your wardrobe basics, Emerson adds.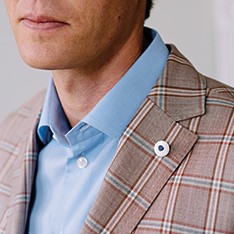 Don a sports coat. "Men don't dress up. They dress out of necessity," Emerson says. Adding a sports coat "can go a long way" toward giving you a stylish, pulled-together look, he says. Linen, silk and cotton blends are dog-day go-tos, and nothing says summer like playful seersucker. But if you haven't been shopping in a while, you may not know that today's sports coats—casual, unlined jackets, often in a breathable, wrinkle-resistant wool—weigh much less than their predecessors and can be worn year-round, Hansen says: "I actually prefer them to cotton when it is really hot out."
Sports coats come in patterns such as plaids, as well as tone-on-tone weaves and textured solids. The roomy pockets are perfect places to stash your phone, keys and wallet. "It's kind of like a masculine purse," Hansen says. Pair them with jeans, chinos or dress pants. Tuck in your shirt and make sure it's not a tee ("too 'Miami Vice' "), he advises.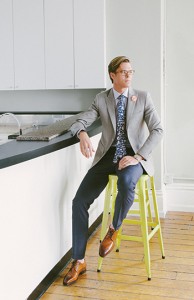 Own it. "A lot of guys are scared for people to look at them," Hansen says. Plus, it's normal to feel uncomfortable when trying something new. For example, let's say you—or, um, someone you know—tried on coral pants at the store, just for laughs. But they looked kind of . . . good. So you—or, rather, that other guy—bought them. But he can't really wear them, can he? In public? In that Sea of Man Khaki? Absolutely, Hansen says. "You've got to wear it with confidence. Have a little fun with it," he says. "Guys have a right to do that."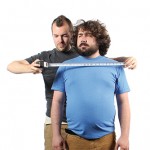 How to Wear a T-Shirt: Rules From Raygun's Mike Draper
The T-shirt is a fashion staple that can be deceptively simple. Looking as great as our model, Dylan, doesn't happen overnight. It takes practice, and it takes knowing which opening in the shirt is for which appendage. Get it right, and you're ready for a day at work or a night on the town. Get it wrong, and you may not be able to spread your arms.
Here are some potential pitfalls when putting on a shirt: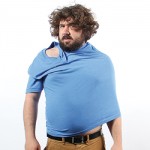 Head through armhole:
A common mistake that can make your shoulder chilly and left arm hard to lift.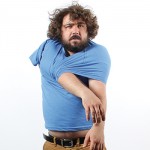 Both arms through same armhole:
So close! Your head is in the right place, but using only one armhole makes it hard to hug a loved one.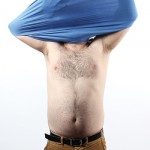 Head wrong way through neck hole:
Do not drive or operate heavy machinery in this state, because your shirt is covering your face.
Writing: Mike Draper. Photos: John Bosley. Model: Dylan Boyle