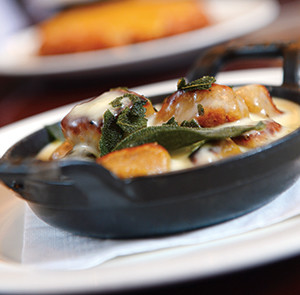 Reviewed by Wini Moranville
Photos by Duane Tinkey
I love the feeling of confidence I get when I walk through the doors at 801 Chophouse. Sure, there's the grandeur of the venue itself—the etched glass, the polished wood, the green-jacketed servers, the coffered ceiling. Yet even before my eyes take in the sweep of the room, the opulent smell of USDA prime beef searing at temperatures of up to 900°F—its marbling softening into gentle streaks of bold, rich flavor—tells me this: It's going to be good.
Such reassurance comes at a price, of course, and I'll say it up front: 801 Chophouse may be our city's most expensive restaurant. But it's the place to go when the stakes are high—when you can't afford to roll the dice on a restaurant whose star chef may be off on a high-end catering job, leaving a B team in the kitchen; or when you simply do not want to risk having your once-in-a-great-while spurge marred by a bartender cranking up the music to keep himself jazzed.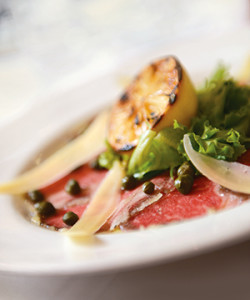 On nights when it has to be right, you simply can't go wrong with the beef here. Or, at least, I never have. Over the years, I've tried nearly every cut on the menu, from the butterknife-tender filet to the dramatic Delmonico, with its sleek, curved bone arching across the plate. My personal favorite is the rib-eye—a lavishly juicy, flavor-charged cut that never fails to remind me of all that a great steak can be.
That 801 serves the best beef in town is hardly a news flash to veteran diners. What has surprised me recently, however, is how the supporting dishes have become more refined over the years. Once upon a time, the salads and sides were mostly about heft, and certainly you can still go big here—the lobster mashed potatoes, the bacon- and blue cheese-carpeted 801 Wedge salad, and the loaded one-pound baked potato all speak to the over-the-top, plus-sized food for which 801 once made its name. My favorite in this camp is the hash browns with aged cheddar, a fat hubcap-size disk of crunchy-on-the-outside, tender-on-the-inside shredded potatoes topped with a melty sheen of cheese.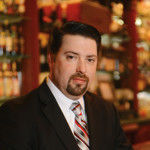 Yet there's delicacy to be found here, too. Start dinner off with the carpaccio, exquisite, paper-thin slices of raw filet mignon drizzled with olive oil and lightly trimmed with capers and Parmesan, and you'll discover the often-overlooked ethereal side to beef.
The Asian pear salad, a special one evening, brought an intriguingly balanced mix of pears, wine-braised cranberries, finely diced almonds and tender greens. While a lesser chef might have been tempted to gild the lily with blue cheese, a light and sprightly apple-cider dressing was the star of this appetite-rousing salad.
On a recent visit, I also noticed how a hint of Pernod added an unexpected anise-tinged lilt to the creamed spinach, while sweet potato gnocchi arrived meltingly tender, finished with delicate touches of fried sage and nutmeg. For dessert, the Grand Marnier soufflé pulled off a certain magic that few desserts ever muster: It was both ephemerally light and deeply rich at the same time.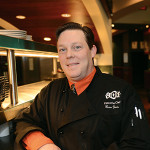 And what of the seafood, proudly displayed on the menu's "Fresh Sheet" each night? While the oysters Rockefeller, the fresh Prince Edward Island mussels and the king salmon that I tasted recently were all of high quality and well-prepared, I would not trade them for a chance at reveling in an evening of 801's glorious prime beef.
Service here generally goes beyond merely giving you the expertise, poise and polish that you expect at a top-dollar venue. It's as if everyone on staff understands that at each table, there may be something at stake. Whether a client needs finessing, a friendship needs mending or a date needs wooing, servers here understand the force of a great meal—and their own power in pulling one off.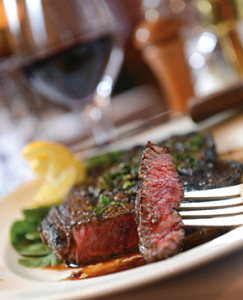 Which leads me back to where I started: confidence. Certainly, no restaurant can send out perfection on every plate, but in my experience, when it really matters, 801 Chophouse delivers some of the best odds in Des Moines.