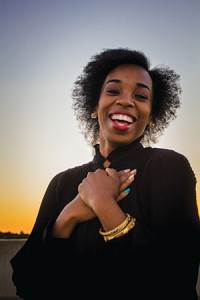 Written by Chad Taylor
Photo by Cody Osen
There are two ways to get to know D'Monet: Onstage, or off. One of them might take a little longer than the other.
"I love to make people laugh, but it pretty much only comes out onstage," she admits with a subdued grin. "I'm what you might call an introverted extrovert. In real life, I'm shy and kind of quiet. But more things come out of me onstage than I knew were there. It's been a real discovery."
Everything about D'Monet—full name Devon Monet Boyd—reflects her southern upbringing. The 34-year-old Memphis native is exceedingly polite, even by Iowa Nice standards, and has a calm, genteel way of speaking that puts everyone at ease.
D'Monet grew up in a musical family and was touched at an early age by the deep Memphis traditions of soul and blues music. She listened to her mother sing in the church choir and was encouraged to do the same. In high school, D'Monet started singing more classical pieces and carried that on to a classical vocal education at Memphis' LeMoyne-Owen College.
"I went to Pisa, Italy, and did operatic training," she says. "When I started learning (classical singing), I had no idea what my vocal instructor was talking about. It's so different. She would say, 'Why don't you sing the note in front of your face?' Well, I thought that's what I was doing. But all those things my vocal teacher tried to teach me, they didn't really make sense until I graduated."
D'Monet continued to sing in the Memphis area after college, but in 2012 the introverted extrovert made the boldest decision of her life.
"I wanted to relocate," she explains. "I came here first and checked it out, to see if I would be comfortable, and it just felt like 'yes.' So I transferred here with my job as an office manager for a commercial tire company about two years ago.
"Before I moved here, I did some checking to see what the music scene here was like," she adds. "I saw that it was rock heavy and kind of country heavy. So I said, 'Well, I wonder if there's some soul music there. And if not, maybe they can learn to like some!' "
So she moved here, and she sang.  And Des Moines learned to like it.
D'Monet isn't the only voice in town influenced by soul music. But the truly talented soul voices are few and far enough in between that success for a soul vocalist in the capital city is hardly a fait accompli. But when asked about the experience of moving to a new town and looking for an audience, D'Monet has nothing but praise for her adopted city.
"The reaction has been great," she says. "There's a lot of love shown in Des Moines. A lot of people here are so kind. And it's a kind of genuine kindness that's really unique to here. I love that. People actually want to help you and foster your music. The love here for the music and for me as a person not being from here, it's been tremendous."
It is a love that D'Monet returns as fervently as she receives. She's grateful for every person who comes to share time with her music and strives to make a connection with each one.
"There's a positive message that I'm happy to share with my music," she says. "So I share real things that people are going through. Pain, struggle, even anger. Because these are all real emotions and messages that we're often taught to ignore. So I'm trying to say, 'This thing happened. That's OK. We'll heal. You'll heal.' "