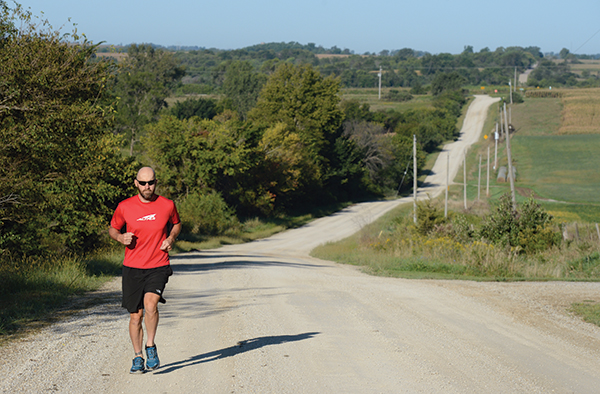 Written by Brad Lane
Photo by Duane Tinkey
Running a marathon requires strength and stamina. But running the equivalent of 40 marathons in 40 days? That changes your life. Just ask Steve Cannon of Des Moines.
"I went to places I didn't even know existed," says Cannon of his 40-day run around Lake Michigan. "When you're out there that long, it's like peeling layers off the onion—and all the stuff you carry with you, it gets burned off layer by layer every day."
Cannon, the founder and race director of One Race Events in Clive, had a long list of achievements before pursuing his 1,037-mile run around Lake Michigan. Having run his first 5K in 1998 at age 28, Cannon has since completed hundreds of marathons as well as multiple Rocky Mountain ascents on his bicycle. In 2009, he ran 292 miles across Iowa to raise money for the Livestrong Foundation.
But the 11 days it took to run across Iowa was just a warm-up for his run around Lake Michigan in 2012. Inspired by gazing across the lake from Indiana Dunes State Park, Cannon teamed up again with the Livestrong Foundation to tackle the never-before-done endurance feat.
Jarred Harkin of Des Moines tagged along with Cannon on his run around Lake Michigan, providing him with race support and watching him go the distance to raise money for the fight against cancer. "If there is one thing I can say about Steve, it's that once he gets his mind on something, he's going to do it," says Harkin, whose support duties included driving the RV, cooking meals and providing dry socks.
After a successful 40 days of marathons, Cannon made it around Lake Michigan and back to his starting line at Chicago's Navy Pier. Although the run was a major success and raised over $32,000 for the Livestrong Foundation, Cannon wasn't about to quit his fundraising efforts at that finish line.
"After Lake Michigan I was able to zero in on the fact that to really make a dent, you had to get more people involved," says Cannon, who grew up in Burlington. In less than a year, he found himself as director for the Million Dollar Marathon, also known as Coast to Coast for Cancer. For that event, 160 cancer survivors and supporters ran 4,000 miles from Seattle, Wash., to Rehoboth Beach, Del., in a relay-style race that raised $505,784 for the
Des Moines-based nonprofit Above and Beyond Cancer.
"It was so much energy it was infectious," says Cannon, who rode with the event the entire way and often hopped out of the van to run himself. "People would show up that had raised thousands of dollars, and they were sky-high, ready to go."
In 2013, the then-43-year-old Cannon created the Clive-based events company One Race Events, successfully supplementing his longtime career in real estate and bringing his passion into his everyday work routine.
The company's races include the Magic Relay, a one-day coast-to-coast national relay where hundreds of participants run to raise funds to send children touched by a parent's cancer to support camps; and the 100-mile Booneville Backroads Ultra through the hills of Madison County, Iowa's largest ultra-marathon. (For a complete list of race events, go to OneRaceEvents.com.)
"I love putting on these events because it allows people to take that same journey I've taken," Cannon says, "and once you find out how empowering it is, you can't get enough of it."