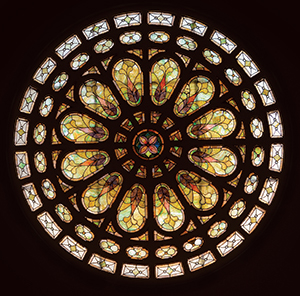 Written by Dave Elbert
Photos by Duane Tinkey
The 104-year-old building across from Moulton Elementary School at Eighth Street and College Avenue has always been a Methodist church, but it became much more after members began serving breakfast to the school's low-income students in 1968.
Today, the tri-level, 16,000-square-foot classical revival building performs the functions of a restaurant serving breakfast to students and dinner to area families, a grocery that distributes free bread from local bakeries and fresh vegetables from area gardens, and a clubhouse for inner city youth after school. It also has classrooms for children and adult education and serves as a welcome center for immigrant families.
Altogether, some 20 programs operate out of Trinity United Methodist Church. Many are run by Children and Families Urban Movement (CFUM), a nonprofit created by Trinity members more than 30 years ago. Other efforts directed at the diverse neighborhood and its growing immigrant population are led by Trinity pastor Barb Dinnen and Alejandro Alfaro-Santiz of Las Americas, a Spanish-language ministry based at Trinity.
In fact, so many things occur daily inside Trinity's walls that the building may well be the most efficient single-site provider of nutritional, educational and social services in Iowa.
Most of the work is done by volunteers who quietly express their faith through public service rather than by evangelizing. It's a strategy that has helped hold Trinity's near-north-side neighborhood together for decades, but which reached a crossroads as the building entered its second century.
Without significant investments of up to $3 million in Trinity's physical plant, says Dinnen, it will become increasingly difficult to continue and expand the volunteers' good works.
Trinity's unusual story began more than 125 years ago in the 1880s, when the area north of University Avenue began growing the way Waukee and Ankeny have in recent years.
The neighborhood sat on a hill two miles north of downtown, a great location for homes in that era of horse-drawn trolleys. The area was a popular place for up-and-coming professionals to live after it incorporated as the city of North Des Moines in 1880. Residents included Edward Temple, founder of the Bankers Life Association (now Principal Financial Group), and Charles Weitz Jr., son of the German immigrant who founded the Weitz Corp., which is now one of the nation's largest construction companies.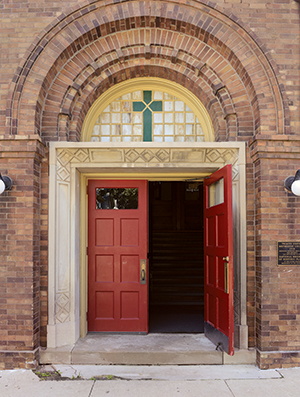 In 1888, two years before North Des Moines became a part of Des Moines, the neighborhood's first Methodist church was built two blocks north of Trinity's current location. By the turn of the century, the growing congregation needed a more substantial building. The city's premier architectural firm at the time, Proudfoot, Bird & Rawson, designed a building that extended all the way to the sidewalks, filling up virtually the entire corner lot on College Avenue directly across Eighth Street from what was then North High School (now Moulton Elementary).
The neighborhood prospered until after World War II, when a new migration to Des Moines' western suburbs began. Then in the 1960s, construction of Interstate 235 dealt a crushing blow by erecting a barrier between the old hilltop homes and downtown Des Moines.
As families moved out, their once-substantial homes were divided into low-income apartments. Drugs, prostitution and other crimes seeped into the neighborhood, which developed a reputation as one of
Des Moines' most dangerous.
In 1968, members of the Black Panther Party asked to use Trinity's basement as a site for one of the group's signature free breakfast programs. Church members decided that if such a service was needed, and it clearly was, they would do it themselves. They launched a breakfast club for Moulton students that has continued uninterrupted for 47 years.
As the neighborhood around Trinity continued to deteriorate, the church became a beacon of hope. The creation of CFUM as a nonprofit service agency in 1992 provided a framework for recruiting churches of all denominations throughout the metro area to supply the volunteer labor and supplies needed to keep the breakfast club operating and to add a dinner club with free evening meals for anyone in need.
Before long, the volunteer efforts that had originated in the church's basement dining room and kitchen spread to the two upper floors. CFUM launched after-school clubs, and the church began adding night classes for adult immigrants who needed to learn English and new job skills.
Over time, the active pace began to show on the floors, walls and ceilings, where smudges, chipped tile and plaster, broken fixtures and peeling paint became common. The original church was a well-built structure, but key components, including the roof and windows, water and sewer lines, electrical service and the heating systems, were well past their life expectancy.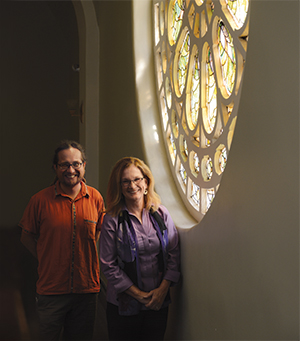 The building had received few significant upgrades since the 1950s. The cooling system relied heavily on window fans. Volunteers who helped serve evening meals in the summer heat went home drenched in sweat and in the winter chilled to the bone.
Electrical service limited the use of window air conditioners and other equipment. During the summer, lights or fans could be used, but not both at the same time. Water pipes were too small and too corroded to provide the pressure needed to effectively operate a dishwasher.
Meals were served on paper plates with disposable utensils. The waste was considerable, and environmentally conscious volunteers worried about the amount of garbage the breakfast and dinner programs generated.
The boiler died in the mid-1980s, and the small congregation considered closing the church before the Iowa Conference of United Methodists stepped in to help. The conference helped again in 2008, when major roof repairs were need.
As the roof work was being completed, then-pastor Diane McClanahan and Dinnen, who was the Las Americas minister, began thinking about Trinity's approaching centennial in 2011.
"We needed to do something to spruce up the sanctuary for the centennial celebration," Dinnen recalls. "We said, 'Wouldn't it be wonderful to repaint the sanctuary?' "
With help from other Iowa United Methodists, the small congregation raised $350,000 to launch a volunteer effort to give the sanctuary and entry a thorough cleaning and face-lift.
The result was spectacular, and the success got people thinking about the history of the church, which had been listed on the National Register of Historic Places in 1998, and the increasingly bad shape of the two-thirds of the building used for non-religious activities.
The Des Moines design firm of Brooks Borg Skiles (BBS) was hired to help determine how to renovate the rest of the building. It was a fortuitous choice because BBS is a direct descendant of Proudfoot, Bird & Rawson, the original architects, and still held the original blueprints. Plus, BBS architect Steve Stimmel loves old buildings. As he pored over the old plans and compared them with current conditions, Stimmel made notes on how to reconcile the two. Eventually he came up with a plan that divided the $3 million renovation effort into multiple stages that could be accomplished over time as money came in.
Meanwhile, as the sanctuary work was being completed, the nonprofit 6th Avenue Corridor Inc. helped Trinity win a $50,000 Main Street Iowa grant to make the building accessible to people with handicaps, and CFUM received a grant from a local benefactor that eventually helped launch the first stage of Stimmel's plan, a much-needed $650,000 renovation of the kitchen. Additional funding for the kitchen project came from a second Main Street Iowa grant for $75,000, historic tax credits totaling $100,000, private donations of more than $150,000, and loans from Bankers Trust and a United Methodist fund.
The kitchen renovation began in mid-2013 and was completed in late 2014. It took longer and cost about $150,000 more than originally intended because as demolition progressed, it became evident that it would be more cost-effective to address some mechanical and electrical issues sooner rather than later. After all, what good would modern cooking appliances be without adequate power supplies, or an industrial dishwasher without adequate water pressure?
As the work progressed, endorsements were collected from business and community leaders, including retired Principal Financial Group chairman Barry Griswell, who cited the church's work with recent immigrants, and former Lt. Gov. Sally Pederson, who said Trinity "makes a critical difference" each day in the lives of more than 300 children and adults.
Dinnen recruited retired United Methodist minister John Robert Burkhart to lead a broader fundraising effort, which is now seeking foundation grants as well as contributions from area businesses and community leaders.
Plans for a new century of service are also in the works.
Earlier this year a dilapidated house adjacent to the church was purchased and the lot cleared. Next spring, Dinnen says, she hopes vegetables will be planted on the site and residents will learn how to preserve them, much like the early inhabitants of North Des Moines did 104 years ago.