Produced by Patrick Gannon (patrickjgannon.com)
Cinematography by Charlie Stover (stoverfilms.com)
---
Written by Sophia S. Ahmad
Photos by Duane Tinkey
A Des Moines executive created his own paradise on the back roads of Madison County. Library Binding Service Inc. CEO Fritz James spent his professional life building a successful bindery supply business, and over the past two decades, he channeled his determination and vision into a new passion: to transform a 150-acre parcel of land in Madison County into a tranquil prairie retreat.
Phase One: The Prairie
James aspired to have a place in the country for as long as he can remember, viewing nature as "a place that inspires creativity." He found the Madison County plot one summer evening around 21 years ago, when he took a drive through the back roads of Madison County and spotted an advertisement for 150 acres of hilltop wooded farmland. Although he didn't intend to purchase land at that point, he followed his intuition and bought the parcel—sight unseen—that evening.
"I had a sense that this was the one," he says.
That summer, he read agriculture books, mowed "the heck out of the land," cleared and burned it, with intentions of encouraging a prairie to grow on 60 acres. But after 17 years, he discovered that non-native grasses were choking native grasses and inhibiting their growth. In 2011, he started from scratch, planting a seed mix of 22 varieties of grasses and 17 varieties of forbs (herbaceous flowering plants). For two years, the prairie lay dormant.
"I thought I was probably one of the worst prairie restorers in the nation," he says.
But then one early summer day in 2013, following a heavy rainfall and hot sunshine, the entire 60 acres of restored prairie blossomed. The prairie took hold, and James has maintained and cultivated it since then. Today, it has around 30 floral varieties and 12 grasses.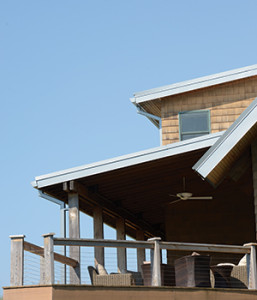 Phase two: The Cabin
Seven years ago, James turned his attention to building a two-bedroom cabin. He approached builder Jeff Farr, who was remodeling the former J.C. Penney store in Winterset.
"I stopped by and realized that he was a craftsman. I asked him if he built houses, and that was it," James recalls.
James describes the space as "minimalist prairie" in style, with a light and airy design. The 2,400-square-foot home is a modern take on a rural abode, with wood beams, a vaulted western white cedar plank living room ceiling and plenty of windows. Living spaces include a two-story living room, a galley kitchen, two bedrooms, a 600-square-foot loft and a walkout basement (with 10-foot ceilings) that opens to a patio with a fire pit.
The cabin is furnished by Des Moines-based Projects Contemporary Furniture, where for years, James would take his children "to have them get a feeling of good design," he says.
Simple yet artistic, the furniture draws attention to the sweeping countryside views through large windows that span two stories on the gable end of the cabin.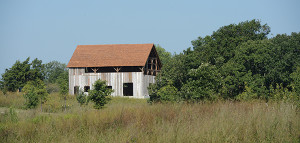 Phase Three: The Barn
After witnessing two historic barns get torn down near his farm within the past six years, James was determined to save a historic structure and reassemble it on the westernmost point of his property. He began scouting prospects at IowaBarnSavers.com, and this past spring, he settled on a 120-year-old barn.
He purchased the barn's sturdy frame, which arrived as a stack of beams. A timber framer from Oregon erected the frame on its new site, using stout wooden pegs to tie the beams together. Old pine siding was salvaged from three additional barns to enclose the frame.
James turned to Amish craftsmen to build the roof, which they surfaced with cedar shakes. "It's the right thing to do because it matches the craftsmanship of the barn," he says.
Made from a western cedar, the barn measures 40 by 46 feet and stands 29 feet tall. James stores two tractors and other equipment in the structure, and he plans to add a seating area and install windows that will offer extensive views of the valley. But, as he favors clean lines and simplicity, he does not plan to add anything beyond those elements.
"I want to keep it pure and cathedral-like," he says.
"I regard it as a piece of art. I hope it can be enjoyed for another 100 years."