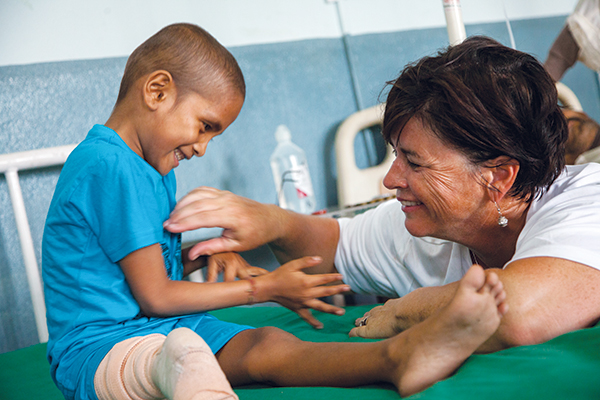 Photographer: Dylan Huey
A wispy plume of smoke curled lazily over Kathmandu, Nepal—a slow day at the funeral pyre. Des Moines photographer Dylan Huey watched, knowing that thousands had been killed by earthquakes there just four months before.
Huey, 33, had planned to visit Tibet to photograph a delegation of 23 cancer survivors and caregivers from Des Moines-based Above and Beyond Cancer. In the wake of last spring's earthquakes, however, the group's weeklong September trip diverted to Kathmandu to provide help in a cancer hospital the organization had visited previously.
The first massive quake, a magnitude 7.8, had rocked the Himalayas less than 50 miles from Kathmandu. Over the next three weeks, the region was terrorized by more than 300 aftershocks greater than magnitude 4.0, including one rated at 7.3.
The damage was devastating: hundreds of cultural monuments damaged or destroyed; a half million houses leveled; 400 public health facilities destroyed, including five hospitals. Education was hard-hit: 7,000 schools partially or completely in ruins. The human toll was even higher: almost 9,000 dead and more than 22,000 injured.
Huey couldn't help but think of the anguish as he gazed at that funeral pyre, the region's traditional method of disposing of bodies and a smoldering symbol of loss. He photographed the delegation of Iowans as they joined in the duty of serving the survivors. But Huey also turned his lens to the enduring sights and resilient people of Nepal.
"I expected sadness, of course, but it was nice to find so much happiness," Huey says. "The people were amazing." There was laughter among the maimed, winsome smiles among the homeless.
The hardship has been complicated by recent changes in Nepal's government that have slowed the flow of relief dollars. Much debris had been removed as the country scrambled to restore its appeal to tourism, the Himalaya region's most prominent industry. But vast numbers of homeless residents were still sleeping in tents, under tarps and in lean-to shelters when Huey visited. Children attended classes wherever they could gather.
In the midst of the ruins, Huey found himself fascinated by the city's architectural diversity. "Structurally, there is such a mix of old and new, even after the earthquake," he says.
In time, wounds will heal, trekkers will return to the mountains, buildings will rise from the rubble. And Dylan Huey's photos will preserve the vivid scenes from seven days in September.