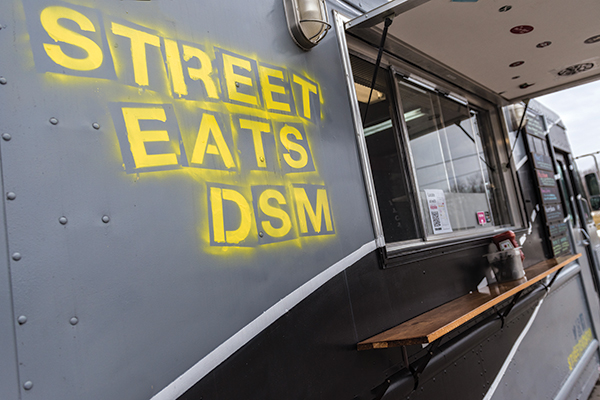 Writer: Barbara Dietrich Boose
Photographer: Bob Blanchard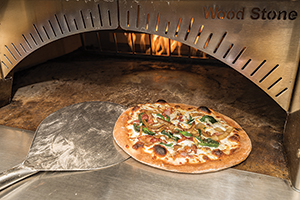 "Try this!"
says Shon Bruellman, presenting a bowl of seasoned tofu. We're in the kitchen of his Polk City home, where he is experimenting with a meatless option for fried tacos—the signature item that he and his wife, Julie, serve from their shiny new Big Red Food Truck. The couple is part of Des Moines' movable feast that, in just its second year, is on a roll.
When the Des Moines City Council gave the go-ahead for a pilot program for mobile food vendors to begin in April 2015, it fueled a platoon of palate pleasers to hit the streets. The program accepted 17 food trucks serving everything from Korean barbecue to buttermilk fried chicken waffle cones in four zones downtown. The program was set to end Oct. 31 but was extended for an additional three months, which attracted an 18th truck. At its Feb. 8, 2016, meeting, the City Council voted to make the program part of the municipal code.
'"We take a lot of satisfaction in making people happy," Bruellman says. "We have a lot of support from the community. We're honored to be part of the food truck industry here and are positive about the direction we're going."
That direction appears to be onward and upward. Nick Kuhn, co-owner of 515 Pi (previously Pyro's Pizza), predicts that at least 10 more food trucks will be on the streets this year. "We have a lot of chefs here who are passionate about food," Kuhn says. "It's been the perfect storm."
Taking It To the Streets
Name: Aaron Byrd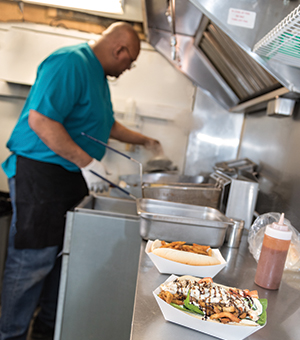 Truck: Street Eats DSM
Food: Gourmet "sammiches" stuffed with various ingredients (such as chicken, slow-roasted pork and grilled young jackfruit), handmade fries and specialty sauces; also regular fries, cheese fries and poutine—fries topped with Wisconsin cheese curds and seasoned gravy.
Menu inspiration: "The plan I took to the bank was to do french fries," Byrd says. "I had a long talk with Zack Mannheimer [owner of the food truck Powered by Fries]. It would have been fine to have two trucks serving fries, but I wanted to be something original and different. If people are going to get off their chairs and out of their offices, I wanted to offer something they can't get at home. Plus, meat and potatoes go together. This being Iowa, that could be a winner." Byrd now hand-cuts up to 70 pounds of potatoes a day during the food truck season.
Past life: Byrd's first job was at a Hardee's; he was manager by age 17. He opened 16 restaurants for Outback Steakhouse and then became its corporate trainer. He also has owned a catering company and a bar, and he says he has served three presidents and "several rock stars."
Why Des Moines: "I had a decent life in Kansas City," Byrd says. "A friend in Des Moines threw a party to set me up with someone. There were 35 people there, and I was the only one who didn't know what was going on." He and his wife, Sarah, "dated over the highway" for five years before he moved to Des Moines and they married; she helped support his truck rollout financially. "I have my wife to thank for this," he says.
Best part of having a food truck: "It's my own," he says. "My food truck is not a gateway to get me into a restaurant; it's to get me out. In a restaurant, there are the guys who buy this, those who cook that, the manager and the person who counts the money. Well, that's all me. This has been very empowering for me. I don't have to consult with anyone but my 2-year-old."
Best location: "I like being around the sculpture park," he says. "I have an
awesome view out of my office window."
Amazing, when you think about it: "We [food trucks] had one complaint last year, from when we all were by the sculpture park," he says. "There was a school field trip at the park, and one of the teachers said the smells coming from the food trucks were so good, it distracted the students."
Life of Pi
Names: Nick Kuhn and Brad Bormann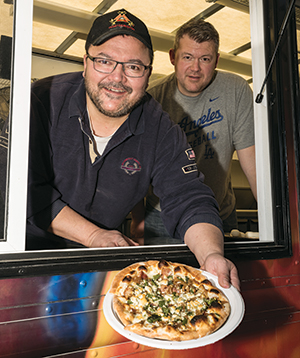 Trucks: 515 Pi (previously Pyro's Pizza); Deez Greenz
Food: Pizza, salads and smoothies
Past lives: Kuhn once employed 175 at his structural engineering company; Bormann is a former inventory control manager for EFCO Corp., a Des Moines-based firm providing concrete forming systems for clients worldwide.
Biggest challenge: Last August, Kuhn became president of the Legion of Food, Des Moines' food truck association. In that role, he was chief organizer of the Fall Food Truck Showdown held last October at the John and Mary Pappajohn Sculpture Park. (That followed an inaugural five-hour Throwdown in the Des Moines Social Club's courtyard last May. It attracted 10,000 people, which overwhelmed the 10 participating trucks, several of which ran out of food.) "I'd never planned an event in my life, but we needed to hit a home run with the City Council and with the customers," Kuhn says. "We thought 5,000 was a good number to expect, given the weather. Two days before the event, I told the guys I thought we better expect 10,000. Why? Facebook. We estimated we served 12,000. We had 23 trucks, a nine-hour service window and a much larger venue."
Best part of owning a food truck: "The people," Kuhn says. "You hand them their food; they're really happy and then they sit outdoors and talk. One of my side missions is to support conversations." Bormann loves the flexibility the business offers. "It's a lot of hours, but I'm my own boss," he says. "There's also a lot of the trucks helping each other. It's almost like a really good friendship. We like to be parked together—we make more money that way."
How they got rolling: The two men were sitting in Kuhn's backyard using his wood-fired pizza oven. "I could tell Brad was just itching to work on that oven," Kuhn recalls. "We'd had a few beers and thought, 'Why couldn't we throw it on a truck?' "
Feeding appetites, feeding souls: Kuhn points to the Legion of Food's motto: "Wherever there is hunger, you will find us." He organized a pilot event last November in which his truck, Street Eats DSM, and the truck Heart and Seoul fed 215 Central Iowa Shelter and Services (CISS) residents in under 90 minutes, for free. Pending discussions with staff at CISS and other local shelters, Kuhn hopes to have three trucks serving those in need at one or two locations once a week during the food truck season. He's also reserving a staffing slot on each of his two trucks for a CISS resident.
Little Red Goes Big
Names: Julie and Shon Bruellman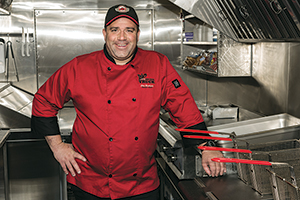 Truck: Big Red Food Truck (previously Little Red Food Truck)
Food: Signature fried tacos (taco meat, fish or tofu) and hand-pounded tenderloins.
Past lives: The couple owned Shon's Taste of Home restaurant in West Bend, Iowa; they also served specialty meals at a bed-and-breakfast owned by Shon's parents (Prairie Oasis Country Inn in Whittemore, Iowa). They came to Central Iowa and became real estate agents, but the food industry's hold on them was too strong. Shon says, "If I could do anything I wanted, I'd cook all day long. My mom, Verda, taught me to cook. Our restaurant motto was 'We do simple food good.' "
Truck casting: Julie: "He's cook; I'm window. We try to be fast, because people are on their lunch hour."
Shon: "From the time Julie gets the order, I can get it to the window in about 45 seconds."
Starting from scratch: "I bought a truck from a guy who did egg rolls and fried rice. We had to redesign it ourselves," Shon says. "Our first year was good enough that we wanted to keep doing it and get a bigger truck."
Best aspects of food truck ownership: "I like the flexibility," Shon says. "With the food truck, we can pick and choose our hours and locations. There's also great camaraderie among the food trucks. We gravitate toward each other, because we know more food trucks bring more people. And I like the stress. If you interview people working in a busy restaurant, they like the adrenaline." Adds Julie: "Every day we're out in the truck, we have different scenery and see different people."
Writer Barbara Dietrich Boose is the publications director at Des Moines University. This summer, you'll likely see her blissfully noshing in one of the city's food truck zones.
Photographer Bob Blanchard is an urban planner. He moved to Des Moines a year and a half ago to manage the preparation of a comprehensive plan for the City, and photography has provided him with unique insights into the metro area's people and places.
What It Takes to Get Rolling
Steering a food truck to success requires more than equipping a vehicle, which in itself is no small feat. In Central Iowa, food trucks are inspected the same as restaurants and undergo possible spot inspections at festivals and other events. Would-be truckers must submit an application to the city clerk's office; once mobile, they must operate within set zones and hours and provide trash receptacles, proof of insurance and bathroom access for their employees, among other requirements. They can't do business within 100 feet of any restaurant. And fees are involved as well. In Des Moines, these include:
$570 application fee for a permit, valid March through February.
$100 Fire Department inspection (not required for vendors who don't use hot or cold food-handling procedures).
$200 cash bond.
$1,180 for each meter hood (two hoods are required for units needing two parking spaces).
$35 deposit for each meter hood.