By Wini Moranville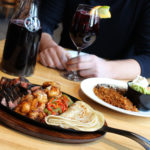 I've been "up" on Malo for quite some time now; their taco-truck-style tacos and the ever-bustling atmosphere do it for me every time. Until now, I have thought my favorite time to go there is a Wednesday night, when margaritas go for half-price. But now, I've just learned of Sizzling Sundays — a reason you'll likely find me there on a Sunday evening.
On upcoming Sundays, from 5 p.m. to 8 p.m., the restaurant will host live Latin jazz. Diners can enjoy half-price carafes of sangria, along with creative fajita combinations. The latter cost $15.99, and choices include aji lemon garlic butter shrimp, chimichurri flank steak, chipotle- and agave-glazed chicken, as well as al pastor mushroom caps.
Upcoming performers are being scheduled, to follow these recent standouts:
• March 12: Equinox — Latin jazz and jazz standards.
• March 19: Choro Moinga — Brazilian choro.
• March 26: Ed East — Caribbean music.
By the way, be sure to take a look at the masterful cocktail options. I've long admired Malo's creative bar program, which focuses on the cocktail's midcentury heyday (from the 1930s to the 1960s), in both the United States and Latin America. I wrote about this studied sense of place and time in this article in dsm.
Wini Moranville covers food and dining for dsm. Follow her at All Things Food – DSM Wini Moranville.