Above: A wall of whiskey is the first thing you spot when you walk through the doors at Bubba-Southern Comforts. That's on purpose. "I want you to see all this whiskey," says owner Christopher Diebel, "because if you're a whiskey drinker, this is catnip."
Writer: Wini Moranville
Photographer: Duane Tinkey
The Spirit of the South at Bubba—Southern Comforts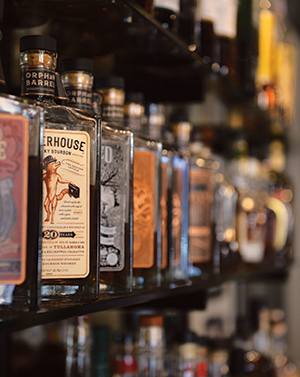 As you walk through the door—before you even take a sip of anything at all—Bubba has a way of easing you into a whiskey state of mind. The New Orleans jazz practically sings of Bourbon Street, and the Southern-gentlemanly decor conjures up seersucker-suited, bow-tied characters sipping whiskeys and making backroom deals.
And then there's that jam-packed wall of whiskey behind the bar. It's the first thing you spot.
"That's by design," explains owner Christopher Diebel. "When you walk in, I want you to see all this whiskey, because if you're a whiskey drinker, this is catnip."
Whiskey is a generic term for distilled spirits made from corn, rye or barley; these include bourbon, rye and scotch. Bubba's extensive whiskey collection focuses on bourbon (made mostly from corn) and rye (made mostly from rye).
"Because we offer Southern food, we wanted to pair our cocktail program with a spirit that's equally tied to the region," Diebel explains. "Whiskey's home—especially bourbon—is Kentucky. It made sense to us to celebrate a spirit of the South."
Hence, traditional whiskey cocktails—juleps, old fashioneds and Manhattans—inspire the craft cocktail menu. Purists need not worry that the barkeep will mess with their favorite classic: Diebel maintains that his program pays proper homage to time-honored standard-bearers before bartenders get a chance to put their own spins on the drinks.
Diebel goes to great lengths to find highly sought-after whiskeys, some with limited availability. "There's a mad scramble to find them, with all manner of horse-trading to get the whiskeys we want," he says. The bar stocks over 50 bourbons, along with a secret stock of "off-menu" selections.
"Get in a word with me if you're a bourbon lover," he says.
For nonpurists, the fun begins with the craft cocktails. Some are rediscovered, lesser-known concoctions, while others are twists on classics. Many are seasonally driven. A cozy winter-inspired cocktail, such as the Kentucky Coffee, with bourbon, hazelnut liqueur, Bailey's Vanilla and coffee, will warm you in fall and winter. In coming months, count on refreshing cocktails like the cool beauties shown (below) to slake your thirst as the temperatures climb.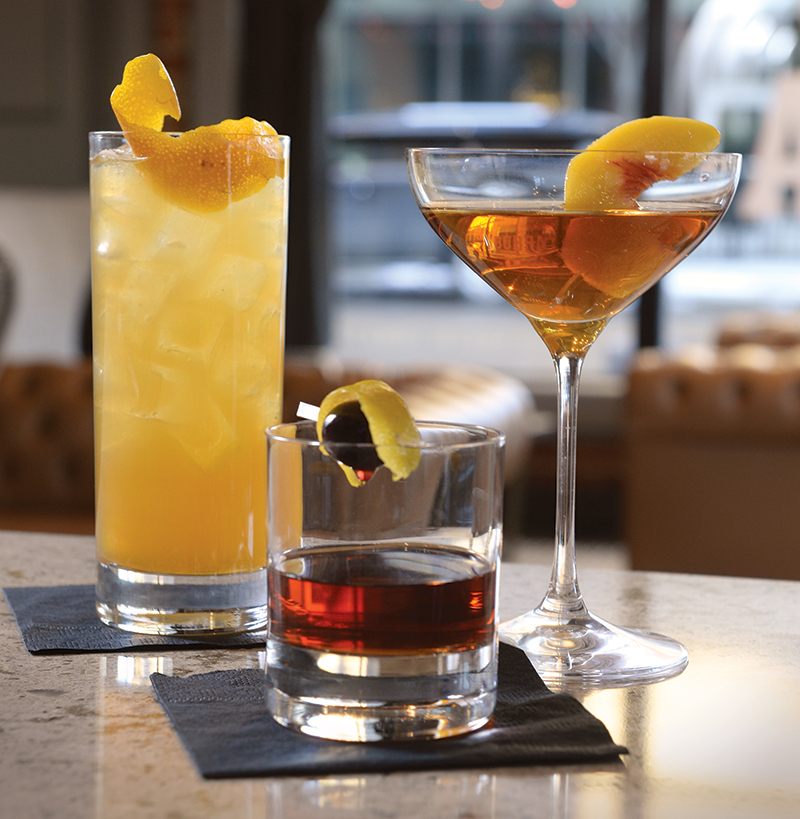 [lgc_column grid="33″ tablet_grid="33″ mobile_grid="100″ last="false"]Hop To It
This craft cocktail is made with rye, dry vermouth and elderflower liqueur, along with IPA beer and citrus juices to lend refreshingly bitter qualities.[/lgc_column]
[lgc_column grid="33″ tablet_grid="33″ mobile_grid="100″ last="false"]Vieux Carré
A classic New Orleans cocktail of rye, cognac and Benedictine (a French herbal liqueur). You'd never guess that such a sophisticated and dangerously easy-drinking sip is made with 100 percent booze and a couple of dashes of bitters.[/lgc_column]
[lgc_column grid="33″ tablet_grid="33″ mobile_grid="100″ last="false"]Stone Fruit Manhattan
The summery garnishes hint at the fresh-fruit appeal of this medley of bourbon, sweet vermouth and house-made plum and peach bitters.[/lgc_column]
A Place in Time at Malo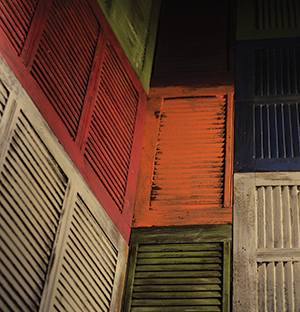 The old-school shutters above the bar—painted in the deep, lush colors of Key West and the Caribbean—hint at the focus of Malo's craft-cocktail program.
"We want the shutters to mimic what you picture when you envision Hemingway sitting in Florida or Cuba sipping cocktails," says executive chef George Formaro.
Hemingway lived in Key West in the '30s and had a residence in Cuba from 1939 to 1960. The bar's focus, then, celebrates a specific place in time: The cocktail's midcentury heyday (from the 1930s to the 1960s), in both the United States and Latin America.
Popular spirits of the time included gin, rye and rum; the latter features most prominently on the craft cocktail menu, in libations such as the Hemingway Special, mai tai, sangria and pineapple mojito. Bar manager Bjorn Carlson tries his best to get goods that are as close to Cuban rums of the era as possible.
"We can't get Cuban rums … yet," he says, but a favorite is Havana Club Puerto Rican Rum, which originated in Cuba in 1934.
What about tequila? Surprisingly, for a restaurant that prominently features Mexican specialties, tequila is, by design, overshadowed by the spirits that were more prominent midcentury. Vodka, too, has a muted presence; certainly, you can order it, but it's not a highlight here. "It just wasn't a thing at the time," Carlson says.
What you will find are egg whites—another hallmark ingredient in midcentury drinks.
"Egg whites give you a whole different sensation in a cocktail," Formaro says. Not sure? Taste the pisco sour to get a sense of the frothy elegance and rich body that the whites can bring to a drink.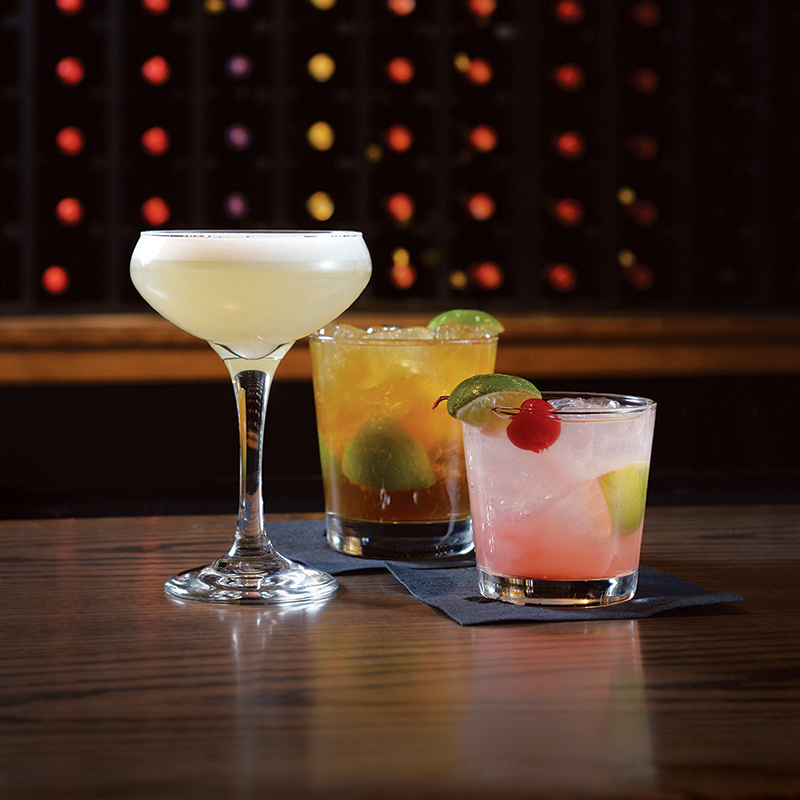 [lgc_column grid="33″ tablet_grid="33″ mobile_grid="100″ last="false"]Pisco Sour
If you've never experienced egg white in a cocktail, start here. It brings a frothy lusciousness to this mixture of pisco (a South American brandy), lime juice, simple syrup and bitters.[/lgc_column]
[lgc_column grid="33″ tablet_grid="33″ mobile_grid="100″ last="false"]Eva Peron
A cocktail as complex and elegant as its namesake, with French ginger liqueur, Fernet Branca (an herbal liqueur), sweet vermouth, lime juice and ginger beer.[/lgc_column]
[lgc_column grid="33″ tablet_grid="33″ mobile_grid="100″ last="false"]Hemingway Special
Yes—real men drink pink drinks, especially one that mixes white rum, lime juice, grapefruit juice and Luxardo maraschino cherry liqueur for a festive and fortifying sip.[/lgc_column]
A New Appreciation for Tequila at Blu Toro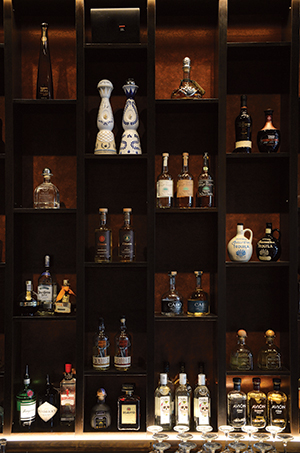 Blu Toro's cocktail program focuses on tequila—but here, the spirit is more about snifters than shot glasses.
"Our clients prefer to do something with tequila beyond drinking too much of it," says bar manager Kelly Waddell. Indeed, thanks to the 70-plus tequilas available, priced from $7 to $100 a pour, this is the place to gain an appreciation for the spirit's range of styles—from the fresh, herbaceous appeal of younger tequilas to the smoky, spicy, vanilla-infused flavors of wood-aged tequila.
"At Blu Toro, we want to showcase quality tequilas the way other lounges showcase whiskeys," says Tom Baldwin, who deepened his own understanding of the spirit through his travels to Playa del Carmen, Riviera Maya and Cabo San Lucas in Mexico.
He and his team also want to introduce their patrons to lesser-known mezcal, a spirit somewhat similar to tequila, but with key differences. Tequila must be made in a clearly defined area in and around the town of Tequila in the Mexican province of Jalisco. It also must be made with at least 51 percent blue agave sap. Mezcal, however, may be made in other regions and from other varieties of the agave plant. Hence, mezcals can vary greatly in style. Some, Waddell says, even take on those smoky, peaty tones you find in scotch.
Tequila and mezcal flights, bringing one-ounce pours of three tequilas in each, offer a thoughtful way to expand your awareness of these liquors. Yet even the cocktails are crafted in a way that makes you truly notice the spirits. In fact, most of the tequila-based cocktails feature flavorful aged tequilas: reposado (aged two months to a year) or añejo (aged one to three years).
Leave the saltshaker on the table and do your shots elsewhere. At Blu Toro, tequila is for savoring.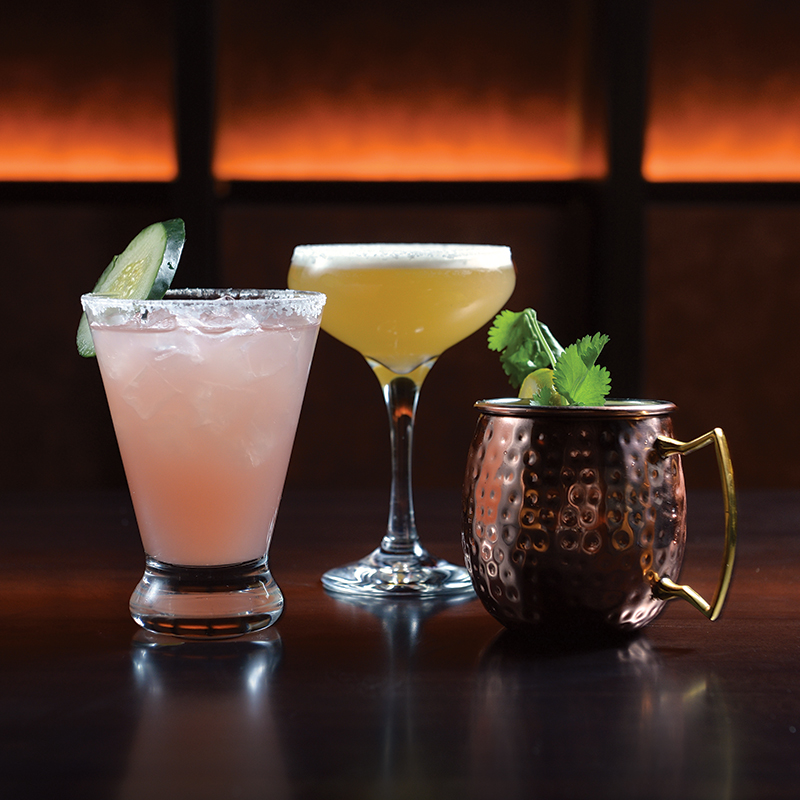 [lgc_column grid="33″ tablet_grid="33″ mobile_grid="100″ last="false"]Watermelon Cucumber Margarita
With aged tequila, lime and muddled cucumber and watermelon, this thirst-quencher is indeed as cool as a you-know-what.[/lgc_column]
[lgc_column grid="33″ tablet_grid="33″ mobile_grid="100″ last="false"]Extra-Aged Margarita
Aged spirits—including Herradura Anejo tequila and Grand Marnier (a cognac-based orange liqueur)—add depth and complexity to Blu Toro's signature margarita.[/lgc_column]
[lgc_column grid="33″ tablet_grid="33″ mobile_grid="100″ last="false"]Spicy Mezcal Mule
Mezcal, ancho-chile liqueur, lime juice and ginger beer give this South-of-the-Border-inspired mule a smoky-spicy appeal.[/lgc_column]