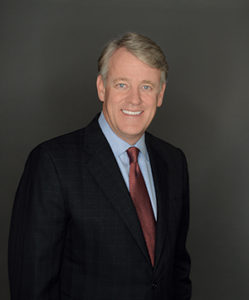 Writer: Brianne Sanchez
Photographer: Duane Tinkey
Flip an Iowa quarter to the tails side and you'll find "Foundation in Education" inscribed above the image of a one-room schoolhouse. Mark Jacobs points to that evidence of Iowa's early commitment to fostering learning when he talks about once again making education a top priority in the state.
Jacobs, who retired as president and CEO of Reliant Energy in 2011, spends a lot of time exploring the connection between school improvement and the state's long-term economic growth. He's set his sights on changing the education system.
"I'm failing retirement miserably," Jacobs, 55, says with a laugh.
After achieving success in business, Jacobs moved his family home to Iowa from Houston in 2012 so he could find a way to give back to the state where he grew up. As part of his 2014 run as a Republican candidate for the U.S. Senate, Jacobs emphasized the need to enhance community college to close the skills gap and empower Iowans through education. Most of his focus lately, though, has been on the K-12 system.
That passion was kindled when Jacobs served on the board of KIPP Houston Public Schools, a public charter school network that launched in 1994. KIPP (an acronym for "Knowledge Is Power Program") built a reputation for producing effective results for low-income learners.
"Having had the opportunity to meet some of the early KIPP-sters and see some of the extraordinary accomplishments these young adults had achieved because they had access to high-quality education—that's what really touched me," Jacobs says.
Jacobs knew Iowa was slipping in national education rankings and struggling with changing demographics, and he felt he could offer solutions. In 2013, he founded Reaching Higher Iowa, a nonprofit organization aimed at raising awareness for public education improvements and advocating for legislative and regulatory changes.
A 1980 graduate of Roosevelt High School, Jacobs attended Greenwood Elementary and Merrill Middle schools. He credits his sixth-grade math teacher,
Mrs. Clausen, with helping him recognize his aptitude with numbers—a skill that set him on a successful path. But Jacobs is aiming for a scope of influence that involves tackling systemic challenges versus focusing on the classroom level.
"I'm not interested in telling teachers how to teach," he says. He'd rather districts and schools have more autonomy and parents more school choice.
He is, however, interested in data. First, he wanted Iowa to rethink its system for student testing to focus on students' year-over-year academic growth. "Not measuring individual academic growth is akin to not having a financial statement in your business," Jacobs says.
Reaching Higher Iowa is a proponent of the Smarter Balanced assessments, a new form of electronic testing that moves students away from multiple choice to interactive questions designed to more accurately measure a student's ability level and academic progress. In 2016, Iowa lawmakers approved the switch to the new testing method, but the initiative remains unfunded and may not be implemented until 2019, if at all.
"As you look at Reaching Higher Iowa initiatives, a lot of what they're actively advocating for ended up in that bill," says retired Republican state representative Ron Jorgensen of Sioux City. He first met Jacobs at a legislative reception and quickly discovered they had the same views on education issues. Jorgensen worked closely with Jacobs during his time as chair of the House Education Committee.
"I think we need more people like Mark who have been successful in the business world [engaged in policy discussion]," Jorgensen says. "He adds a great perspective in what skills companies need."
Through Reaching Higher Iowa, Jacobs has engaged local executives and brought to the forefront the connection between statewide education policy and Iowa companies' future ability to compete. The organization's board of directors includes such heavyweights as Dan Houston, president and chief executive officer of Principal Financial Group; financial adviser, entrepreneur and investor David Miles; and Connie Wimer, owner and chairman of Business Publications Corp. Inc., dsm's parent company.
"I think a lot of us have assumed our education system in Iowa is really good, but nationally, we've slipped," says child advocate and community leader Allison Fleming, who serves on the board of Reaching Higher Iowa. "Change is always difficult, and education takes time. This isn't something that we're going to snap our fingers and see."
Jacobs' influence has also helped attract attention to local education models that are integrating strategies similar to those used by KIPP schools. Emily Westergaard, executive director of the Des Moines I Have a Dream Foundation, says Jacobs has encouraged legislators to tour the Dreamer Academy at Findley Elementary.
"[Jacobs'] work through Reaching Higher Iowa has brought education and policy leaders together, and has helped elevate the conversation over the past year," she says.
"We need teachers and parents and students to be engaged in the legislative process, and we need business leaders to take an active role in championing investments in, and innovation of, educational programs," Westergaard adds. "Organizations and programs such as Reaching Higher Iowa and the Greater Des Moines Partnership's Education Drives our Great Economy [EDGE] initiative bring those business leaders to the table, and convey to our political leaders that there are very real consequences possible if we don't strengthen our educational system in Iowa."
Ultimately, Jacobs' retirement plan is to inspire more business leaders across the state to ask the question: What will it take to improve student achievement? And just like when Mrs. Clausen encouraged him to sit in the front row for math class back in 1974, Jacobs will have his hand raised, ready to share his solution.