During their entire marriage, Margo Nahas and Jay Vigon have worked together and supported each other's creative endeavors and passions. "We do art because we have to," Nahas says. "We want to embrace something new. We want to explore all the mediums of art."
Writer: Kelly Roberson
Photographer: Duane Tinkey
Chances are, if you've bought an album or seen a movie in the past three decades, you've encountered the talents of artists Jay Vigon and Margo Nahas.
In conversation, the married couple are quick to praise each other's accomplishments. Their partnership extends through most of their lives—decades spent working together and supporting each other through creative diversions, side projects and passions. And in pursuit of their passions, these California natives have found themselves living in Des Moines twice, this time to stay (see accompanying story, page 130).
Vigon grew up in Los Angeles, and it was in elementary school that a teacher told his mother that he had talent. She enrolled him and his twin brother, Larry, in art lessons, and Jay would go on to graduate from ArtCenter College of Design in Pasadena.
Vigon's entry into graphic design was a bit of luck and a lot of talent: One of his teachers, Roland Young, was also head of the art department at A&M Records. "I was sitting there in the classroom thinking, 'That's a job? You get to do album covers?'" Vigon recalls. Young gave him a little work and some connections. Graphic design became Vigon's discipline, and his portfolio grew to include logos and design work for everything from album covers (Prince's "Purple Rain") to movies ("Star Wars: Return of the Jedi") and corporations (Gotcha Sportswear).
A California native like Vigon, Nahas grew up in Sacramento. After a brief stint at a girls' college in Missouri, she made her way back west to ArtCenter College of Design, too. "I wanted to be what I thought was a fine artist," Nahas says. She moved from oils to colored pencils, then to airbrush, imbuing her work with exacting photo-realism that translated well to advertising. "I was just passionate about creating something," she says. "I like to make beautiful things."
After the two graduated, they opened Vigon, Nahas, Vigon, with Larry Vigon. They quickly gained prominence for a bold approach to magazines and music, including logos such as one still used by Tom Petty and the Heartbreakers.
For the record, Margo Nahas and Jay Vigon have each designed iconic album covers.

Going to Work
Vigon's and Nahas' creative lives have been united since then. There was the design firm, a store in LA, a store in Des Moines. They share a dedicated approach to work, but with distinct artistic styles.
Take Vigon: There's an ever-present edginess—imagery and colors slightly askew, hand-drawn origins evident. He aspired to a dynamic artistic approach in design school and has refined it ever since. "I found this little book in school of German graphics in the early 1900s," Vigon says. "It wasn't like the contemporary logo work at the time—there was actual storytelling with one design, and it set something off in my head."
That head never stops working, says Nahas: "He draws 24 hours a day—from morning until bed. He draws out everything, and then scans it in the computer and works further."
From the first, Vigon has treated art as the product of work rather than inspiration. "I'm paraphrasing, but my favorite quote is from Chuck Close, and it's something like, 'Inspiration is for amateurs. The rest of us get up and go to work every day,' " he says. "When I was teaching, I'd tell students, 'If you are going to call yourself an artist, then that's what you do every day—even if you don't have a job.' If I don't have a job, I'm doing personal work, which is helping me with graphic design work. They feed off of each other. I get all these discoveries by just working. A lot of things I do wouldn't be done if I hadn't been constantly working."
Logo design can be daunting, representing a product or brand simply and clearly, while dealing with layers of corporate clients. Jay Vigon is a master.
Inside Her Head
To the outside world, Nahas believes, she appears to be pedestrian: "In college, you would have thought I was the most normal person you had ever seen."
In her mind, however, creative thoughts swirl. Nahas is a master at the unexpected, reveling in the incredulity that comes by creatively mixing materials and imagery. And she's carried this philosophy through different types of art and media.
Take, for example, what is arguably her most famous piece: an airbrushed image of a cherub smoking a cigarette. She completed it for herself, and then the band Van Halen asked to use it as the cover of their iconic "1984" album. It is realistic and fantastic at once, as are her more recent pieces, such as a chunky black necklace cast from discarded cigarette butts.
Nahas explores one art type, adds it to her repertoire, then moves to another—ceramics, painting, jewelry. "I like to surprise people," she says. "I like them to look at something and then have to do a double take. It makes the piece more special; it makes it look like something else."
Margo Nahas' distinctive necklaces make a stunning statement. Nahas designs, sculpts and fabricates each piece: "I never make two alike. I customize every piece."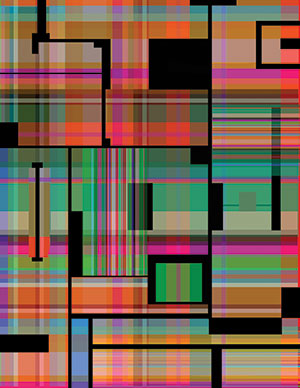 Gaining Fans
Lifelong Californians, Nahas and Vigon relocated in Des Moines in 2004. Although they left for a few years, they're back to stay. The move put them closer to a granddaughter and enabled each of them to sign on to a studio space in the new Mainframe Studios building, expected to open this summer.
Their contributions have garnered support from the Greater Des Moines community. Ellen Hubbell remembers the day she happened upon their former studio in the East Village: Vigon's graphics lined the walls and Nahas' jewelry filled a cabinet. "Immediately," she says, "I knew I was in a uniquely sensual place."
Her admiration extends to the couple's latest work, says Hubbell—intricate alphabet letters presented one letter at a time by Vigon, for example. "It reminds me of the labor-intensive work that the medieval monks put into crafting a single letter," she says. "His artful lines with black ink are what appeal to me—clean, bold, elegant."
To be a fan of one is almost to be a fan of the other. Pat Schneider has purchased Vigon's pieces as gifts and Nahas' for herself. "I love jewelry, and Margo's pieces are unique and fit my style perfectly," she says.
Vignn and Nahas "are an amazing addition to the arts community, and we are so lucky to have them," Schneider adds.
The Next Step
As they look forward to their new studio spaces, Vigon and Nahas radiate a buzz—it's a chance to start the next step, the next project, the next medium. Vigon plans to work more on art and a large-scale series of inkings called "Swimming Upstream," a project he began seven years ago (see pages 124-125).
"It's this rather arduous journey because it is so hard to do," he says. "It is intricate and I don't have a plan—it's all stream of consciousness."
Nahas intends to focus on painting, on her jewelry—on wherever her creativity takes her. "I want to get in and be able to really work on my jewelry, and the studio will be large enough that I can take on projects that I've always wanted to do," she says.
It all circles back to that Chuck Close mantra: There is always—and always will be—the work. "This constant turnover of artistic areas to explore—that's what keeps you going," Vigon says. "A lot of people get stuck with one look. We're constantly trying to stay ahead of it. Everything you look at becomes a possibility."
"We do art because we have to," Nahas says. "We want to embrace something new.  We want to explore all the mediums of art. We don't want to be pigeonholed. You're an artist 24/7; it's not an 8 to 5 job. You don't turn off your mind at 5 in the afternoon."

---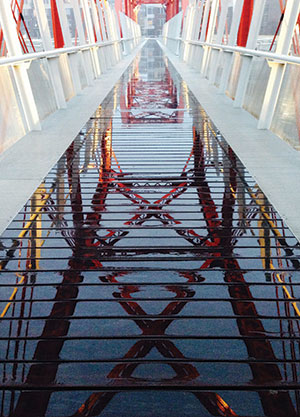 Des Moines' Artistic Allure
Los Angeles, the land of beaches and Disney, movie stars and eternal sunshine—and art: countless museums and galleries, a creative scene that's got a place for everyone from the rebel to the renowned. Why, then, would two internationally known artists pick up and move to Des Moines?
For all its sunny disposition and thriving arts culture, a place like LA can wear away the fabric of daily existence—the tick-tock of the clock as traffic eats up a day, or the crush of people all seemingly going to the same place as you. The lure of change began to scratch away at Margo Nahas and Jay Vigon's routine, especially as their two daughters turned into adults.
And so in 2004, while visiting a Des Moines friend, Nahas found herself gazing out at the wooded hills of a 34-acre spread for sale south of Adel. It had a log house, tons of room and an overriding quiet; she was entranced. Sight unseen, Vigon agreed to the purchase.
For the next nine years, the couple created their art and spent time with a daughter who was living in Des Moines. Nahas planted gardens and walked with her dog along trails that Vigon marked in the woods. "To me it was like living in a fairy tale," Nahas says.
But for a lifelong LA resident like Vigon, the sudden quiet—no more hustle and bustle, no more traffic, no more access to nightly music or shows—was almost too stark of a change.
Eventually the restlessness won, and in 2013 the couple relocated to a loft in downtown Des Moines. They put their energies into renting and renovating a gallery in the East Village. But a year later, Nahas' mother became ill. The couple decamped once again, this time to Sacramento, where Nahas was able to tend to her mother until she died.
Last year, Vigon and Nahas returned to Des Moines, settling into a loft downtown. While one daughter had permanently settled on the East Coast, their Des Moines-based daughter had gotten married and had a baby. "We realized the only place we really loved is Des Moines," Nahas says. "We knew a lot of people to come back to."
They've been busy preparing work spaces in the new Mainframe Studios on Keosauqua Way. The 154,000-square-foot facility includes 180 artist studios and nonprofit offices.
"The art world in Des Moines is so exciting," Vigon says. "The artists and supporters are working at it really hard."
Nahas agrees: "The way the town has updated itself in the last decade is remarkable. We are glad to be back. We love it here."