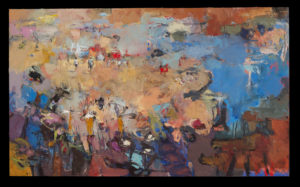 If you haven't had a chance to stop by the current exhibit at Moberg Gallery, make time to do so. Why? The group show features the works of 20 local and regional artists– eight of them new to the gallery–so you can enjoy works from your favorite artists as well as discover new ones.
For example, we enjoyed learning about abstract artist Igor Khalandovsky, a native of Ukraine who now teaches at Des Moines Area Community College; Doug and Eileen Leunig from Peoria, Ill., who create mesmerizing works of digital photography; and Chicago painter Mary Katz, whose compelling abstract works contain tiny but attention-grabbing figures. In her recent work, "the world in which my figures dwell is beyond their control and comprehension," she explains in her artist's statement. "The figures walk into the unknown while making as much order of the chaos as they can. In a similar way, we humans live in a universe that is unfathomable."
We also were intrigued by Grand View University instructor and mixed-media artist Mary Jones' exploration of an unexpected subject–life along Southeast 14th Street. She describes her work as wandering "through place and time by recording experience with words, drawings, photos–usually combined. No medium alone says enough. Together they are a way of knowing places."
Other highlights include the colorful, bold and always-striking acrylic paintings by Des Moines arist and Bosnia native Senid Tabakovic (read a story in dsm magazine about the artist here) and the artistry of Sarah Grant, who, in a departure from the past, is creating large-scale works on canvas. To learn more about the exhibit and artists, go to Moberg's website.