Above: "Don't let anyone else determine your dreams," says Robert John Ford, who is fulfilling a dream of producing long-run theatrical productions in Des Moines.
Writer: Brianne Sanchez
Photographer: Duane Tinkey
The roving playwright finally has a stage to call home.
When the curtain rises Jan. 11 in the new theater space at Mainframe Studios, Robert John Ford will fulfill a dream—and fresh audiences will have more opportunities to enjoy the acclaimed work of a creative Iowan. The stage is set for "Utopia," a two-hour sketch comedy featuring songs and skits that celebrate and send up the people and places of Iowa.
"When I created 'Utopia' almost 10 years ago, my objective was a long-running, sit-down show that would be a signature theater experience for residents and visitors to Des Moines," says Ford, 56, who was born in Fort Dodge and currently splits his time between Des Moines and New York City.
A playwright, composer, lyricist and producer, Ford graduated from Iowa State University in 1985 with a degree in business and a desire to create full-length musicals and plays. He's built a bicoastal career over the past 30 years, learning stagecraft and networking in San Diego and New York, but drawing most of his inspiration from his home state.
"Utopia, The Iowa Musical Revue" is one of more than a dozen shows Ford has produced since 2003. The production is constantly evolving, with new bits written to respond to current events. Various versions are numbered like internet operating system updates, with the current incarnation billed as "Version 5.0." All iterations depict quintessential Iowa experiences with sincerity—and hilarity.
Des Moines audiences have embraced comedies like "Triple Espresso" and "Dixie's Tupperware Party" at the Temple Theater, so Ford believes there's an appetite for the genre. He wants "Utopia" to do for Des Moines theater what Raygun has done for local shopping. His hope is that the show can become known as a go-to date night, or the de facto evening excursion with out-of-town guests, playing on any given weekend.
"I think I succeeded in writing the show; the obstacle was the venue," Ford says.
That was until he read about Justin Mandelbaum's plans to transform 900 Keosauqua Way into artist studios. Ford asked to rehearse his 2016 production of "Caucus: The Musical" in the yet unfinished space. Eventually, he got the go-ahead to use the gutted first floor of Mainframe Studios, which was designed to host a 75-seat venue with Ford's vision in mind. Audiences will be seated at cabaret tables; a full bar service and appetizers will be available.
Similar Goals
Interacting with working artists during the planning process was helpful for the Mainframe Studio team, says Director Siobhan Spain. Their objective wasn't to compete with other performance venues, but the more Ford talked about the kind of space he'd need, the more it seemed to line up with Mainframe's goal.
"Robert explained that the rent I quoted him for the space meant that he could afford to finally experiment with this idea of a longer-running show," Spain says. "Providing affordable workspace means artists have the freedom to explore the possibilities of their creative professions here in Des Moines."
The affordability of Des Moines has outweighed the proximity of New York for Ford's professional career. While Ford's experience in the selective New York-based BMI Lehman Engel Musical Theatre Workshop was formative, he appreciates the benefits of being a bigger fish in
Des Moines' smaller pond.
"I feel I'm lucky because I can get the best of both worlds," Ford says. "In New York, I'm surrounded by a community of like-minded artists and resources, but in Iowa I can afford to live comfortably. I have a great support system, and it's a great place to do the actual creative work. I feel inspired here, and I feel like I can set aside time to do the work."
In New York, it takes him about an hour and a half to travel from his Queens sublet to midtown. He can hop on a plane to Des Moines and be here in about four hours. "My game plan is: Make those connections and find those collaborators [in New York] and bring it here," Ford says.
Alison Shafer of Des Moines, director and choreographer of the new production of "Utopia," believes his dual citizenship between the East Coast and the Midwest also has enhanced his creativity and work. "It gives him the vantage point of observation from a distance, which can be very telling and informative," Shafer says. "I think there is a clarity about Iowa, its people, its quirks that are more easily observed from a distance but also perhaps in comparing them to those not from the Midwest."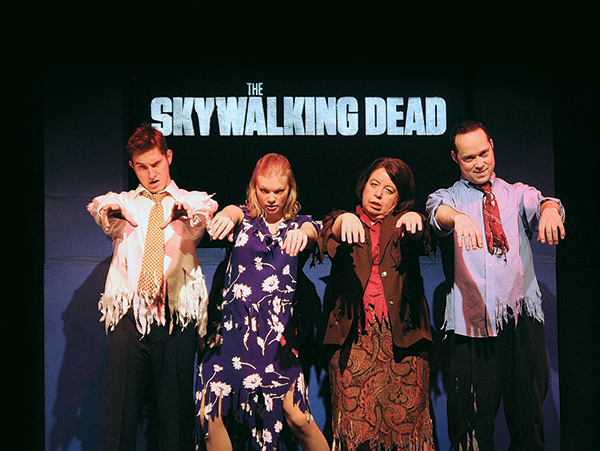 This death-defying scene, from a sketch in a previous version of "Utopia, The Iowa Musical Revue" featured Nick Toussaint, Megan Schetler Schug, Mary Bricker and Craig Petersen.
All About Iowa
Subject matter rooted in Iowa—our caucus system, Jack Trice, six-on-six basketball—also makes Ford stand out.
Grants and a fellowship from the Iowa Arts Council permitted Ford time to research the history behind "Trice" as well as "Caucus! The Musical," an over-the-top, irreverent look at Iowa's role in the political landscape, which has garnered attention from media outlets from the BBC to NPR.
While Ford celebrates the growth of Des Moines Performing Arts as a top destination for touring productions, he'd love to see Iowa begin to export more of its creative work. There's risk in debuting productions and putting on lesser-known works; Ford has been on the business side before, so he knows that for theater companies already operating on a thin margin, untested material is a tough sell.
Shafer believes it's up to theatergoers to look local.
"I would encourage organizations and audience members to continue their willingness to embrace and support something that is new with dollars and especially with time," she says. "See new works. See live theater. Every favorite play and musical was new at one point."
So far, more than 30,000 people have taken a risk and seen Ford's productions. As his audiences grow, he's eager to continue to develop new work. And he'd like to see other Iowans find their future in musical theater, too.
"You can't wait for other people to validate your work," he says. "Don't wait for things to happen for you or the world to make things happen. Don't let anyone else determine your dreams."
---
Show Details
"Utopia, the Iowa Musical Revue—Version 5.0" opens Jan. 11 at 7:30 p.m. at Mainframe Studio Theater, located inside Mainframe Studios, 900 Keosauqua Way. Following the opening, the show will be presented on most weekends. Tickets are $23-$33 through midwestix.com. All seating is general admission; a full bar and appetizers will be available during evening performances. More information: robertjohnford.com.