Writer and Photographer: Emily Kestel
It's a 74-degree May afternoon, with a slight breeze and mostly cloudy skies. It rained an inch the night before, so the ground feels soggy and lush — perfect conditions for Sara Anderson to take a walk around her 50-acre property north of Fairfield.
She and her husband, Jim, own Anderson Prairie Farm, where they've lived since 2013. She is from Texas, and he is from northern Ireland. Sara studied conservation and natural resources in college before teaching transcendental meditation for several decades with Jim. After they retired, they decided to plant their roots on an acreage, close to water and with enough space to build their own home with their own hands and grow enough food to sustain themselves.
Once Sara realized as a young girl that you could grow food instead of buying it from a store, she's always loved doing so. In fact, she and Jim go to the grocery store only for milk, cheese, butter and bulk items. Everything else they grow themselves or receive as gifts from friends.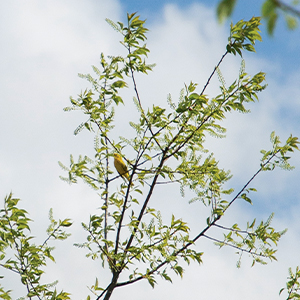 The Sustainable Iowa Land Trust believes this could be the reality for more Iowans. The statewide nonprofit, founded in 2015, aims to preserve Iowa farmland for sustainable table-food farming by ensuring future generations of Iowans have access to affordable farmland and the food it can grow.
The land that Sara and Jim live on is proof that Iowa is ripe for diversity in agriculture. Throughout Sara's walk, she checked on her young hazelnut and chestnut trees, and marveled at the black cherry buds. She spotted a yellow warbler, too, the first sighting of the year.
She pointed out a structure under construction that will eventually become a 20-by-20-foot passive solar greenhouse and produce shop. Next to it are two 3,000-gallon tanks that catch rainwater.
She picked off a piece of wild chamomile poking up through a gravel path, rubbed it between her hands and took a deep breath. "Doesn't it smell a bit like pineapple?"
Later, she took off her sandals to walk through a stream and kept them off. She calls the trail through the prairie a "Dr. Scholl's foot path."
She pointed to a 10-acre section of prairie, covered with bluegrass, Indian grass, switch grass and eastern red cedar trees. "Everything from here to that tree line on the horizon, that's just potential."
This, she said, is the dream. If only more of the state were like this. More natural, she said. More regenerative.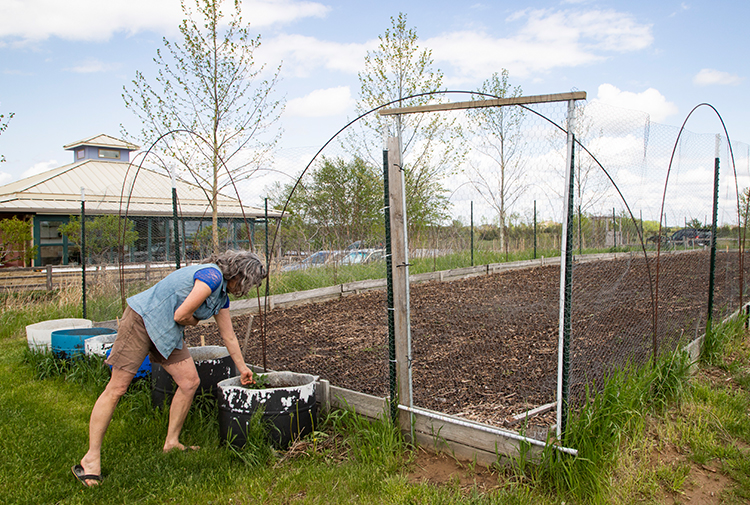 Sara Anderson tends a garden at her family's 50-acre farm in Jefferson County.
Staking a Claim for the Future
About 85% of land in Iowa is farmed, yet roughly 90% of the food eaten by Iowans is produced out of state.
Based on current trends, Iowa stands to lose more than 183,000 acres of farmland to development by 2040, with the most changes expected in Polk, Dallas and Linn counties.
Statistics like these have long-term effects on the environment, especially if they keep trending toward extremes.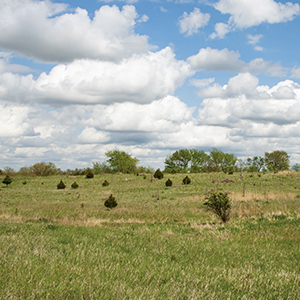 "The idea of creating more permanent solutions for food farming in Iowa is always at the forefront of our thought," said Breanna Horsey, executive director of the Sustainable Iowa Land Trust. "We have to offer better solutions to new farmers who want to do something other than grow corn and soybeans. We want our farmers to be growing food that we can eat and provide healthy food for our communities."
Through conservation easements, SILT helps landowners protect farms by legally requiring any and all future use of the land to be used for sustainable food production and conservation. Typically, land with easements is about 40% cheaper, which eases some of the usual financial burdens, Horsey said.
Through its Circle Our Cities campaign, which encourages farms to be a key part of future zoning and city planning, SILT hopes to protect 10 food farms in 10 Iowa cities by 2030. Those cities are Ames, Cedar Rapids, Council Bluffs, Davenport, Des Moines, Dubuque, Iowa City, Mason City, Sioux City and Waterloo.
"The origin of Circle Our Cities is to bring home the fact that our metro areas are importing 90% of our food from out of state when we have some of the best soils in the world, and we can use just a fraction of that surrounding our cities to feed the people in them," SILT founder Suzan Erem noted in a 2022 Iowa Stops Hunger article.
A study found that one acre can feed 200 people their daily allowance of fruits and vegetables every growing season. With 3.2 million people in Iowa, that would be roughly equivalent to 16,000 acres.
Since 2015, SILT has protected 16 farms totalling more than 1,200 acres across the state. Each farm is used differently. Many grow vegetables, others have orchards. Some are used for beekeeping or livestock.
What's more, having greater access to fresh, local food helps in the fight against food insecurity. COVID demonstrated that supply chains can break. Having local food helps a lot, Horsey said.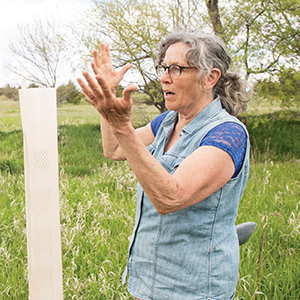 Seasons of Change and Continuity
After working and living on their Fairfield farm for several years, the Andersons began to think about its future. They wanted to ensure that it would be protected after they were gone.
"We care about the land," Sara said. "We care about natural systems. We don't want things developed."
They looked to the Nature Conservancy, Sierra Club and other organizations before stumbling across SILT, which they decided aligned with their mission to grow edible food for human consumption.
In 2021, the Andersons worked with SILT to place an easement on their land. Roughly 36 of their 50 acres are protected.
The number of vegetables, herbs, berries and other edible plants grown on the farm is endless. There are the usual onions, rhubarb, garlic, potatoes, peas, carrots, beans, celery, lettuce, spinach, broccoli, cucumbers, cabbages, asparagus and kale. Then there are a few serviceberries, currants, gooseberries, aronia berries and other fruit bushes.
The Andersons tend two primary vegetable garden plots: One is a subsistence plot, meant solely for their own consumption, and the other, called the giving garden, will be used to contribute to local nonprofits like the Golden Magnolia Sanctuary, a vegan soup kitchen.
Sara hopes their decision to protect their land will inspire others to do the same.
She knows that a market has to be created for it to be sustainable. Stores need to support the idea. For most folks, it's not enough to make $300 by selling locally grown tomatoes at the farmers market.
But Horsey believes the tide may be turning — or the landscape may be changing.
"There is now a demand for local food from restaurants that are serving farm-to-table," she said. "If you look at farmers markets across Iowa, they are busier than they have ever been. Iowans are becoming hyper-aware of the effects of climate change. It is really a great time to jump headfirst into sustainable farming. People want to support it."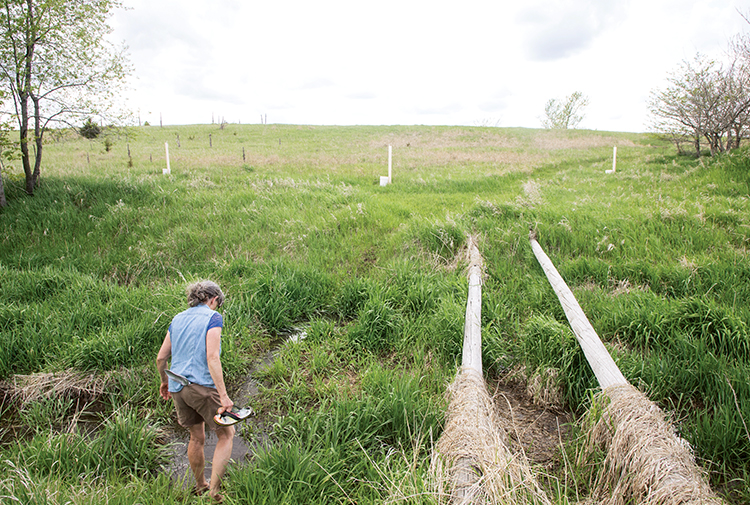 Sara Anderson removes her sandals to cross a stream on her property, where she often walks for both physical and mental health. She calls the prairie trail a "Dr. Scholl's foot path."