As told to Karla Walsh
Photographer: Duane Tinkey
The Joy
of Awakening

As told by Troy Peterson, 35 Co-founder, ValorFit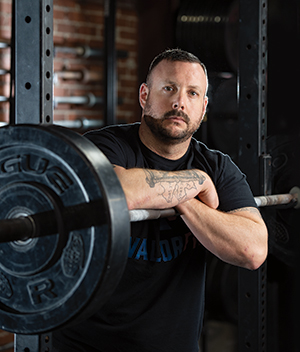 The toughest part of being sent to Iraq with the Army was the fear of the unknown. Would I die? Would my friends die? It was not a friendly place. The experience changed me forever—for the good and the bad. 
The toughest part about returning and getting back to normal was that I never tried to accept my new normal. I never accepted the fact that the losses of life bothered me. I never accepted the sadness and anger; I just dwelled on it and kept all of my emotions inside.
My symptoms of addiction and anxiety started on the evening I got home. My family met me in Fort Hood, Texas, and I was scared to see them. I didn't want to admit that I was a changed man, so I started drinking. I struggled to sleep, so I took sleeping pills and any other kind of pill that would help me fall asleep. I became an addict on my first night home.
My addictions took control of every aspect of my life. I took pills to sleep. I popped other pills to stay awake. I downed even more pills to deal with the thoughts inside my head. I drank to try to forget about it all. When I wasn't drinking, I wanted to be drinking. 
Food was also a coping mechanism. I would skip meals or would eat very small ones when other people were around, but when I was alone I'd "eat my feelings." My weight crept up to 335 pounds.
I started seeking treatment in 2008, three years after returning from Iraq. I knew I needed help; I just didn't want to admit it. Often, when I was done with therapy, I'd go to a bar and have a couple of drinks—or I'd go straight to the bar and skip therapy.
After years of blaming everyone else, not accepting responsibility for my actions and hiding my emotions from everyone, I hit bottom. On July 30, 2015, I attempted to take my own life by overdosing on pills.
I consider myself so lucky to have awakened the next day. I knew I needed a change—and fast—so I went looking for one. I found it immediately after I walked into Crossfit Waukee. The owner, Reggie Hoegh, took me under his wing. He kept me close—and he might not realize it, but he saved my life. His positivity and motivation made me want to be around him all the time. From August 2015 to August 2016, I practically lived at the gym and went to events with people I had met there: church, Bible studies, birthday parties and everything else that families could attend.
The activity kept me busy. It kept me focused. It empowered me and gave me confidence so I didn't have to turn to drugs and alcohol every time things got bad. The people I surrounded myself with wanted me to be a better person, so I put in constant and consistent effort. I now weigh 100 pounds less than my high point.
I've been sober since Aug. 1, 2015. My life has completely changed and I'm grateful for my second chance. I know how and when to communicate my thoughts to someone else and can ask for help when I need it. I do my best to live each day with a purpose. Recently, I co-founded ValorFit, a nonprofit that pairs veterans with gyms as a "battle buddy" to counteract potential addiction and anxiety.
His Advice: Accept Help
You're not alone when dealing with addiction or anxiety. Others are dealing with and fighting the same issues and people do care. If the people around you don't care, you need new people. You must remember that you deserve to be the best version of yourself every single day. Life isn't always unicorns and rainbows, but it can be better than it was yesterday.
---
Conquering a 'New Normal'
As told by Lisa Grefe, 40 Founder, the Comeback Project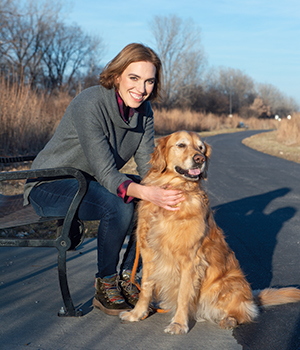 You know those pesky muscle knots that creep up around your shoulder blades during stressful days? One day in 2012, I was reaching for a bathroom towel and felt something similar to that, but went to work like a normal day. By the end of the day I could barely move. The pain had traveled up into my neck, my head and through my right arm. I quickly realized I was getting worse and was having trouble moving around due to the pain and decided I needed to leave work. I barely made it home. I called my wife, Abby, and said I needed help. 
My doctor did an X-ray and prescribed medicine for a disc issue, and I went about my routine. I improved a little, but over the next year even little things like rolling over in bed caused shooting pains. I'd wake up and my entire right side was in so much pain I felt like I couldn't move. I struggled to work or do any activity, really. I lost all range of motion in my neck. It became hard to do any normal life activities like driving, showering and walking. As a former semipro soccer player and lifelong athlete, I was devastated. Abby transformed from my wife to my caregiver. Before, we loved going out to dinner and spending time with friends, but we had to withdraw from pretty much all social activities.
We were in need of answers and urged more tests. The doctors performed an MRI and discovered that I had Chiari malformation, which causes brain tissue to extend into the spinal canal, and syringomyelia, a cyst in my spine. My neurologist reassured me that I was going to be OK, but I had a gut feeling that something wasn't right. My health continued to decline. I was in constant pain and kept losing range of motion. Even scarier, I started having trouble swallowing and finding the right words to say. I ended up living in a chair for six months because of the pain.
In 2014, I pushed for a different type of MRI, and that showed that the Chiari malformation had severely blocked the flow of fluid in my brain and around the spinal cord. Surgery was the only treatment option, so I chose a specialist in Colorado.
A month after surgery it was a victory to walk five houses up the block with my dog. In 2018, I started working with a trainer to regain basic movement patterns and strength. I have to be very diligent and take a "long game" approach because if I overdo it, my nerve pain will rear its ugly head. Someday, I'd love to golf and go dancing again!
Admittedly, progress has been slow. My doctor was hopeful I would be at 85 percent of my previous ability after three years. I feel I am close to that level after four years.
I still have a ways to go and continue to manage my energy and pain. But I have many more good days than bad and am not living in daily constant pain.
One of the hardest parts of the process is dealing with expectations and time. I thought I could defy expectations and be back to full-time work and my normal life a year after surgery. Not so. I've had to give myself grace and be patient about recovery, adapting my lifestyle along the way. 
As I slowly added activities back into my lifestyle, with my doctor's green light, I finally began to feel a sense of accomplishment and pride again. In 2018, I set a goal to ride a spinning bike three times a week. I started riding the bike for two minutes each day, then added two minutes more every week. Now I'm able to ride for 45 minutes. 
I left my career in athletics administration and started over career-wise, too. I launched my own business coaching entrepreneurs, athletes and managers through their obstacles. I also founded the Comeback Project, a community that aims to inspire others to bounce back from mental and physical obstacles.
Her Advice: Keep Setting New Goals
You might feel betrayed by your body after going through an injury or illness. With time, and after processing the emotions and accepting the new normal, you learn to love yourself and your body again. Remember to set new goals so you always have something to strive for. Know that it is possible to find peace.
---
Finding Hope
In a Diagnosis

As told by Claire Richmond, 35 Founder, Hello And High Five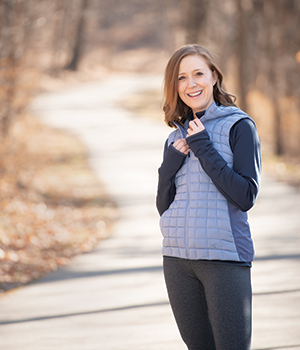 My first attack came at age 15, and kept me bedridden for at least a week. I had abdominal pain, weakness, insomnia, confusion and anxiety. Looked at in isolation, these are fairly normal symptoms that could be related to many common health conditions. Doctors were stumped and basically told me to keep on keeping on. So I finished school. I started a nine-to-five. And, when my body was up for it, I stayed fit with my favorite activity, running.
I remember a handful of other attacks throughout the next decade. During my mid-20s, things seemed to ramp up. My attacks became more frequent and the symptoms more severe, to the point where a cloud of pain and anxiety became my baseline. I saw more than 20 doctors of varying specialties in at least a dozen practices located in five states. 
At one point, I was told that my pain was toxic stress. I was referred to a therapist because it was "all in my head."
Then in 2016, my colon shut down completely. Hospitalized for 27 days over the course of five months, I was tossed around to a variety of medical professionals 
as they tried to pin down what was really going on. My symptoms were worsening. My blood pressure went through the roof and my resting pulse, which at the time was in the high 40s because I was a runner, skyrocketed while my sodium plummeted. Eventually, the team at St. Mary's Hospital in Rochester, Minnesota, examined me and gave me a battery of tests, including one for porphyria. And it, of all the many tests I'd taken over my 18-year search for answers, was the first to yield an abnormal response.
That day, I was diagnosed with acute intermittent porphyria (AIP), a condition that impacts fewer than 3,000 Americans. My first thought after the diagnosis wasn't that I was scared. It was that I might get a chance to feel healthy again. At long last.
As the name suggests, the symptoms come on hard and fast for periods of time, typically for days or weeks.
I can live halfway normally in the windows between my attacks. But when the attacks pop up, the abdominal pain is indescribably intense. 
There's one medication to treat AIP right now, although more are in development, and there a couple of approaches my medical team is taking to address my symptoms. Still, my treatment is largely experimental. My specialist says there aren't enough of us with AIP for a treatment method to have empirical evidence. There are a handful of "porphyria experts" in the country, and I see a specialist at the University of Utah Health annually. He advises my team at John Stoddard Cancer Center and I receive weekly infusions at Methodist downtown, which takes around three hours for administering the drug and another hour or two to get my emotions in check afterward. 
I live a life of caution these days, with a healthy mix of testing my limits. There are four triggers for a porphyria attack: hormones, drugs, stress and a low-carb diet. Although I love a good IPA, I no longer drink it; instead, I've been finding enjoyment in kombucha and all of its fun flavors. I've drastically cut back my high-endurance exercise. I've adjusted my diet quite a bit. I wasn't a big carb-eater before, but I now know that I can actually stave off an attack by eating sandwiches.
I started a business from my couch, while recovering from my worst and most devastating attack. Now I find a tremendous amount of joy connecting with the runners I used to coach and run alongside through my greeting card company, Hello And High Five. I hope I will be able to train for distance races again someday. For now, I can safely manage about 12 miles per week if I am feeling good. Running feels exponentially better than ever because I'm in less pain and I'm stronger. When I do feel well enough to get out there, I find it difficult to wipe the smile off my face.
Her Advice: Be Persistent
If you're struggling with pain or discomfort, don't give up hope. You will get discouraged and you will get tired. 
Take a break, then keep seeking answers. 
There are 3,000 rare diseases, and no doctor can know how to spot them all. Get second, third and fourth opinions. When you finally receive your diagnosis, things will click into place and then you, too, can learn to start back on your path to living your best life.