Writer: Karla Walsh
Photographer: Duane Tinkey
Here's a new nosh rule you're sure to welcome: Rather than sticking to the Whole 30 (for a whole 30 hours) or catching the keto flu, many dietitians are advising clients to eat more and restrict less. That's right: You hereby have our permission to lean in to your hunger cues. In fact, 94 percent of your fellow Americans do it daily, according to a Mintel report.
"It's OK to snack. I suggest planning for them," says Molly Heims, a registered dietitian with Elite
Health and Performance in Bondurant. "If you're not hungry you don't have to eat, but it's so important to keep ahead of your hunger." When we shift from mildly stomach-grumbly to hangry, we're all too likely to reach for handful after handful of M&Ms or Cheetos.
While you're shuttling kids to school and from practice, then running from meeting to gym to meeting, keep these store-bought, easily-edible on-the-go healthy snacks and mini meals in your back pocket (or purse, glove compartment, briefcase …). Some are better to tide you over for a meal, while others can stand in for one when you're in a rush. And don't worry: None tastes like cardboard. They're not only dietitian-approved, but flavorful as well.
---
HY-VEE 
Various locations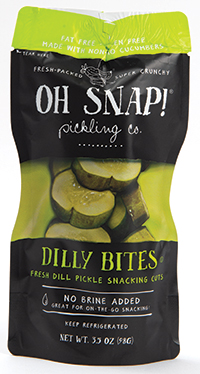 1 package Oh Snap! Dilly Bites Dill Pickle Snacking Cuts with one 1-ounce bag Enlightened Sriracha Roasted Broad Bean Crisps
Just finished a sweaty workout? Replenish your salt supply with this crunchy combo of calorie-free pickle slices and chili-seasoned fava beans.
100 calories for one bag bean crisps:
3 grams fat, 7 grams protein, 15 grams carbohydrates.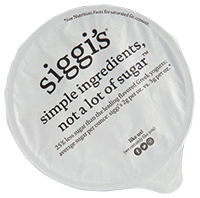 Siggi's 4% Milkfat Strained Whole Milk Vanilla Yogurt with 1 packet Sahale Trail Mix Classic Fruit and Nut Blend
Instead of a milkshake or fast-food ice cream cone, get your sweet fix with this thick and rich yogurt paired with fruity trail mix. The whole milk yogurt supplies enough fat to ensure this creamy treat satisfies for hours.
310 calories for 1 cup yogurt and 
1 packet trail mix: 14 grams fat, 14 grams protein, 34 grams carbohydrates.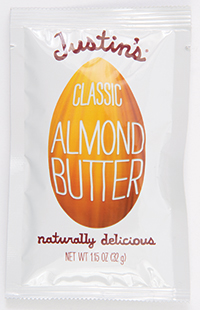 Justin's Classic Almond Butter
1.15-ounce Squeeze Pack with 1 grab-and-go cup of celery sticks 
Kids and adults alike will go nuts for a squeeze-and-snack option. Add a box of mini raisins for the full ants-on-a-log treatment.
210 calories for one squeeze pack:
16 grams fat, 8 grams protein, 11 grams carbohydrates.
---
TRADER JOE'S 
6305 Mills Civic Pkwy., West Des Moines
Smoked Salmon Poke Bowl
Drizzle the blood orange dressing on top of the brown rice, lox and veggies, and all that stands between you and a healthy makeshift meal is a set of chopsticks.
240 calories for one bowl: 5 grams fat, 
11 grams protein, 39 grams carbohydrates.
1 Organic String Cheese with 1 medium banana
Peel the banana, then peel open the cheese stick for an affordable
matching duo that provides a reasonable macro mix.
195 calories for cheese and banana:
5.5 grams fat, 9 grams protein, 27 grams carbohydrates.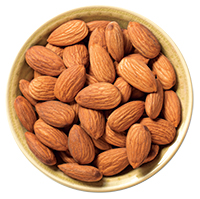 Just a Handful Simply Almonds, Cashews and Cranberries Trek Mix
Hit the road with this dried fruit and nut snack. The best part, besides the sweet and salty flavors, is that these packets are pre-portioned so you don't accidentally demolish an eight-serving bag in one sitting.
210 calories for one pack: 13 grams fat, 
7 grams protein, 18 grams carbohydrates.
---
CASEY'S 
Various locations

1 package Blue Diamond On-the-Go Almonds with 1 Babybel Light Cheese and Crackers
Build your own snack pack with a bag of salty almonds, plus a wedge of semisoft cheese and a handful of whole-wheat crackers. It's like a mini cheese plate! If you like, round out the happy hour-inspired snack with a glass of wine when you get home from your afternoon errands.
190 calories for almonds, cheese and crackers: 13 grams fat, 11 grams protein, 10 grams carbohydrates.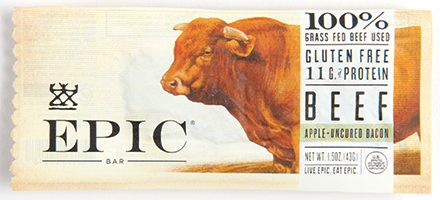 1 Epic Bar Beef Apple-Uncured Bacon with 1 medium apple
Certain jerkies make you feel like you're gnawing on leather rather than legitimate food. Not this beef and bacon bar. It's similar to a shelf-stable burger and makes for a filling snack when paired with a piece of fruit.
265 calories for one bar and apple:
13 grams fat, 9 grams protein, 29 grams carbohydrates.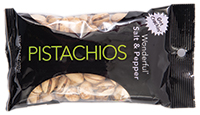 100-calorie Pack Wonderful Pistachios Salt and Pepper with a single-serving bag Skinny Pop popcorn
Rip open the package of pistachios. Pour them into the bag of popcorn. Commence the ultimate volume snacking session.
250 calories for one pack pistachios and one bag popcorn: 19 grams fat,
6 grams protein, 20 grams carbohydrates.
---
GATEWAY MARKET 
2002 Woodland Ave.
Chocolate Sea Salt Rx Bar
This all-natural pick is about as close as you'll get to a brownie's flavor in the snack bar aisle. Don't be turned off by the sea salt: That addition showcases the sweetness of the chocolate and dates.
210 calories for one bar: 9 grams fat,
12 grams protein, 24 grams carbohydrates.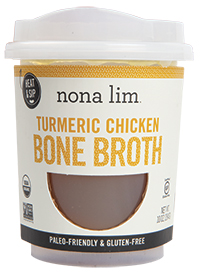 Nona Lim Turmeric Chicken Bone Broth with 4 GFB Gluten Free Bites Chocolate Cherry Almond
There are many reasons why broth is hot (and in more ways than just the temperature!). It's high in protein and low in calories, yet it feels like a meal. For a mini meal, warm up a cup—it comes with a lid designed with a sip spout—to enjoy alongside chocolate energy bites.
245 calories for broth and bar: 9 grams fat, 15 grams protein, 25 grams carbohydrates.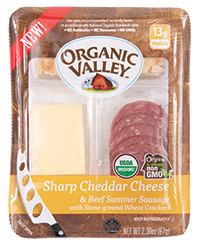 Organic Valley Sharp Cheddar Cheese and Beef Summer Sausage with Stone-Ground Wheat Crackers
For a grown-up spin on a Lunchable, snag this snack pack from the refrigerated section near the produce. We promise you can pronounce every ingredient on the list.
230 calories for one snack pack:
16 grams fat, 13 grams protein, 10 grams carbohydrates.
---
STARBUCKS 
Various locations
Spinach, Feta and Cage-Free Egg White Breakfast Wrap
Cheese, please! Salty feta makes this egg white burrito excel over the breakfast sandwiches topped with plain ol' American slices.
290 calories for one wrap: 3.5 grams fat,
19 grams protein, 33 grams carbohydrates.
Egg White and Red Pepper Sous Vide Bites
Our nutrition experts don't have anything against the yolks since they're full of vitamins, but these yolk-less mini omelets still make for a smart snack because they offer a balanced mix of protein and carbs.
170 calories for one omelet, 7 grams fat,
13 grams protein, 13 grams carbohydrates.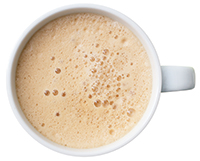 Tall Whole MIlk Cappuccino with 1 bag Hippeas Far Out Fajita
Yes, order your java with whole milk! That means this coffee with chickpea combo has enough fat and protein to quash your hunger pangs—without all the sugar that often comes with blended lattes and whipped cream-dolloped drinks.
240 calories for coffee and one bag chickpeas: 11 grams fat, 10 grams protein, 26 grams carbohydrates.
---
WHOLE FOODS MARKET
4100 University Ave., West Des Moines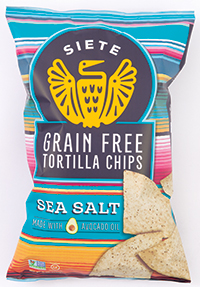 9 Siete Sea Salt Grain Free Tortilla Chips with 1 Truitt Family Foods Grab-and-Good Tasty Traditional Hummus
Made with cassava flour, coconut flour and chia seeds (rather than corn or white flour), these tortilla chips are among the most allergen-friendly snacks around. Pair them with a garlicky hummus to make a lighter trade for ketchup and fries.
230 calories for chips and hummus:
11 grams fat, 5 grams protein, 30 grams carbohydrates.
Refrigerated Overnight Oats Cup
Swing by the refrigerated section near the salad bar for this grab-and-go option. It's naturally sweetened with fresh strawberries and blueberries and studded with almonds for a satisfying crunch factor.
240 calories for one cup: 10 grams fat,
7 grams protein, 32 grams carbohydrates.
Refrigerated Salmon and Quinoa Cup
Eat clean (and high protein) with this premade whole grain salad topped with steamed salmon. If that's too plain for your taste buds, drizzle with a bit of olive oil and vinegar or your favorite all-natural salad dressing.
180 calories for one salad: 5 grams fat, 
18 grams protein, 17 grams carbohydrates.
---
Dietitians Talk Snack
Nutrition pros offer tips to get the best effects from your snacks.
Plan on produce plus protein.
"Snacks are a super-good way to fill in nutritional gaps," says Jen DeWall, a, sports dietitian and nutritionist in West Des Moines. If you're not into counting calories or points, remember this easy menu math: "Produce will provide you with good carbohydrates, fiber and water to get you full now," say Molly Heims, a registered dietitian with Elite Health and Performance in Bondurant. "Then add a protein source to keep you full for hours." 
For example, try these diet-friendly duos: 
A. One banana with a single-serving pack of almonds.
B. One cup of sugar snap peas and one cheese stick.
C. One cup of strawberries with one hard-boiled egg.
Fill in gaps with fruits and vegetables. Stop starving yourself! Adding snacks is actually a smart strategy to help you reach the seven to 13 servings of produce recommended each day. If you think these foods are too boring to eat on their own, DeWall has a solution: "Fruit can be dipped in yogurt, and veggies are perfect for dunking in hummus."
You don't even need to make a special stop at the farmers market or produce section, Heims adds. "Gas stations really have stepped up their game," she says. "Head for the open-air coolers—that's where the fresh stuff is always kept," from carrots and dip to mini lettuce and grilled chicken salads.
Master your macros. If you're into crunching the numbers, here are your approximate grub goals from Heims and DeWall:
A. 150-250 calories.
B. 15-25 grams of carbohydrates.
C. 10-20 grams of protein.
D. 5-10 grams of fat.
But keep in mind that balance is more important than calories. A 2018 study from the Journal of the American Medical Association discovered that you'll make a bigger impact on your weight loss goals by pooh-poohing processed foods and swapping in whole food instead. Simply put, "you want a combination of complex carbohydrates with a bit of lean protein and fat," DeWall says.
Steer clear of added sugars. Speaking of those processed foods, our pros agree that a waistline's Public Enemy No. 1 is added sugar. So soothe your sweet tooth with the natural sugars found in fruit and all-natural yogurt. "If it contains more than five to six grams of added sugars, put it back," Heims says. (Starting in 2021, you'll be able to find this listed on every nutrition facts panel.)
You'll probably want to skip the substitutes, too. "Sugar alcohols such as maltitol, erythritol and sorbitol are commonly used in low-carb sweet snacks and can lead to gastric bloating and discomfort," she says.
Stay real. When in doubt, choose real food whenever possible, DeWall says. It's way more important than figuring out macros or dissecting the milligrams of this and teaspoons of that. "Synthetically fortified foods are not the same as whole, nutritious foods. The synergistic effect of food is important. Keep it simple," she says.
---
DIY Fuel Formulas to Cure Any Craving
If you have time to build your own snack, you can customize to suit your palate—and your diet preferences. Here are three toss-together recipes that will satisfy kids and adults alike.
Salty: 2 tablespoons salted peanuts + 3/4 cup honey nut cereal.
215 calories: 11 grams fat, 7 grams protein, 25 grams carbohydrates.
Sweet: 2 whole-wheat waffles + 1 tablespoon peanut butter +
1/2 small banana, sliced.
280 calories: 13 grams fat, 9 grams protein, 40 grams carbohydrates.
Chocolaty: 3 cups popcorn + 1/4 cup chocolate-covered cranberries.
235 calories: 7 grams fat, 5 grams protein, 38 grams carbohydrates.