Writer: Christine Riccelli
Photographer: Duane Tinkey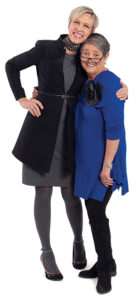 After community advocate Loretta Sieman toured the Bernie Lorenz Recovery House last spring, she couldn't sleep for two nights. Thirty years ago, as a member of Junior League, she helped establish the transitional residence for women recovering from substance abuse.
"I thought, 'What did we do?' " she recalls, her distress stemming from the state of disrepair the facility had fallen into. "You can't just start something like this and then walk away and ignore it."
The residence offers a 60- to 90-day program, run by Prelude Behavioral Services, for women who have completed primary drug or alcohol treatment and are preparing for independent living. With space for 17 residents, it serves about 80 women a year.
Living at Bernie Lorenz "helped save my life," says Jessica Thorne, who was addicted to alcohol and drugs, including meth, for 25 years before getting treatment in 2017 and launching her own business, Maid in the Heartland. "It's a safe haven. They want you to succeed, and they give you the tools you need to stay sober for life. Someone is always here for you."
But while the programs, services and treatment have proved effective, the house hadn't been updated, and general maintenance hadn't been kept up, since 1989, when Junior League opened the facility in the century-old home on Kingman Boulevard. Walking through the residence today, you see dingy walls—painted in pale pink, blue and yellow shades reminiscent of a 1960s-era hospital—shabby furniture, worn floors, threadbare carpeting, dilapidated ceilings, and an obsolescent kitchen and bathrooms.
"We tell the women, 'You can start a great life here,' but how can they believe that when the ceiling is falling in?" Sieman asks. "It's even harder when the environment is worse than where they came from."
Research has consistently shown that "your environment affects your mental and physical health," adds Carolyn Jenison, CEO and partner of Speak PR, who works with Prelude. The home's state of neglect prompted Jenison to invite Sieman to work with her in launching a campaign to repair and renovate the 3,463-square-foot space.
About $170,000 is being raised to remodel the kitchen and four bathrooms, including making them more accessible. The project also includes installing new mechanical and electrical systems; refurbishing and updating the common areas and the eight bedrooms; acquiring all new furniture and window treatments; repairing and painting the exterior; adding landscaping; and replacing fire escapes for accessibility and safety.
As of press time for this issue of dsm, the plan called for most of the work to be started in March and completed in April. During that time, residents will live elsewhere. Rowland Construction is the general contractor for the renovation, but Sieman and Jenison are turning to individual volunteers, community service groups such as Junior League, and in-kind donations for all the other aspects of the makeover. Volunteers will, for example, paint, help with landscaping, and create "hope chests" to give the women when they leave the residence. Interior designer Becky Rogers with Daffodil Homes is creating a plan to ensure the overall look is inviting, cohesive and calming.
Interest in the project has been strong among community volunteers and service groups, Jenison and Sieman say. "So many people have approached us and said, 'What can we do?' " Sieman says. "We want this to be a true community endeavor."
And not an endeavor that ends with the end of the project. Jenison and Sieman are determined that, unlike when the facility was started 30 years ago, community involvement with the Bernie Lorenz Recovery House will continue long after the last paint brush is put away. An endowment has been established at the Community Foundation of Greater Des Moines to fund ongoing maintenance costs, and a major goal of the project is to foster long-term relationships and support. 
"We don't want the women here to feel like they're a short-term charity case," Sieman says. "But there are people who genuinely care about them, and people in the community will have a lot of opportunities to be involved on an ongoing basis."
---
EVENTS
Film Premiere to Benefit Dorothy's House
"Gridshock," a documentary about the sex trafficking industry in Iowa, will premiere at the Des Moines Civic Center April 2 at 7:30 p.m. Directed by award-winning Des Moines filmmaker Vanessa McNeal, the documentary explores the disturbing reality of sex slavery—who the buyers and sellers are and why they remain hidden and protected. The film features sex-trafficking survivors, local and federal law officials, advocates and others.  
Proceeds from the premiere will benefit the nonprofit Dorothy's House, which serves survivors of human trafficking. McNeal says she wanted to make the film because "I realized that most people don't understand that sex trafficking is happening in our community. I wanted to give the survivors a voice and bring light to this egregious crime. I am also a survivor of sexual violence, so my purpose in my work is to talk about things that are difficult to talk about."
McNeal adds that she hopes the film will increase the "overall awareness and understanding of how and why this crime happens. I also want to shine a light on the buyers of this crime—the people living in this community purchasing people for sex. When we realize that sex trafficking is driven by the demand from buyers, the sooner we can eradicate it."
Last year, McNeal raised $45,000 from 300 people to make the documentary. Others on the filmmaking team are cinematographer Taylor Bluemel, set photographer Josh Berendes and sound engineer Reese Reimers. Tickets to the premiere are $35-$100 and are available through the Civic Center or gridshockdocumentary.com.
MARCH
Des Moines Metro Opera
Wine, Food and Beer Showcase
When: March 1, 6 p.m.
Where: Downtown Des Moines Marriott
Details: Unlimited tastings from more than 40 local restaurants, wineries and breweries in addition to a silent auction. $45 in advance or $55 at the door; dmmo.org/events.  
Big Brothers and Big Sisters of Central Iowa
Bowl for Kids' Sake
When: March 7, 3 p.m.
Where: Multiple bowling centers in
Des Moines.
Details: Annual fundraiser welcoming all individuals, teams and companies to bowl. Includes two games of bowling, shoe rental and a BBBS T-shirt.
$500 per team; bbbsia.org. 
Variety—The Children's Charity
Telethon
When: March 9-10
Where: Broadcast live from the Community Choice Credit Union Convention Center Ballroom.
Details: Local, national and international personalities will perform to support the children of Iowa. Free to attend, goodwill donations accepted; varietyiowa.com/variety-telethon. 
Chrysalis Foundation
Chrysalis Conversations
When: March 27
Where: Wakonda Club, 11:30 a.m.-1 p.m.
Details: Lunchtime presentation on activism and philanthropy featuring Latina activist Vanessa Espinoza and female veteran Miyoko Hikjii.
$40, includes lunch; chrysalisfdn.org.
APRIL
ChildServe
Bubble Ball
When: April 6, 7 p.m.
Where: Grand Ballroom at the Iowa Events Center
Details: Dinner and a themed runway show featuring bubble wrap creations. $250 or $2,000 for a table of eight; childserve.org/bubbleball. 
American Lung Association
Fight for the Air Climb
When: April 7, 8 a.m.
Where: Downtown Des Moines in EMC Insurance Cos., the Financial Center, Hub Tower and the Ruan building.
Details: A climb taking place in four buildings totaling 85 floors and 1,796 steps. $25 registration fee and minimum of $100 raised funds; lung.org/get-involved/events/fight-for-air-climb. 
Robert D. and Billie Ray Center
An All-Star Evening
When: April 12, 6 p.m.
Where: Ron Pearson Center, West Des Moines
Details: Dinner to benefit the Ray Center at Drake University. Includes the presentation of the 2019 Robert D. Ray Pillar of Character award. $250, or $2,000 for a table of eight; allstarevening.org. 
Young Women's Resource Center
Annual Gala
When: April 13, 5:30 p.m.
Where: Ron Pearson Center, West Des Moines
Details: Silent auction, dinner and program honoring the 2019 Louise Noun Visionary Woman. $125, $65 for young professionals, or $1,000 for a table of 10;
ywrc.org/events/gala. 
Chrysalis Foundation
Chrysalis Conversations
When: April 17
Where: Wakonda Club, 11:30 a.m.-1 p.m.
Details: Lunchtime presentation on public and political leadership with Christine Hensley, former Des Moines councilwoman; and Shekinah Young, public information officer for the city of Des Moines. $40, includes lunch; chrysalisfdn.org.
United Way of Central Iowa
Live United Luncheon
When: April 24, 11 a.m.
Where: The Meadows Events & Conference Center, Altoona
Details: Luncheon to recognize "Live United" award winners. $20, or $180 for a table of 10; unitedwaydm.org. 
Foundation for Children and Families of Iowa
Tango Gala
When: April 26, 6:30 p.m.
Where: Ron Pearson Center,
West Des Moines
Details: Event includes hors d'oeuvres, live and silent auctions, and music by Final Mix. $125, $105 for young professionals, or $750 for a group of six; cfiowa.org/all-cfi-events/gala. 
Animal Rescue League of Iowa
Raise Your Paw Auction
When: April 27, 5 p.m.
Where: Iowa Events Center
Details: Live and silent auctions,
with more than 450 items total, will benefit homeless pets. Also music
by Company B and appetizers.
$65, or $550 for a table of 10;
arl-iowa.org/events.
---
dsm invites nonprofit organizations to submit events for possible inclusion in this calendar. Please include the following information: name and a brief description of the event, date, time, location, ticket price, and a link to additional details. Send to dsmeditor@bpcdm.com. The deadline for the July/August issue is April 15.