Writer: Jody Gifford
Photographer: Duane Tinkey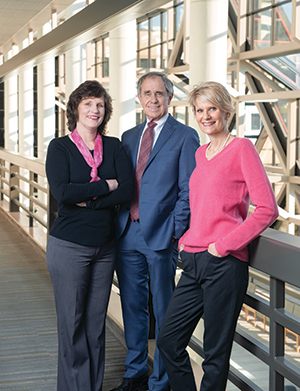 When Bridget Pargulski began noticing some unusual changes in the appearance of her breasts in late 2012, she was cautious but not overly concerned. She had always been diligent about performing regular self-exams and getting yearly mammograms, and her last mammogram, she says, had been "normal."
Two cancerous tumors were found through extensive testing and imaging prior to a double mastectomy. 
"When I first found out that I had breast cancer, I was just sure that we had caught it early because I had never missed a mammogram," she recalls. "What I found out is that I have extremely dense breast tissue, making my mammograms hard to read. My cancer had likely been there for five years but a radiologist simply couldn't see it."
On a mammogram, dense breast tissue—that is, the more fibrous or glandular tissue common in half of all women—shows up white, as does cancer, making tumors harder to detect. In women with extremely dense tissue—like Pargulski—mammograms will miss 50 percent of cancers, delaying diagnosis.
"I had had eight mammograms prior to my diagnosis, and no one mentioned breast density," she says. "No one ever told me that I was high risk."
Lobbying the Legislature
Shortly after her diagnosis, Pargulski set out to change that—for all women. At the urging of Mayo Clinic internist Dr. Debra Rhodes, an expert in breast density, Pargulski began lobbying the state Legislature in 2012 to pass a law that would require that breast density information be included in the mammogram result letter mailed to patients. Dozens of other states had similar laws, but none were on the books in Iowa. 
Pargulski's effort was supported by the Iowa Army of Pink, a group of more than 250 women and their families affected by breast cancer. Many women in the Iowa Army of Pink, like Pargulski—who founded the group—had cancers that were not readily diagnosed due to dense breast tissue. 
Brigid Greening, 49, was one of those women. In September 2016, Greening discovered a lump during a self-exam. While her cancer diagnosis and treatment were quick, it was estimated that her tumor had been present for about 18 months and had gone undetected on mammograms.
"When I was first told I had dense tissue, I didn't even know what it meant, and I had had several previous mammograms," she says. "Hearing that you have breast cancer that couldn't be detected is scary. Knowing I had no information about it was also scary." 
During treatment in January 2017, Greening joined Pargulski in lobbying for the breast density information law, often appearing on the floors of the Legislature bald-headed and dressed in pink. Her appearance, she says, gave more impact to the argument for change.
"I remember when I joined Bridget and the Iowa Army of Pink, I was bald and just said, 'I'm not wearing my wig or my hat, and they will not be able to avoid the reality of this disease,' " she says. "I will use my baldness to advance this cause."
It took five years to pass, but on April 13, 2017, Gov. Terry Branstad signed Iowa's breast density information legislation into law. Effective Nov. 15, 2017, every woman getting a mammogram would be notified of her breast density in writing.
Focus On Education 
Dr. Robert Shreck, an oncologist with Medical Oncology and Hematology Associates of Iowa and medical director for the Iowa Army of Pink, says the law is a step toward early detection, one that could save lives.
"Women will finally be informed of the risk of cancer, and that's so important," he says. "Every letter now includes information about breast density, and our hope is that women take that information and reach out to their doctors to learn more, to really take control of their health and seek answers as they determine next steps." 
Shreck said it's not only necessary to educate women on breast density, but also to educate those working in health care. 
"There's a real need for education on this issue," he says. "There are a whole bunch of doctors and patients who have never heard of breast density before. Bringing everyone into the conversation is vitally important."
Now that the law has been passed, the Iowa Army of Pink has assumed the mantle of education. Through a campaign known as "Each one teach one," members are spreading the message of the importance of knowing and understanding breast density. 
"It's a simple grass-roots effort," Pargulski says. "If you know about breast density, tell your neighbors, tell your friends and co-workers because this is the only way we'll get the word out—we need to talk about it, we need to get that information out in the open."
For more information about the Iowa Army of Pink, visit iowabreastdensity.com/#iowa-army-of-pink or find them on Facebook (Iowa Army of Pink-Breast Density Advocacy).
---
'That Can't Be!'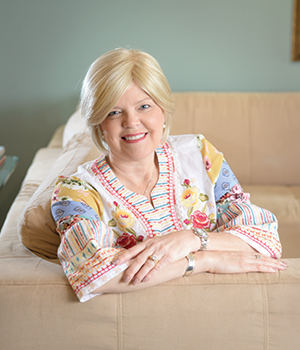 Patient's insistence leads to discovery of undetected cancer. 
By Lisa Copple as told to Jody Gifford
I have stage 4 breast cancer, meaning it has spread elsewhere in my body, but it was missed for years because I had such dense breast tissue that a tumor grew undetected by routine mammograms and ultrasound tests. 
I was 44 when it began about seven and a half years ago. I felt a lump in my right breast and my yearly mammogram was coming up. Every year the mammograms had been described as normal. When my results came back normal this time, despite the lump I had felt, I thought, "That can't be!" 
I made an appointment with my gynecologist, who asked, "Why are you so concerned? Your mammogram is normal." He felt the lump and sent me for an ultrasound. I had that test and—I will never forget it—the tech told me I could go home. I didn't have cancer. She didn't see anything. She saw no mass. 
Then a friend who was a radiologist suggested I have a biopsy because "we miss 25 percent of breast cancers due to dense breast tissue."
I had never been told this and had never heard of dense breast tissue. 
In 2011, I met with a general surgeon, who after feeling the lump, biopsied it. The next day I was told I had invasive lobular cancer. I went to Mayo, and their ultrasound detected it to be 2.2 centimeters. The MRI revealed a clearer picture, measuring it at 7.5 centimeters. When it was removed, the surgeon said it was 8.6 centimeters, "as big as your fist."
I was shocked. I was angry that we are surrounded by great doctors and we have great technology and I was doing everything by the book—how in the world could this happen? 
The cancer unfortunately spread to my bones. They found cancer in my stomach and my liver. … I'm undergoing treatment for stage 4 breast cancer. There's no cure for that, but I remain optimistic. I have tremendous doctors at Mayo Clinic who have access to new studies and new medications. Things look promising, so I try not to lose hope. In the moments I get down, I keep going, knowing that there are new treatments to help keep me alive. 
I am currently—and always will be—under treatment. I'm always tired. I have pain in my body and my bones. My arm is on the verge of breaking. I'm currently not able to practice [Copple is an optometrist], which I adore. I miss my patients. I have faith that I will one day get back to it. 
There have been a lot of positive changes in my life, too. My priorities have changed. I appreciate little things every day—each day spent with my family, my close relationship with God. Not a day goes by that I don't thank him for all he's given me.
I hope my story can help other women find their breast density. If they have dense tissue, I hope they demand further testing. Each woman's life matters. I hope that it can save lives by not getting a delayed diagnosis.
---
Breast Density Facts
Dense tissue shows up white on a mammogram—and so does cancer, making it difficult to detect. In dense breasts, mammograms will miss 50 percent of cancers present, delaying diagnosis.
In women with extremely dense tissue, cancer is four to six times more likely than in women with fatty breasts. Dense breast tissue is a stronger predictor for breast cancer than family history.
Dense breast tissue cannot be felt by you or your physician. It can only be determined by visualization on a mammogram.
Approximately 50 percent of the women in Iowa have dense breast tissue.
Source: iowabreastdensity.com.