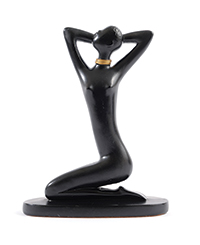 Writer: Missy Keenan
Photographer: Duane Tinkey
With its flat roof, translucent glass-block windows and second-story terrace, Sheree Clark's 1939 Art Deco home stands out in a neighborhood of traditional Beaverdale bricks.
Enter through Clark's front door and the vintage vibe continues: Nearly everything in her home is midcentury modern—from the art deco front doorknob to the 1930s-era leather furniture to the department-store display cases containing artfully arranged jewelry. Her collections include dishes, barware, wooden handbags that line one wall, and items from the 1933 and '39 World's Fairs.
Although most of the home's contents are 50 to 80 years old, nothing feels stuffy or old-fashioned. In fact, many items from the collections see everyday use: Clark's pampered Maine coon cat, Lotus, lounges on the art deco sofa; Clark often wears jewelry from the '30s and '40s; and guests sip tea from cups made in the '50s.
"When I started my midcentury collection in the '80s, you could sometimes find things for a steal at garage sales," Clark says. "Now maybe some items are worth more in theory than when I bought them, but I consider my things to be for everyday living. I've had people accidentally break something, and the person who broke it feels worse about it than I do. I just feel lucky that I was able to be the caretaker of the item for a while."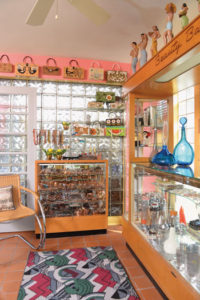 Clark was originally drawn to midcentury pieces for their aesthetic value, but as her collections grew, so did her appreciation of the quality of the items.
"I have clothes that are older than I am that are in mint condition," she says. "Most things from that period were meant to last, but things are more disposable now. If I could drive a car from the '40s, I would."
Clark also loves the stories behind the vintage pieces, and she appreciates how the way she uses them has evolved as her life has changed. For instance, when she was co-owner of an ad agency from 1985 to 2009, she wore vintage clothing, jewelry and handbags every day and found that her ensembles were great conversation starters with clients.
Now as a healthy-living expert and host of the local TV show "Fork in the Road," Clark wears vintage clothing mostly on special occasions; for daily wear, she might don one statement necklace rather than the whole set.
"My life now is very different than it was when I started collecting," she says. "My things have evolved with me because now I think a lot about them." Specifically, those things represent a time and a lifestyle that she now enjoys contemplating—but that she didn't always appreciate when she was simply purchasing collectible objects.
As a case in point, Clark gestures to an Iroquois cup and saucer designed by Russel Wright in the 1950s. "This is a beautiful 8-ounce cup," Clark says. "Imagine curling up in front of the fire with a good friend drinking hot chocolate from this instead of from a 32-ounce plastic mug you might get at a big-box store today.
"Part of the charm and the allure for me is that the things I collect come from a time when eating and entertaining felt different, when sitting down to break bread with someone was a sacred experience," she explains. "As a healthy-living coach, I talk to clients about serving fresh food in smaller portions, and sitting down over meals with your family instead of eating fast food in the car on the way to soccer practice. Even if you live by yourself like I do, [you don't have] to stand in the kitchen shoveling Haagen-Dazs out of the carton with the refrigerator door open. If you want a treat, sit down at the table and enjoy a moderate portion in a beautiful dish.
"The things in my home are a sociological time capsule," Clark adds. "I don't mean to be old-fashioned; certainly everything during that time wasn't perfect. But my collections remind me to slow down and be thoughtful about my life."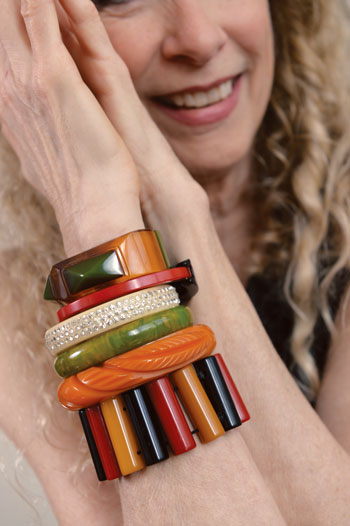 It was once fashionable to wear a half-dozen or so Bakelite bangles on one arm.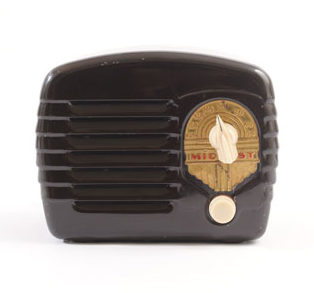 Although Clark enjoys music from the era—Glenn Miller, Bing Crosby, Artie Shaw—she's more likely to listen to it on CD or via streaming than on this vintage radio.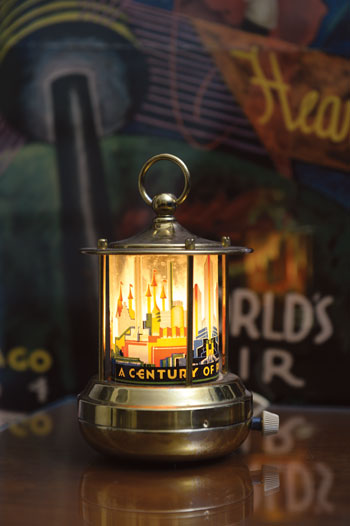 Lantern from the 1933 Chicago World's Fair.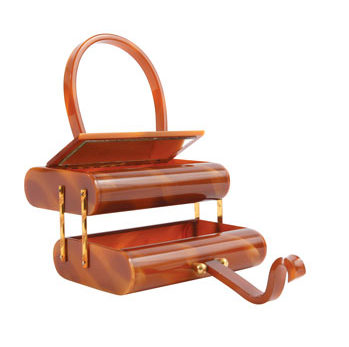 This Lucite handbag doubles as a display piece.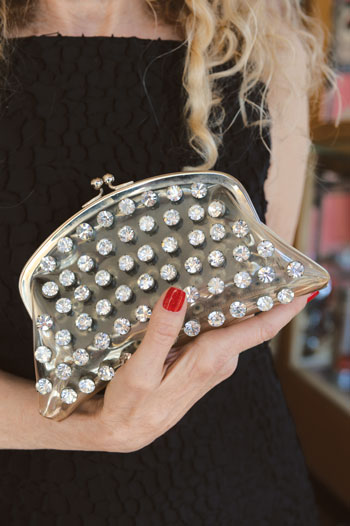 When Clark was the co-owner of an ad agency, she carried vintage handbags every day. Now she reserves them for special occasions.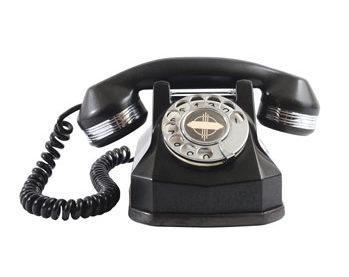 This vintage rotary phone still works and is connected to Clark's landline.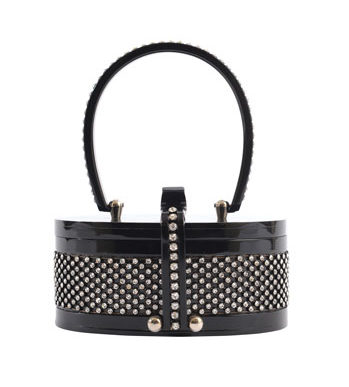 Clark's collection includes about 100 Lucite handbags from the 1950s.
Clark has about two dozen cocktail shakers, mostly from the 1930s.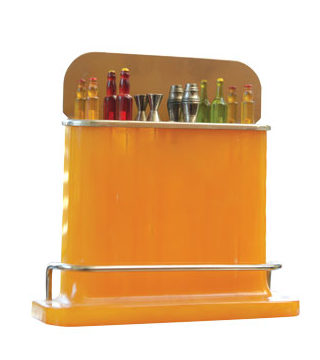 The items on this miniature bar are the handles of hidden canape picks.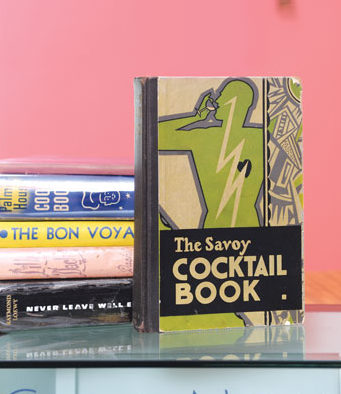 Clark collects vintage midcentury books, particularly ones about design, cocktails or cooking.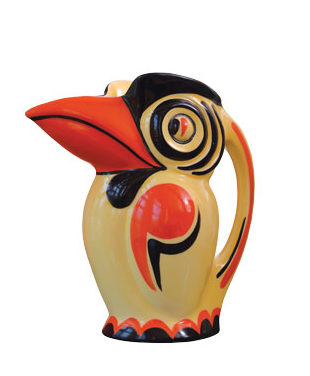 A classic art deco Czech pitcher.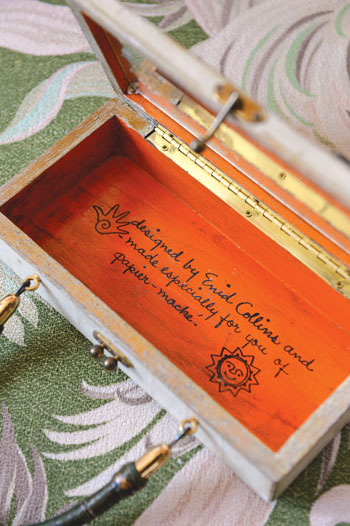 Clark's collection of Enid Collins handbags includes handmade papier-mâché purses Collins sold at craft fairs in the '50s and bags mass-produced by Collins' company in the '60s.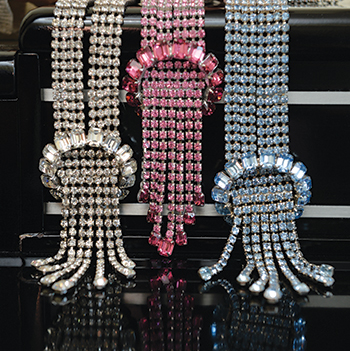 Clark has hundreds of pieces of vintage jewelry.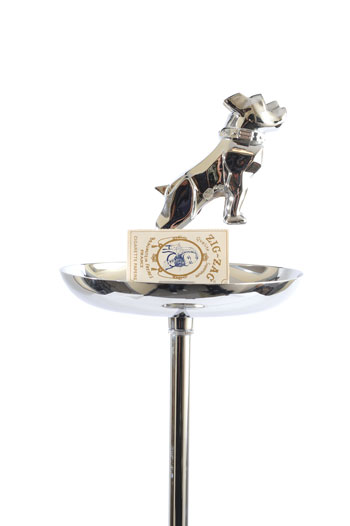 A vintage Mack Truck bulldog ashtray.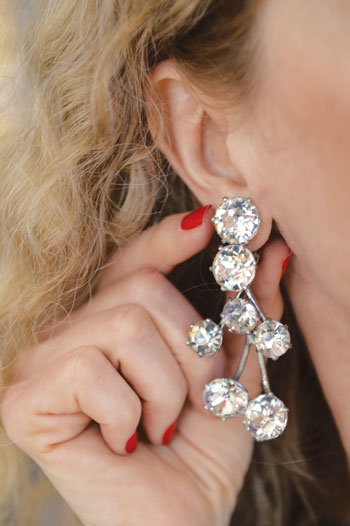 An Elsa Schiaparelli rhinestone earring from the 1930s or '40s. Clark also has the matching necklace and watch. She says the pieces are rumored to be from a collaboration between Schiaparelli and Salvador Dali.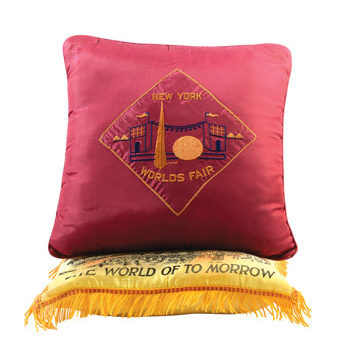 Clark is an avid collector of memorabilia from the 1939 World's Fair in New York. Originally from the state, she attended the 1964 fair as a child.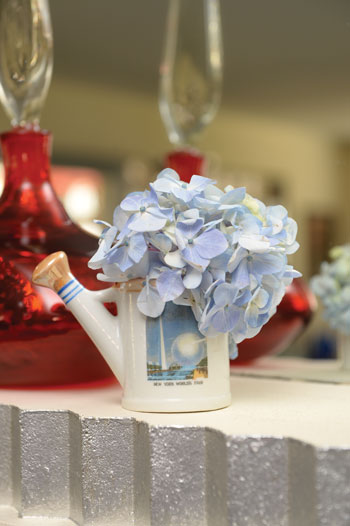 Clark always keeps fresh flowers at home, and anything is fair game to use as a vase, including this miniature china watering can from the 1939 World's Fair.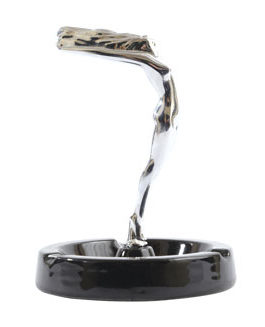 A chrome figurine graces a ceramic ashtray. "Classic art deco!" Clark says.