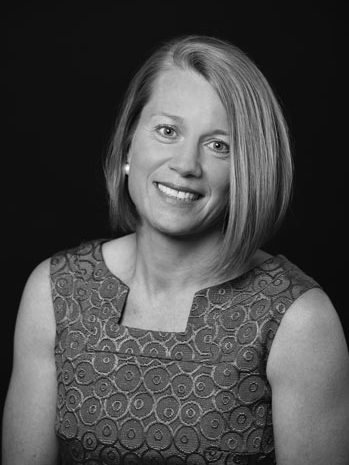 By Jackie Norris as told to Christine Riccelli
Jackie Norris returned to Des Moines in 2016 to become president and CEO of Goodwill of Central Iowa. Earlier, she had served as Michelle Obama's chief of staff, President Barack Obama's Iowa campaign manager, a teacher here and in Rome, and executive director of the Points of Light Corporate Institute. She also had worked for Al Gore, Tom Vilsack and Andrew Cuomo. Norris, 47, lives with her husband, John, and three sons—14-year-old twins Hunter and Cole and 11-year-old Sam—in the Waterbury neighborhood. Recently, she sat down with dsm to reflect on a journey that has taken her from her working-class hometown to the White House to Italy and back to Iowa.  
Expect the Best
I grew up in Ossining, New York, a blue-collar town about 25 miles north of the Bronx. I had a great childhood—my dad was a history and government teacher and my mom was a school nurse.
That influenced me in several ways: When I went to State University of New York, I thought I wanted to be an elementary education teacher. But during my practicum, I called my dad and said, "I don't want to do this; there's too much pressure to mold these young people for the rest of their lives." He said, "You know, you've always had something to say, you always stand up for what you believe in, so what about political science?"
That started my love affair with politics and government, although 15 years later, I realized that I do love education—I was just trying to teach the wrong age. But back in college, I pursued political science. I was instantly hooked. I was lucky enough—or I guess I should say, aggressive enough—to secure an internship in Washington, D.C., my junior year. I wasn't politically connected; I basically phoned, faxed and stalked the one contact I knew in Washington, D.C, until I got an internship with Congressman Solomon P. Ortiz from Corpus Christi, Texas.
I couldn't speak Spanish, and I looked different from everyone else in the office, but the experience opened my eyes to what you should expect from your government and that you shouldn't settle for anything less. I saw the value of the democratic process, and it catalyzed my desire to work in government. 
Focus on Flawless Execution
My first job out of college was as an assistant for Rep. Louise Slaughter, a Kentucky native representing upstate New York. She had Southern charm and words that could cut like a knife. She always focused on flawless execution, and when somebody inculcates that in you at a young age, you don't forget it.
One time when I was in charge of sending out annual calendars, she examined the mailing list and found the name of a woman who had died. "That husband would feel awful if he got a calendar from me with his wife's name on it," she said. So there I was in the bowels of the Capitol trying to find that one calendar out of 1,800. So for me, it's always about taking that final step. If you've worked hard for something, don't settle just short of the finish line. See the job through.  
Set Boundaries
When I look at some of the career choices I've made, I realize I have a tendency to get restless and to seek growth. As you get older, you take fewer risks, but in your 20s, you think, "Why not?" So after a few years with Rep. Slaughter, I went to work for Al Gore as his event coordinator and scheduler.
I'm a Type A super-planner, and one of the things I learned from Al Gore is that you have to be really intentional about setting boundaries, and your calendar is an effective tool for this. So it's not uncommon that I'll look at a week and say, "I can tell you that on Thursday, at this particular time, I've planned two hours of quiet time to think."
I drive my kids' coaches crazy because I'm always asking, "When are the games? When are the practices?" John and I want to be there to support them, and you have to schedule for that stuff. That's important to me as a working parent, but it's also important as an employer to give people some flexibility and say, "Go to that soccer game; you'll get your work done later."
Listen to Your Gut
I'm a government geek, so I went to work for Andrew Cuomo when he was at the Department of Housing and Urban Development. The hard work of implementing laws actually happens in the cabinet agencies, so I had the opportunity to learn a lot about housing policy.
I'm a big "gut follower," and when my gut just isn't right, I know. So although I had a great job and things seemed to be going well, my gut said, "I'm not fulfilled." I was tired of the grind; I was looking to be renewed.
I told people, "I want to work for someone who has a core set of values and is running for all the right reasons. I don't care if they win or lose, and I don't care where they are." I was introduced to Tom Vilsack, who has passion and strong values—and he's scrappy. Those are the qualities I tend to gravitate to, and that's what brought me to Iowa.
I fell in love with Des Moines my first night here. I stayed at the Hotel Kirkwood, ate at Spaghetti Works, and the next day went to Dahl's. It was a very powerful experience for me to go from the fast-paced environment of D.C. to a place where you feel a sense of community. Moving here hit me at the right time in my life, when I was thinking about work, life, love, family and purpose.
Support Young People
When Al Gore decided to run for president, I became his political director in Iowa. But after the election, I was out of a job. That was a time of reflection because I knew I believed in the power of government, and I knew I loved being with young people. My dad said, "Well, remember education?" So I went to Iowa State and received my teaching certification, and I was lucky to teach high school in three different environments—in Perry, Ames and Johnston.
I don't think we give our young people enough credit. Being around people ages 14-17, I think, "This is our future. What can we do to guide them? What can we do to support them while they find their way?"
Stand Up for What You Believe In
In 2007, when there were some rumblings around Barack Obama, I was asked to have a conversation about working with him and—long story short—decided, "I don't know how the heck I'm going to do this, but by golly, I'm going to do it." I was teaching full time, and I had three kids under the age of 3 and a busy husband, but I decided to follow the advice I give to students: "Stand up for what you believe in."
For me, working in politics was never a job or a paycheck; it's what I believe in. That's really important in life. You need to believe in why you're doing what you're doing, and if you don't know, then you should find a new path that helps get you there.
Working for the Obama campaign was a meaningful experience because that election was about people having a voice and getting engaged in the process, no matter which candidate they supported. I think it re-inspired everybody.
It's sad today when you see people feeling like their voice isn't being heard. That's frustrating to me. Social media, email and all the other technology may have made it easier to feel like you're communicating, but thoughtful and effective conversation with government officials has gotten harder.
How can people feel like they have a voice in government? I keep trying to figure that out. Government leaders can agree or disagree with people, but they should still hear them. That principle has guided me everywhere I've worked: Are we listening? Are we hearing? Are we being transparent?
Help Others Succeed
After the election, we were settling into our nice Beaverdale brick when I took another risk. I told my family, "Hey team! Let's move to Washington and I'll go be Michelle Obama's chief of staff."
Probably my favorite story of the White House transition is working with Laura Bush's team. The Bushes probably would have preferred to see a Republican remain in power. But Laura Bush's team could not have been any kinder—they gave us the playbook on how to be a successful first lady. They were gracious, supportive and wanted us to succeed, and I am grateful for that.
Being the first lady is a tough job. There's a lot of scrutiny and pressure, and at the end of the day you don't want to be a distraction. The last thing anybody needs is to be talking about gaffes that are insignificant in the context of major national and world problems.
Recognize Life's Ebbs and Flows 
Working in the White House—having a front-row seat to see history being made before my eyes every day—was an amazing honor and an opportunity that can never be replicated. I'm really proud of our accomplishments.
But while it was a fabulous job, it was also all-consuming and I felt my family was suffering as a result. Women still think they should be able to do it all.
But that's not always possible, and that's OK. Even though this is really hard to say, sometimes you just have to say it: "I can't do it all."
I believe strongly in mentoring young women, and many who come to me want to talk about their careers but they're also thinking about marriage and kids. I tell them that every year is going to look a little different; what your family needs now is something they may not need two years from now. You have to be OK with that ebb and flow. If you hold yourself to the high standard of "I can do it all" all of the time, you are going to crack and crumble.
Connect With Your Community 
I transitioned to the President's National Service Initiative that ran out of the Corporation for National and Community Service. That was about mobilizing people across the country to step up and volunteer. That led me to Points of Light Corporate Institute, working with Fortune 500 companies to help them see not just the power of what their employees can do but the extent their employees felt better about the company because they were encouraged to do something that they were passionate about.
Something I know about myself is that I really like feeling connected to community and focusing on volunteerism where communities step up to solve local problems. That's probably why I gravitated to my current job at Goodwill.
There is great power in having a federal government, but part of me believes the real way things are going to change is at the local level—if we roll up our sleeves and get active in our community. My theory is that if people are involved in their community, they'll be more connected with their neighbors. And that starts a conversation and gets us into politics in a more genuine way. Looking your neighbors in the eye—whether you agree or disagree with them—helps bring back civility.
Be Willing to Step Up
Living in Washington, D.C., was a great experience, but as our kids got a little older, we knew we didn't want to stay there. We had some crazy ideas like, "Let's quit our jobs and get an RV for a year and see the national parks." But when John got an opportunity to serve with the United Nations in Rome, we didn't hesitate. The kids were the perfect age for that kind of experience—to learn a new language and see the world. And I was lucky enough to get a position teaching political science at an American university.
The day we got there, we said, "Let's live like we don't know how long we're going to be here." We saw so much of Europe, Russia, Egypt. But after about two years, all us said, "We could stay for another year, or we could go back and start our life."
We wanted to come back to Iowa, and I was looking for a big challenge. I feel like there are moments in your life when you are ready to step up and lead, and I was lucky that Goodwill was looking for somebody to lead the organization.
I think five years from now, Goodwill is going to be a true community solutions provider, and I am excited about that. We have people who have barriers to employment, but they believe in the power of work, and our job is to train them and find a match for them in the community. Doing this through a social enterprise model, where we are running a business and fulfilling a mission, is a sustainable model that doesn't completely rely on philanthropic funding.
I am lucky that I can speak up for people who do not have the opportunity to work and should be working. I want to ask more businesses in Central Iowa why the heck these people aren't being hired. I am feeling kind of feisty about that.
And in the Norris family, if you have something to say, you step up and you say it. You play hard and you end with no regrets.