Above: A "Five-Six-Seven" special at Fleming's Prime Steakhouse & Wine. Photo courtesy of Fleming's.
Writer: Wini Moranville
Fleming's: The "Five-Six-Seven" Specials
150 S. Jordan Creek Parkway, West Des Moines / 515.457.2916 / flemingssteakhouse.com
For this piece, I skipped happy hour specials that are only available in a restaurant's lounge, as fighting for elbow room at a crowded bar with a TV in your face is not my idea of living large. I'm making an exception, however, for Fleming's. If you're lucky, you can get one of the comfy tables in the lounge area; in temperate weather, the special is also served on the patio. And yet, even if you do have to sit at the bar, the nightly Five-Six-Seven will make you feel very fortunate indeed.
The cleverly named special, available starting at 5 p.m. daily, offers a list of five appetizers, five wines and five cocktails; each are priced starting at $6 (none are over $8) until 7 p.m. Selections include mushroom ravioli, house-made burrata (fresh mozzarella with a creamy center), tenderloin carpaccio, calamari and a filet mignon flatbread. I find the tenderloin carpaccio especially irresistible—a true uptown choice at a bargain-basement price.
Another way Fleming's treats you right: No matter how low you go on the wine list—that is, even if you order a $6 glass—the wine will always be served at the proper temperature. Reds are cool, and whites are nicely chilled but not ice-cold.
After all, when it comes to living large, the small details matter.
---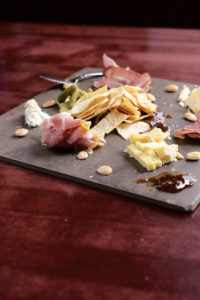 Django: All-Night Happy Hour
210 10th St. / 515.288.0268 / djangodesmoines.com 
Django was among the first restaurants in town to do charcuterie right—luscious ribbons of pink, paper-thin cured meats, buttery-rich pâtés and cheeses that brim with character. What makes Django's plates surpass all others, however, is the way the meats and cheese are always so artfully arranged with the thoughtful accompaniments—marcona almonds, a few select olives, fig jam, cornichons (those cute little French gherkins), whole-grain mustard and delicately thin crackers.
All this variety and opulence generally goes for $18, and it's worth every penny. However, head to Django on Monday through Friday from 4 p.m. to 6 p.m., and the generous plate goes for $12. Tuesdays, moreover, are the best nights of all. That's when you can take your time getting there, because happy hour lasts until close.
If your happy hour needs to count as dinner, you can also order onion rings, duck frites, Brussels sprouts or stuffed Peppadew peppers for $5 each. Happy hour drinks include a limited selection of martinis and wine for $5, and the list includes a highly drinkable Spanish sparkling wine (cava).
How's that for Champagne tastes on a beer budget?
---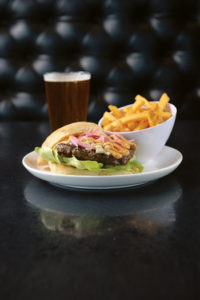 Americana: $6 Burger Night
1312 Locust St. / 515.283.1312 / americanadsm.com
A hot-dog shop near my former apartment on the Upper East Side of Manhattan once had a sign that boasted, "Our hot dogs taste like filet mignon!" While they were good, they weren't all that.
Yet honestly, on Sunday nights, the $6 burgers at Americana leave me feeling as happy and indulged as if I'd eaten filet mignon. They are all that.
Choices include the Boursin Burger (with Boursin and sautéed mushrooms) and the Rise & Shine Burger (rubbed with espresso and topped with bacon, white cheddar and maple-Dijon mustard). You can also get the signature Burger Americana, with bacon, tomato marmalade, Dijon aioli, crispy fried onions and white cheddar. The $6 burger special includes a choice of one side.
I'll probably never be able to pass up the Bleu Burger, with blue cheese, pickled red onions, smoked tomato and Sriracha aioli. When I forgo the bun, the burger arrives on a bed of cushiony Boston bibb lettuce.
With that and a glass of wine, I can think of no better way to ease out of the weekend.
---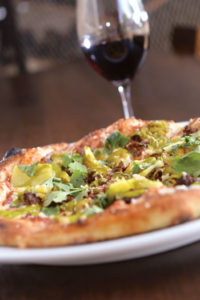 Eatery A: Half-Price Pizza, Wine and Draft Beer
2932 Ingersoll Ave. / 515.282.8085 /  eateryadsm.com
Regularly priced at $16.95 each, the wood-fired pizzas at Eatery A offer a great way to enjoy fresh and creative food at a good price. But get your order in any night before 6 p.m., when they go for half-price, and you'll leave feeling like you've robbed the place.
The 15 specialty pies are inventive without being outlandish. Personal favorites include the No. 6 (figs, prosciutto, greens), the No. 5 (lamb gyro, feta, pickled onion, raita) and the No. 14 (chorizo, pineapple, jalapeño jam), though I've never had a pizza here that didn't hit its mark.
And get this: While most restaurateurs keep high-end wines well out of reach at happy hour, at Eatery A, you can enjoy any wine on the list for half price. This, my friends, is the time to order that $15 glass of Angeline pinot noir from Sonoma that's always caught your eye—such a swank choice will set you back just $7.50. Not feeling so flush? They generally have a highly enjoyable Tempranillo on the list for $9—yes, that's $4.50 at happy hour.
Who says beggars—or in our case, bargain-hunters—can't be choosers?
---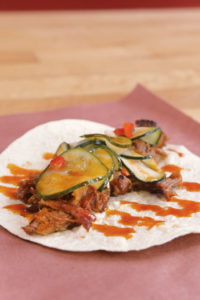 Guru Barbecue: Pork and a Pint and Taco Tuesdays
300 W. Martin Luther King Jr. Parkway #170 / 515.777.2500 / gurubbqdsm.com
It's hard to believe that you can get a top-notch sandwich and a pint of craft beer for just $6. That's the case on Mondays at Guru Barbecue. Luscious and moist pulled pork arrives on a rich brioche bun, with a colorful purple-cabbage coleslaw for a bright contrast. The light and crisp brew—Madhouse Brewery's Honey Pilsner—has a sweet-bitter refreshment that pairs perfectly well alongside.
Any other day, the combo will set you back $16.95 ($11.95 for the sandwich and $5 for the beer). While a side is not included with the special (as it is when you pay full price), even if you splurge for a $2.95 side (such as the irresistible mac and cheese), you'll still have a fine old time … on a dime.
If you miss Monday's special, give Tuesday night a try: You can get one of Guru's great fusion tacos—Korean, Brunch or Chipotle Honey—and a tallboy for $5 (or $6, if you get all highfalutin and order a craft tallboy).
---
More Good Times at Great Prices 
Half-Price Pizza and Peroni Night at Centro: On Mondays after 4 p.m., you can snag a New York-style pizza (which regularly costs around $15 and up) and a Birra Peroni (Italy's classic lager), all for half price. Try the "George's Favorite," with mozzarella, Graziano's Italian sausage and roasted red peppers.
1003 Locust St. / 515.248.1780 / centrodesmoines.com
$6 Burger and Martini Night at Alba: Monday nights bring a great selection of burgers, each priced at $6, as well as a list of $6 martini-style cocktails. The burgers come with hand-cut fries; however, I generally step up and substitute sautéed fresh veggies—a colorful slew of whatever's in season—for $4.50.
524 E. Sixth St. / 515.244.0261 / albadsm.com
Half-Price Tacos at Malo: The street-style tacos at this Latin-themed venue go for half price from 4 to 6 p.m., Monday through Friday. Double the fun (and frugality) by going on a Wednesday night, when margaritas are half price all night long.
900 Mulberry St. / 515.244.5000 / malodesmoines.com
Hand-Crafted Happy Hour at Bonefish Grill: Many happy hours vanish come the weekend, but Bonefish Grill dishes up bargains every night from 4 to 6:30 p.m. Bar bites, including calamari, crispy cod sliders, mussels, ahi tuna poke and waygu beef sliders, go for $6 each. Drinks are slashed to $4 for select wines and $5 for select cocktails.
650 S. Prairie View Drive / 515.267.0064 / bonefishgrill.com