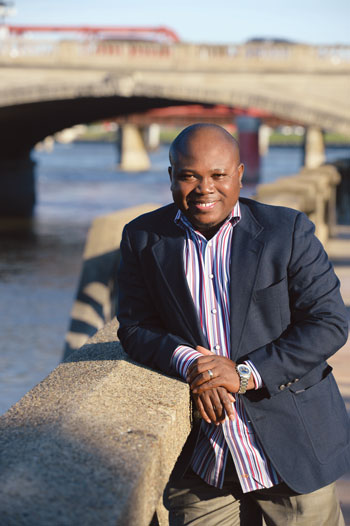 Writer: Kelly Roberson
Photographer: Duane Tinkey
Victor Ayara has a vision. But first he has a story to tell.
It begins in the West African country of Nigeria, where Ayara, now 32, was one of five brothers raised in poverty by a single mother. It led him to a career in Nigerian television and radio, and marriage in 2013. And finally it found him the recipient of a diversity immigrant visa, which enabled him to move to the United States four years ago with his wife, Affiang, who was pregnant at the time.
In person, Ayara is affable and open, his voice low and melodic; he quickly skims over those first decades of his life, the abbreviation purposeful. It is less the past than the future that interests and inspires him.
"I grew up with nothing and I decided to leave Nigeria to give my children the opportunity to grow up and have all the things I never had," Ayara says. "It was a [tough] journey, but I wanted to be in an environment where people can be anything."
Ayara brims with ideas, but his most pressing passion is called The Meeting Point, a media production company he established. Although he works for a financial services group and founded a Des Moines-based African band (Ima Kulture), Ayara created The Meeting Point as a platform to cover the city's diverse cultures through enterprise journalism.
"I look to do more reporting on unique issues affecting the immigrant communities specifically and other communities as well," he says. "My hope is that with these stories and reports, we should be able to find common ground."
In the short term, stories are shared online, though ultimately, Ayara says, he would like to produce a magazine devoted to exploring the richness of local culture.
In addition, "we hope to have a couple of events in the summer of 2018 that will be in the mold of 'village meetings' to discuss these issues," he says.
"I came here and discovered that regardless of what people say, there's still a lot of work to be done to build bridges of understanding of people who call this place home."
Toward that goal, Ayara has been speaking with groups around the metro area, sharing his experience and promoting The Meeting Point idea.
This past spring, he spoke as part of the Iowa International Center's Dialogue Series, where community leaders such as Jan Kaiser recognized the power of both his idea and his story.
"I think it's commendable that he's trying to bring together so many cultures through journalism," she says. "For him to put the spotlight on what is being done multiculturally in Des Moines is increasingly important."
"No one is doing anything like [The Meeting Point]; everyone is in their own corner," says Joshua Barr, a friend of Ayara's who is the director of the Des Moines Civil and Human Rights Department. "It's the first thing I've seen where someone is trying to use the media to bring cultures together rather than segregate them. Des Moines is [an increasingly] diverse place, and having something where you're striving to bring people together is very important and necessary."
Ayara and his wife already have achieved much in their few short years in Iowa: They own a house and have two small children. Both work and go to school and have bigger dreams for the future—dreams in which they play a part in building bridges in the metro area. There is more to be written in Ayara's story.
"I lived in a thatched house in Nigeria with my mom, and here I own a home," he says. "A lot of things I have done in the last four years, it is because it is possible in America."