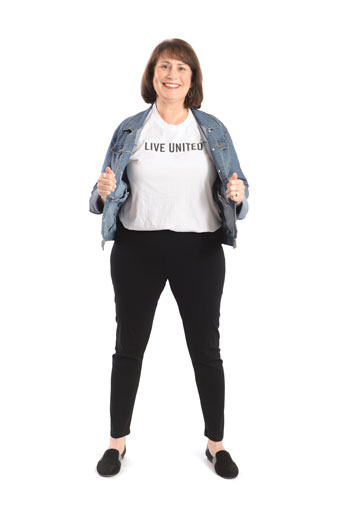 Lynn Graves
Literacy Advocate
Since becoming a volunteer for United Way of Central Iowa in 1982, Lynn Graves has been a founding member of the Women's Leadership Connection, a Live United and Tocqueville Society award winner, and a board member.
An avid advocate of literacy, Graves notes that if children aren't reading at grade level by third grade, they are four times more likely to drop out of school than are proficient readers. United Way's goal, she adds, is to ensure that 90 percent of third-graders will read proficiently by 2020. To that end, she shared with dsm what's included in the organization's literacy kit for early elementary-school students.
Noteworthy: In each kit, we include a handwritten note of encouragement to the student from the volunteer who helped assemble it. During United Way's Literary Solstice this past June, 1,153 volunteers put together 2,000 kits that will be distributed to children of all ages.
Cool Cat: You can teach so much with "Pete the Cat and His Four Groovy Buttons"—colors, capitalization, numbers and counting, and letter and word recognition. Volunteer reading partners meet their students at their school each week to read the book together and do a skill-building activity. Last year, we had 739 volunteers engaged as reading mentors.
Buttoned Up: In the book, Pete loses his buttons. The child places four of the paper buttons on the paper shirt; then, as the story is read and Pete loses a button, the child takes one of the buttons off the shirt and places it to the side. This builds reading comprehension and counting skills.
Take a Number: These cards are used to play a matching game, where the child can match the number word with the numeral.
Stitched Together: After reading the book, kids can practice "sewing a button" using the paper plate and yarn. They thread the yarn through the "button holes" a few times, helping them develop their fine motor skills.
Carry On: Everything in the kit is carried in this envelope. We want everything to be fun for the kids and provide a great tool to continue the activity at home.