Writer: Wini Moranville
Photographer: Duane Tinkey
A professional caterer since 1994, Cyd Koehn has catered everything from corporate power breakfasts to glamorous black-tie soirees, with plenty of fundraisers, reunions, retirement parties—and even tailgating events—in between. Ask her advice about entertaining in the home, however, and she'll likely nudge you toward one of her top culinary passions: tapas.
Koehn advises serving a variety of small, enticing bites set in stations throughout a room. "It gives guests a chance to mingle and chat with everyone at the party," she says. "It's also a way to showcase many beautiful foods and vibrant flavors that will make the evening sparkle."
It's no wonder, then, that when I went looking for a festive appetizer recipe for holiday entertaining, I immediately thought of Koehn. She shared her Crab Imperial Toasts recipe with me; for this head-turning bite, luscious crab gets cloaked in a white sauce studded with colorful ingredients and just the right seasoning.
It's a perfect choice this time of year, because, Koehn says, "Seafood says 'special.' It says 'holiday time.' " Indeed, the minute your guests taste these opulent bites, they'll know they're in for a special time indeed.
Crab Imperial Toasts
5 tablespoons unsalted butter, melted
3 tablespoons potato flour or all-purpose flour
2 cups heavy cream
1 pound jumbo lump crabmeat, drained well and picked over for shell pieces
1 cup panko breadcrumbs, plus more if needed
1/2 cup finely chopped red bell pepper
1/4 cup finely chopped yellow onion
1/4 cup finely chopped parsley
2 tablespoons cream sherry
2 tablespoons fresh lemon juice
1 1/2 teaspoons Worcestershire sauce
1 teaspoon paprika
1 teaspoon dry mustard powder
1/2 teaspoon cayenne pepper
24 toast points or rounds*
Kosher salt and freshly ground black pepper to taste
Additional chopped red bell pepper, for garnish
Heat oven to 350 degrees. Heat the butter in a 2-quart saucepan over medium-high heat. Add flour and cook, stirring, until smooth, about 2 minutes. Whisk in cream and bring to a boil. Reduce heat to medium; cook, stirring, until thickened, about 10 minutes. Remove from heat and stir in crabmeat, breadcrumbs, bell pepper, onion, parsley, sherry, lemon juice, Worcestershire sauce, paprika, mustard, cayenne, and salt and pepper. If mixture seems thin, add more breadcrumbs (you should be able to mound the mixture on the toasts).
Using a tablespoon or a small scoop, divide mixture among the toast points or rounds. Place on a baking sheet lined with a silicone baking mat or parchment paper. Bake in the preheated oven until heated through, about 5 to 6 minutes. Transfer to serving trays and sprinkle with additional chopped red bell pepper for garnish. Makes 24 appetizers.
* To make toast rounds, as pictured, use a 1 1/2-inch round cutter to cut 24 rounds from 12 slices of bread. Bake in a 350-degree oven for 8 minutes or until toasted and dry. These can be made up to 24 hours in advance. Store in resealable plastic bags.
Recipe Tips from Cyd
For added panache, choose a flavored bread—for our photo shoot, Cyd made hers with jalapeño bread. You could also use baked phyllo cups, cucumber slices or bell pepper boats.
Vary the garnishes, if you like. Instead of (or alongside) the red bell pepper, use fresh dill or chives. Or try scallions, capers, thin smoked salmon slices or baby shrimp.
It might be tempting to butter those toast points, but Koehn advises against this: "They stay dry and crisp when you don't butter them; plus, you want the flavor of the crab to come through."
---
A No-Fuss Tapas Spread—Cyd Koehn-Style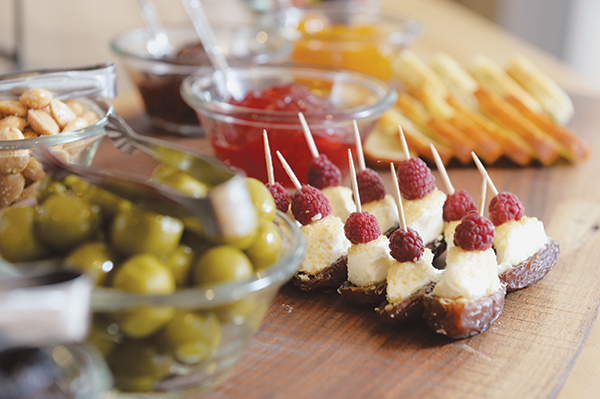 For this story, I gave Koehn a challenge: Show us how to present the Crab Imperial Toasts as part of a splashy, celebration-worthy appetizer spread—without adding another recipe to the home cook's already-busy party-day prep schedule. She was ready with great bites and plenty of insights:
No-recipe canapés: Try La Quercia prosciutto speared with a cherry tomato atop a very thin bread slice. Or, arrange lox-style smoked salmon atop a dry toast round. Spear the lox with a small hand-rolled ball of cream cheese that you've sprinkled with panko crumbs, parsley and/or chopped oven-dried capers.
Easy stuffed dates: Slit and pit large Medjool dates; mound some honeyed goat cheese into the slits. Sprinkle with turbinado sugar and top with a speared raspberry or other fruit.
Marcona almonds: These plump, rich and sweet nuts from Spain are the Lamborghini of almonds.
Olives, of course: Select those that are particularly flavor-packed; Koehn likes Cerignola, Castelvetrano and Nyon.
Peppedews, too: These pretty little peppers pack a little sweet-tinged heat, plus their bright orange-red color livens up the platter.
Jams: Head to a gourmet shop and look for unique jams—Koehn scored some cherry-almond jam and peach-praline jam from Barb's Garden and Pantry, located in Long Grove, Iowa. Serve alongside crisp toasts and thin-sliced breads, and encourage guests to enjoy these jam-bites alongside the prosciutto, almonds and olives for sweet-and-savory contrasts.