Writer: Barbara Dietrich Boose
Photographer: Duane Tinkey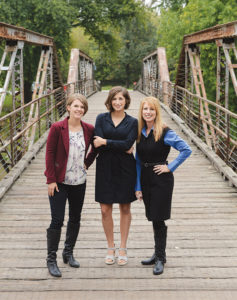 The coarsening of political discourse may have met its match. A legion of Iowa women are seeking common ground in their campaign to improve water quality in the state.
"Environmental issues were not always so political, but that is the reality now," says Kerri Johannsen, manager of government affairs for the Iowa Environmental Council. "The topic is seen as 'us versus them' with environmental protection perceived as the opposite of economic development, when we know that is a completely false dichotomy."
Johannsen is one of the organizers of Women for Water, a bipartisan network of Iowa women concerned about water quality and the pollution of the state's rivers, lakes and streams. The grass-roots effort seeks to encourage discussion of the issue.
"We wanted to work with fellow women to do this work," Johannsen says, "because we saw an opportunity to cut through the 'us versus them' mindset and meet at the level of the values we all share."
Along with Johannsen, Women for Water is the brainstorm of Jennifer Terry, executive director of the Iowa Environmental Council, and Molly Hanson, executive director of Iowa Rivers Revival. Women for Water organizes local, civil discussions among women within their existing circles—book clubs, church and community groups, neighborhoods—to talk about water quality issues that are important to them and to build skills to discuss them with elected officials.
"Each meeting begins by finding common ground, with each person talking about their earliest connections to water in their own lives," Johannsen explains. "This makes it easy to see how similar we all are and to connect on a more personal level. It is a powerful exercise that sets the tone for the rest of the conversation."
A Different Way
The Women for Water effort arose following the 2016 lawsuit in which Des Moines Water Works sought compensation for pollution in the Raccoon River, for which the utility blamed drainage districts upstream. The suit was ultimately dismissed by a federal judge who ruled that the issue should be handled by the Iowa Legislature.
However, Johannsen says, "There was no good news for Iowa's environment and natural resources last [legislative] session. The Department of Natural Resources was cut by millions of dollars, the Resources Enhancement and Protection Program was underfunded by 25 percent, and a bill was passed that reduced damages neighbors could receive if their health was impacted by an industrial livestock facility."
By the end of the session, "no one was talking to each other," says Terry, who was then an environmental advocacy leader for Des Moines Water Works. "I thought, 'We've got to find a different way.' "
That way became Women for Water. A statewide steering committee was assembled that hosted meetings during the summer in Des Moines and Cedar Rapids.
"We wanted to be very strategic and build a diverse base of people willing to say we have water quality issues in our state, and they have local impact," Terry says.
Adds Hanson: "Generally speaking, women can multitask, communicate and compromise based on common ground and shared values. We have to raise up the voices of the voiceless. If we focus on the local impacts to our families, our neighborhoods and our communities, and listen to what people need and want, I guarantee the subject of clean water will come up, and it will be a top priority. We can work on this issue together."
'Meeting In a Box'
Women for Water logged approximately 20 meetings in 2017, with a statewide meeting held in Des Moines in November. To support these gatherings, the group's steering committee created "meeting in a box," a kit that includes invitations, information sheets and suggested activities. Also enclosed are cards detailing suggested actions as a "recipe for clean water in Iowa."
While Women for Water meetings may sound like Tupperware parties, they draw out difficult issues. Participants have said they don't feel their voices are heard at the state Legislature. Some express guilt for preparing their babies' formula with tap water or concerns about their reproductive health.
"We do not fight for clean water just for clean water's sake," Johannsen says. "We fight for it because it is about people—about children, communities, homeowners traumatized by flooding, and customers of water utilities paying millions to remove pollutants and have drinkable water. It is also about the benefits to people, businesses and communities of the recreational opportunities that support workforce attraction—badly needed in Iowa—and economic growth in rural areas."
Women for Water meetings are designed to be open, safe environments free of finger-pointing and full of inspiration to act on shared goals. That's been the experience of Melissa Miller, the associate director of the Iowa Water Center at Iowa State University. Miller is a member of Women for Water's steering committee. She and her husband, Clint, also raise hogs for Iowa Select Farms, the largest pork producer in Iowa and the eighth-largest in the nation.
"We're the ones who people perceive as doing harm," she says. "Women for Water is a deliberate attempt to engage a diverse group in the conversation on water. We want to get women together and arm them with scientific information so they can understand the issues and make choices to make our communities better. Women for Water comes at the issues from the aspect of understanding them first, getting to know each other on a personal level and finding common ground."
Funding
Women for Water landed a $20,000 grant from Lush, a Canadian cosmetics and skin care company that supports grass-roots activism and has a store at Jordan Creek Town Center. The money paid for logo design, the meeting-in-a-box kits and the costs of the November statewide meeting.
Women for Water leaders hope to obtain additional funding, through grants and donations, to sustain their efforts. They know the pace and scale of water quality initiatives need to be accelerated, which will require significant investment.
"The urgency does not seem to rise to the top for funding or implementation. The state needs a holistic approach to improving and protecting our water resources," says Linda Kinman, executive director of the Iowa Association of Water Agencies, a group of urban and rural drinking water utilities serving populations of 10,000 or more. A member of the Women for Water steering committee and Iowa Environmental Council board, she led a meeting-in-a-box in Des Moines last October.
Kinman says several practices exist that are known to control water pollution and reduce agricultural runoff. Also needed is technical expertise, "boots on the ground" to apply the best practices for various areas of the state. "It is a complicated issue, but we can definitely do better—if only it was given the priority it needs and the willingness to solve the problem," she says. "Gain knowledge of issues in your backyard. You'll be driven to action."
Driving real action will require buy-in by numerous stakeholders from all sectors as well as billions of dollars over many years. Despite that grim reality, Women for Water leaders are optimistic change can and will take place—so long as more voices are heard.
"Think about where recycling programs stood 10 years ago," says Jennifer Fencl, environmental services director with the Eastern Iowa Council of Governments and a member of Women for Water's steering committee. "I'm excited about Women for Water because it offers a new way to engage people where they are, to educate them on issues they care about without preaching to them. We need a lot of people from every different walk of life to come together, but we will get there."
Simply stated, Hanson says, "We had to try something else—inclusion rather than the few powerful; transparency rather than secrecy; empowering voices rather than silencing them. That is what we intend to do, and we are just getting started."
---
Facts About Iowa Water
The state has approximately 92,850 miles of rivers and streams.
Iowa has around 175 low-head dams that are considered "extremely dangerous" by the Iowa Department of Natural Resources for their powerful recirculating hydraulics that can trap and drown unsuspecting river users. They also can adversely affect a river's ecosystem and disrupt fish migration and reproduction.
Of the 1,378 water bodies tested in 2016 by the Iowa Department of Natural Resources, 54 percent were found to be "impaired."
Only 7 percent of drinking water from private wells in Iowa is regularly tested; testing is not required.
An estimated 92 percent of nitrates in Iowa's water come from unregulated sources, primarily agriculture, and 8 percent from regulated sources, such as sewer systems.
The state's Natural Resources and Outdoor Recreation Trust Fund was approved by a vote of 63 percent of Iowans in 2010, in part to address water quality issues. However, it continues to sit empty, because legislators have not enacted the proposed sales tax increase of three-eighths of 1 cent to fund it.
Sources: Iowa Environmental Council; Iowa Department of Natural Resources; IIHR-Hydroscience and Engineering at the University of Iowa.
Become an Advocate
The Iowa Environmental Council offers ways you can advocate for clean water:
Contact your legislator outside of the session. Start the conversation about water quality. Explain why clean water matters to you, why you care and how it affects your life, family, business, vocation or community.
Follow up during the legislative session at critical debate points. Subscribe to a newsletter or alert system that will keep you up to date on water-related activities at the Capitol and opportunities to weigh in. The Iowa Environmental Council's legislative news bulletin is one example.
In-person meetings with legislators are most effective, followed by phone calls, handwritten letters, email messages and signatures on petitions.
Invite your legislator to a meeting of a community group for a discussion about water quality.
Attend legislative and city council forums. Ask policymakers and candidates how they will address water quality issues.