Above: Art clearly meets fashion in these student-created designs, which were showcased at the 2017 Fashion Show. This year's show is April 14 at Stephens Auditorium.
Writer: Kelly Roberson
It happens every spring: Behind the stage at Stephens Auditorium in Ames, designers rush from garment to garment making last-minute adjustments, while models watch for their turn on the runway. In the audience, a sold-out 2,500-seat house turns its attention to the stage as the lights dim and music begins.
Welcome to the annual Fashion Show, where the designers, models, show staff, publicity crew—in fact, everyone involved—are Iowa State University students who've spent months in committees planning every aspect of the day, who've toiled countless hours with fabric and patterns. The show, which started in 1982 and is April 14 this year, is the culmination of the year for the Apparel, Merchandising and Design program, and it's also representative of the innovative experiential educational approach that has helped slingshot it to becoming one of the most respected of its kind in the nation.
Fashion School Career Advice, a California-based organization that ranks fashion schools, lists ISU's department first in the Midwest and second nationally among public schools. Perhaps the most celebrated graduate is acclaimed menswear designer Todd Snyder, who in 2016 opened a flagship store on New York City's Madison Avenue.
Project Management
The ISU program is about more than just beautiful clothes, says Eulanda Sanders, chair of the Department of Apparel, Events and Hospitality Management. "Anyone that goes out and works in fashion is going to have to do project management—supervising individuals, understanding a tiered structure with directors and committees," Sanders says. "That's going to suit them in any walk of life."
Sanders is responsible for about 1,200 undergraduates and 100 graduate and doctoral students, as well as 55 faculty and staff members. She left a position at Colorado State University to join the program, which includes tracks in both design and merchandising, as a professor in 2012; she became director in 2017.
Tara Efobi's trajectory in the Fashion Show mimics her ascent in the college. She began as a freshman working on the photography committee, moved into model and designer slots as a sophomore and studied in Copenhagen as a junior. This year, as a senior, she plans to submit a host of original designs.
"I always loved art and drawing," says Efobi, who's from West Des Moines. "I looked at a couple of other programs, including Columbia College in Chicago, but I knew Iowa State had a great program."
Above: The 2017 Fashion Show included these standout looks, all designed by ISU students.
Photographer: Ryan Riley, College of Human Sciences, Iowa State university
Sustainable Styles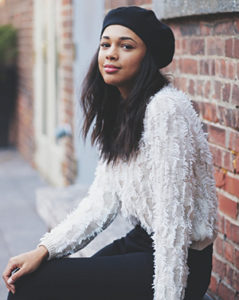 As a freshman, Efobi took a class that debated sustainability.
"I realized this was a legitimate problem in fashion, and something I would pursue with my degree," she says.
In the summer of 2017, Efobi interned at Target headquarters in Minneapolis, where she worked on clothing for children with disabilities, and the company has already offered her a position after she graduates. "Hopefully I can continue learning about people with disabilities and work on a socially responsible method of design," she says.
At Target, she'll join ISU alum Christopher Dove, who graduated in 2013 and began as an assistant technical designer for children's apparel; he's now a creative designer for women's accessories and handbags. He credits ISU for the foundation he needed for a successful career.
"In the classroom, we learned the technical side, but in extracurricular activities such as the Fashion Show, we learned how to be a collaborator," he says. "I look back on the times we spent cramming or sewing, and that's where I felt most of the excitement of living your dream—seeing what you sketched coming to life, bouncing around ideas, the energizing experience."
Above: From concept to final product: For her senior collection, ISU student Tara Efobi drew on the idea of "hjemme," which is Danish for "at home." The goal of the collection is to "evoke the warm, comforting feeling of being at home," she says. Efobi was inspired by female Scandinavian designers who "exemplify the strength women can have in design when they allow their softness and playfulness to converge with rigid functionality," she says.
Fashion Merchandising
On the flip side of the program are students who take up the merchandising side of fashion; one is Jenny Junker, an ISU junior from Van Meter. She, too, knew she wanted to do something in fashion, but wasn't drawn to design; it was the business end that attracted her. "I briefly looked at other schools, but what drew me to ISU was the ranking—we're one of the best in the Midwest," she says.
Junker's learning has included how the fashion industry plans and allocates product in stores and online, as well as the customer experience and fashion trends. Her work has drawn national recognition: As of press time, she was a finalist for the YMA Fashion Scholarship Fund, awarded in January in New York. She also was named a semifinalist in a national competition on the changing nature of retail—the first from ISU to achieve such recognition.
Junker's interest is continually piqued by the changing—and challenging—future of retail, as well as what she's learning from the program at ISU. "Every professor and person on campus has helped me succeed," she says. "I have really thrived here. I'm more confident and inspired than ever to go into my field. There are so many cool things that can be done."
---
FASHION SHOW 2018
This year's show will be livestreamed April 14 at 7 p.m. from Stephens Auditorium. Tickets typically almost sell out; the Fashion Show includes both exhibits and about 150 student-designed garments. For details online, visit aeshm.hs.iastate.edu/fashion-show/.