Writer: Kent Darr
Photographer: John Retzlaff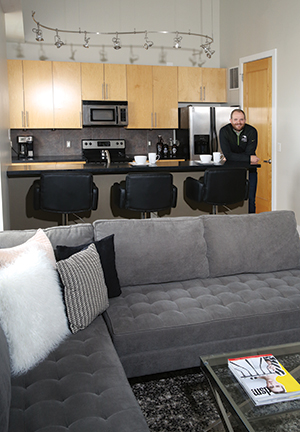 Meet the city's silent ambassadors—owners of upscale condominiums, houses in quaint neighborhoods, even a converted corncrib near Indianola—who earn income by renting their properties and promoting the delights of Greater Des Moines.
In a recent review of online listings, there were nearly 400 such properties offered as short-term rentals to out-of-towners who find most of the listings on websites typically associated with vacation destinations: Airbnb and VRBO.
Property owners are trying to fill extra space in their own houses or turn a buck through investing in a separate rental property. Local real estate agent Rick Grubb is an example of the latter; he owns a condominium atop the Kirkwood Building downtown that he rents to visitors.
As an investment, Grubb says short-term rentals through Airbnb have "paid off better than your standard monthly." Rates often vary with seasons and demand, peaking during sports tournaments, caucus season or other major events. Grubb's Kirkwood condo typically runs about $119 a night, according to Airbnb.
The Kirkwood, a historic hotel that was rehabbed, turned into apartments and is now undergoing a conversion to condos, is located on the north edge of the Fourth and Court entertainment district. Fun times are not difficult to find, although Grubb and members of his family are on call if visitors want suggestions on local eateries, brew pubs, music venues and other attractions.
The degree to which property owners are involved with their guests varies, ranging from no contact if they manage the rental through a third-party agency to cleaning and cooking for them.
Visitors may be in town to attend weddings, celebrate holidays, observe the caucuses or have a girlfriends' getaway. Others are here on job assignments or may be in the middle of a transfer and are looking for a permanent home.
"It's been great, meeting new people," says Sarah Felt, who rents out two bedrooms in her Beaverdale home.
"I have as much option to be involved with them, or not, as do they."
Felt's renters have the run of the house, other than Felt's bedroom. Though she sets the rental rate—$400 to $1,000 per month, depending on demand—Airbnb will suggest a sort of "quick booking" rate if it notices that guests moving out are not followed by guests moving in.
One guest a month can help with part of the mortgage payment; two cover the bill, she says.
Airbnb and VRBO vet the renters and the owners. Felt greets her renters personally when they move in. Some have been in town to watch a baseball game, another stayed for six months while on a job assignment. She says she may strike up a friendship with one former renter and his family once they settle down in the area.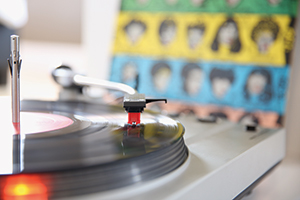 Felt is one of the few homeowners who accommodate dogs, but no more than two, please; she has a dog of her own, and too many romping around the house when owner and renters are away can cause problems. "My mom lets my dog out, so she would take whatever other dog is staying here out as well," Felt says.
Sense of Security 
She derives another benefit from the short-term rental business: When she hears something go bump in the night, she knows that renters are afoot. That provides a sense of security for a single woman.
"It's comforting to have somebody here. … I know what is happening when someone walks in the door when someone is staying here," she says.
The home-away-from-home vibe gets some reinforcement when Felt is making a big bowl of chili or a pot of potato soup. She'll send a text message to guests and let them know that food is available, if they're of a mind to join her.
"If I have extra, I always make sure they can have some," she says. And by the way, if you're renting from Felt and decide to watch television in her "big room," no problem. She'll give you some privacy and watch the TV in her bedroom.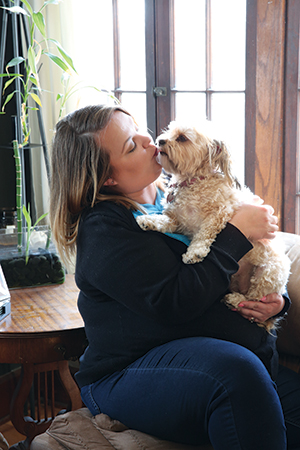 A Way to Save
After staying at VRBO properties during their travels, friends Jana Belle and Renae Johanningmeier decided that buying a short-term rental in Valley Junction might allow them to save money for retirement.
"We have been friends for over 20 years, and we wanted an investment opportunity," Belle says. "It's a fun opportunity for us to support the community and have that investment income that we are looking for for future retirement purposes."
They purchased a four-bedroom house that they rent, on average, for $250 a night.
They anticipated a slow break-in period after opening the house in June. It didn't happen.
"We have been very happy with the results," Belle says. Bookings extend into 2019 and so far have averaged "two if not three weekends a month."
They pitch an opportunity to tour Historic Valley Junction and to take advantage of trails and the nearby Raccoon River. Some people have stayed a full week, most three or four nights. Belle and Johanningmeier require a two-night minimum.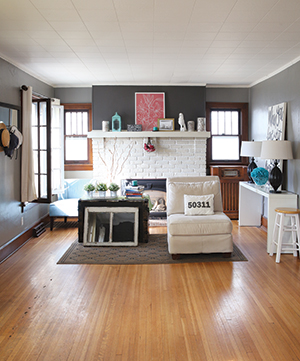 "We have the only place in the Junction where people can stay and be able to experience that eclectic atmosphere that is growing and changing," Belle says.
Reviews have been positive. "If you are looking for a quirky, charming, accommodating, immaculate stay, this is the place," says an online review from Cynthia K., who was a guest last November.
City Ordinances 
The house is in an area that is zoned commercial, so Belle and Johanningmeier are required to charge a hotel/motel tax. Technically, short-term rentals are not permitted in residential zones of West Des Moines and Des Moines. However, both cities enforce their ordinances only when they receive a complaint. The few complaints received have pertained to the behavior of tenants, not to the rental arrangement, officials say. And Des Moines officials indicate a willingness to consider loosening restrictions on the short-term rental practice as part of an overhaul of zoning ordinances.
Belle says she doesn't ask why people want to rent, but some renters do tell the owners why they're visiting. "I can't find a trend," she says. "They're just getting away for a little while and they want to have a space that is personal. We have a full kitchen, so we do a lot of business over Thanksgiving and Christmas."
Belle says renters probably are seeking the same type of experience she wants when traveling. "I like the idea of being able to have that space and be away from all the hubbub," she says. "Sometimes you want to be around all the hubbub, but not always."
Whatever the property or rental situation, the owners tend to be cheerleaders for all things Greater Des Moines. "I was born and raised here and have seen the renaissance," says real estate agent Grubb. "It's a great experience for people to live in that. It's unlike anything I've had in other places."