Writer: Wini Moranville
Photographer: Duane Tinkey
So much has changed on our restaurant scene since dsm's first issue rolled off the press: Hushed formal dining rooms gave way to energetic urban hot spots. A passion for fresh and local produce has—once and for all—breached the meat-and-starch fortress that dominated the field for so long. The craft beer explosion and a cocktail renaissance made drinking wine look almost passé. And when it comes to casual dining, sports bars and pizza joints aren't the only game in town.
What happens next? We caught up with five dynamic restaurant savants whose hard work and strong vision have helped transform the local dining landscape in the past 15 years. We asked what's next for them and what's ahead for Des Moines. We heard, among other predictions, that future restaurants will likely go smaller in size, that fresh and local is here to stay, that sharply focused venues that deliver with passion will prevail, and that chains may have cause for concern. We also learned that some things might be heading south. In a good way.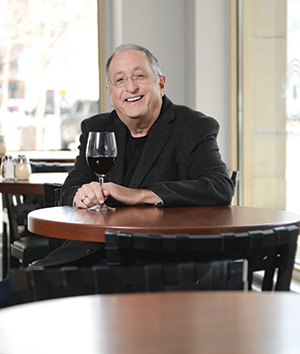 Paul Rottenberg 
President
Orchestrate Management
Where He's Been: In 1986, Rottenberg landed in Des Moines as the opening manager for City Grille. Later, in tune with zeitgeist of the '80s and '90s, when fine dining dominated the local restaurant realm, he oversaw a succession of swank venues that came and went in the Hotel Fort Des Moines.
As high-end dining rooms began to fall out of fashion, Rottenberg and his partners at Orchestrate Hospitality, a restaurant management and development company, hit upon a visionary dining concept for our city: the high-energy urban hot spot. Centro opened in 2002 and became an anchor for the downtown renaissance.  Orchestrate has since opened a spate of buzzy restaurants in or near downtown, including Django, Malo, Zombie Burger and specialty food shop/cafe Gateway Market.
On the Horizon for Orchestrate: "George [Formaro, chef partner at Orchestrate] and I have built a lot in 15 years, and we're going to slow down and focus on what we have," Rottenberg says. He also says that while the large-scale restaurants Malo and Centro continue to do well, moving forward, smaller places will be more appropriate for the Des Moines market.
Predictions: Rottenberg foresees an upward trend in high-quality, quick-service venues modeled along the lines of Panera, Chipotle and Noodles and Company. "A lot of younger people don't need that sit-down experience, not even for dinner. We're going to continue to see quick-casual places catch fire."
He also predicts we'll see more growth in the prepared food market, online ordering and delivery services, like Grub Hub and Uber Eats. "People are looking for eat-at-home meal solutions—it allows them to have family time, but cuts 60 minutes off meal prep," he says.
Wish List: Rottenberg believes Des Moines "already has a well-rounded group of restaurants, including a great range of independents, as well as a good variety of chain and independent quick-service restaurants. We also have a good selection of ethnic restaurants."
That said, Rottenberg suggests that a place like San Francisco's Slanted Door—an upscale, modern, chef-driven Vietnamese restaurant in a bustling environment—could be a wonderful addition. However, he also pointed out what Des Moines doesn't need: "More restaurants that exist just to fill new developments that have bland, ill-defined culinary missions. Our community is too food-savvy to settle, and diners demand that a restaurant deliver with passion."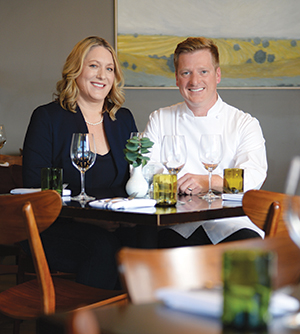 Lynn and Sarah Pritchard
Restaurateurs
Table 128 Bistro + Bar
Where They've Been: Ironically, when Lynn and Sarah Pritchard moved here in 2006, Lynn, a veteran kitchen pro, was hoping to turn in his chef whites for good—he had just landed a position in food sales. Lucky for Des Moines, the magnetic pull of the restaurant business sucked the duo back into its vortex. They were co-owners of Tartine, which opened in 2011; two years later, the couple truly hit their stride when they morphed that venue into Table 128, which has become a force in elevated farm-to-table Midwestern cuisine. The Pritchards advanced the local craft cocktail movement significantly and they maintain one of the most thoughtfully purveyed wine lists in town.
Where They're Headed: "We will have a second location somewhere," says Lynn, "but the approach has to be just right, with the right people in place, to maintain our guests' expectations." Sarah adds that they envision a more urban location for this second venue.
In addition, they're steering their menu in more veggie-centric than protein-centric ways. "People want to make smarter choices, to live a more fulfilling life with food," Sarah says.
Predictions: "The focus on local is here to stay," Sarah says. "Restaurants are one of the last places where you can deliver an authentic experience of a local community. Food can connect people in an age when we're disconnecting from our retailers and our neighbors. It can still foster a relationship—and that won't go away. In fact, it will become even more important."
"If I were in the chain business, I'd be nervous right now," she says, adding that national chains are taking notice of the shift toward local eating and will try to glom onto the trend by making themselves look and feel more local in the future.
Wish List: Dreaming big, the Pritchards would love to see something along the lines of Blue Hill Restaurant at Stone Farms emerge in Iowa. Located in Pocantico Hills, New York, and nestled amidst a four-season farm, chef Dan Barber's famed venue gets all its foods from the surrounding area. Lynn and his sous-chef spent a 12-hour day working in Blue Hill's kitchens last year; he found the experience "some of the most eye-opening hours of my career."
"Every single person who arrives at that farm literally drives through fields or between pastures," Lynn says. "You have no choice but to be hugged by how your dinner is to be prepared. … I think that if more people could bear witness to the cycle between soil and plate, it would change the way we dine."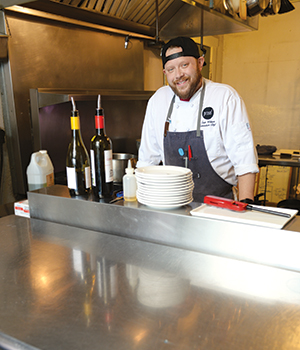 Sean Wilson
Chef/Owner
Proof Restaurant
Where He's Been: Wilson moved to Des Moines in 2007 and worked in the kitchen of Sage, one of a handful of progressive, chef-driven restaurants at that time. He later became executive chef at the erstwhile Azalea, before taking over Proof in 2012. With the latter, he helped nudge the Western Gateway area forward as an evening destination. Wilson also enhanced our local farm-to-table scene, while his alter ego, Doc Wilson, was a pioneer in the city's craft cocktail movement.
Where He's Headed: Wilson hopes to open a second restaurant in the next couple of years. He's also working on a nonprofit initiative, envisioning an event and catering company that will help fund needs in the restaurant community, such as employee health care and paid maternity leave. "The nonprofit will foster a tighter community, while hosting some awesome events," he says. Wilson is also working on a digital media think tank. "I'm not handcuffed to the kitchen," he explains.
Predictions: "Giant dining rooms will no longer be a thing," Wilson says. "Smaller places are going to be on the rise." Sprawling, 50-item, jack-of-all trades menus are also one the wane, Wilson predicts. "People are starting to be drawn to places that possess clear purpose and intent."
Wilson is confident that the farm-to-table ethos is trending upward. "When I moved here 11 years ago, there were about two growers I could consistently work with. Now, there are so many more. Even the smaller guys are learning how to get their products into the hands of restaurateurs."
Wish List: "I'd love to see more family-style dining, with patrons sharing food seated at long, large tables," he says. The concept has gained traction in other cities, and has even made inroads into Des Moines, via the Cheese Bar. Wilson notes that his Second Saturday events touch on the concept, with food being shared at the table. He envisions offering more of this style of dining in the future.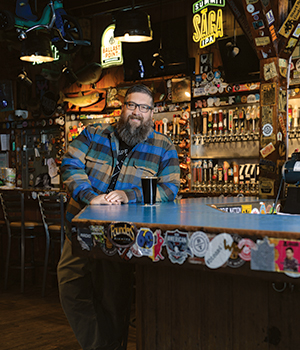 Jeff Bruning
Partner
Full Court Press
Where He's Been: Bruning and his partners have opened numerous popular, thematically driven, good-time restaurants in the past 15-plus years, including the Royal Mile, Hessen Haus, the High Life Lounge, Fong's Pizza, the University Library Cafe, the Iowa Taproom and others. By sowing most of their seedlings in downtown or in the East Village, Bruning et al. helped revitalize those areas. With the opening of beer-centric El Bait Shop in 2005, Bruning was also on the forefront of the craft beer movement; that site now taps more than 250 beers, and other Full Court Press restaurants have emerged as the city's top spots for craft beer.
Up Next for Bruning and Full Court Press: The newest Full Court Press good-time joint opened in March: Truman's KC Pizza Tavern, a sports bar devoted to Kansas City beer and sports. Meanwhile, when we spoke, Bruning was getting close to opening the Carroll Brewing Company, a brewery in his hometown of Carroll, Iowa, with another group of partners.
Predictions: "The East Village will continue to emerge as a hot area for entertainment," Bruning says. He also expects movement south of downtown and the East Village, including Gray's Landing. He is concerned, however, about the ongoing viability of the Court Avenue entertainment area. "I really wonder what that area will look like in the future. There's a 50-50 chance that it will be a forgotten thing," he says. The city's attention on several other areas, plus the high barrier to entering the market due to regulations, are some of the issues that Bruning cites as detriments to Court Avenue.
Right now, Bruning sees flux in the local restaurant industry, and foresees growing pains, including imminent restaurant closures. Nevertheless, he's optimistic for the future. "When we get through this it will be great," he says. "But right now, we're like Peter Brady. Our voice is cracking."
Wish List: "I think smaller, more neighborhood-styled locales—places you could walk to and feel like you are part of—would be terrific." (The University Library Cafe is one such place.) He also feels that fast-casual food with limited menus, including "taco shops, ramen shops or any place with simple, inexpensive well-executed food" would be a welcome addition.
For Bruning, it's all about local, local, local—he hopes Des Moines diners will continue to strengthen their support for local restaurants. "That will be our savior, in the end," he says.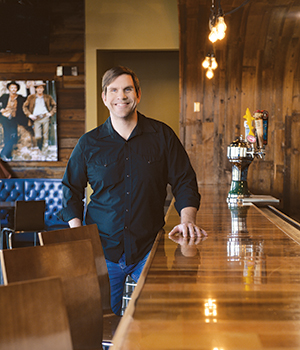 Jason Simon
Restaurateur
Alba, Eatery A, Harbinger
Where He's Been: Simon emerged on the local scene in 2008 as the chef-owner of Alba, one of the first venues to give as much love to vegetables as to the proteins on the plate. At that time, the East Village was on the still-shaky cusp of a tipping point. Not long afterward, Simon bowed out of the kitchen to become an ace restaurateur, nurturing and launching the careers of his immensely talented chefs. With the opening of Eatery A in 2014, Simon and chef Nic Gonwa burst the casual dining scene wide open by offering unexpected, detailed cuisine at an any-night price. Last year, Simon and chef Joe Tripp nudged the small plates-scape forward with Harbinger, a venue devoted to fusing global flavors with locally sourced foods.
Where He's Headed: Simon recently purchased another building in the East Village and will collaborate with chef Nic Gonwa to develop a new restaurant there. When that happens, Gonwa's longtime sous-chef Keith Johnson will take over Eatery A's kitchen.
Predictions: Simon believes local restaurants of the future "will either go super-big or super-small." He envisions larger venues that are mixed-use entertainment spots, with music, food, games and bars all under one roof. "The place might have two or three dining concepts inside it: burgers, pizza, then oysters down the road, and perhaps a brewery," he explains, adding that these will be great places for large parties to hang out all night. Smaller venues, like Harbinger, will continue to dot the city's scene.
Wish List: "I'd like to see movement to different neighborhoods in the city; for example, rebuild the [Highland Park] area around Chuck's. … The East Village is doing pretty well; Valley Junction is coming along. It would be nice to see other entertainment pockets in different neighborhoods in the city where people can go and just hang out."