Farmers Market Pizza with cauliflower-almond flour crust at Pie Five Pizza Co.
Writer: Karla Walsh
Photographer: Duane Tinkey
An extra pat of butter here, a double dose of dressing there, and suddenly (and unknowingly) that restaurant meal has placed you firmly in a food coma. 
"Just think: When was the last time you tossed half a stick of butter into your pasta sauce?" asks Erin Thole Summers, a West Des Moines registered dietitian who specializes in sports nutrition. But chefs might do just that, since their priority is flavor rather than nutrition. 
All that typically adds up to a surplus of 200 calories per meal if you eat out instead of cooking at home. Tally that up once a day for a year, and all other things being equal, you're looking at a bonus of 21 pounds. That isn't just our assessment: Those who cook at home eat fewer calories, carbohydrates, fats and sugars, according to research published in the journal Public Health Nutrition.
"At home, we generally put what we know will fill us up on our plate and eat most—if not all—of it," says Molly Heims, a registered dietitian with Elite Health and Performance in Bondurant. "At restaurants, portions tend to be two to three times the recommended amount, so when you use the visual of a clear plate to signify 'I'm done,' you run the risk of eating almost triple the amount you would've had you eaten in your own dining room." 
Still, it's possible to cure your comfort food cravings without doing major diet damage. These dietitian-approved local swaps for your favorite restaurant recipes won't leave you feeling one ounce deprived—or one ounce heavier. We're not just talking about "diet plates" of cottage cheese and overcooked burgers or iceberg lettuce salads with a sad sprinkle of dry cheddar cheese. These vitamin-rich meals and snacks are full of good taste, thanks to fresh herbs, spices and naturally flavorful ingredients such as truffle oil, mozzarella cheese and, yes, even dark chocolate.
---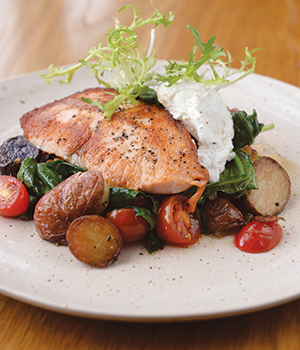 Craving:
Eggs Benedic
Order:
Salmon and Eggs
($13) at St. Kilda
(Nutrition information unavailable.) 
Little is more satisfying come brunch time than an eggy English muffin topped with hollandaise. Australian-inspired downtown cafe St. Kilda designed an even more filling—and way more Instagram-friendly—fix with their grilled salmon, fingerling potato, spinach, tomato and shallot dish. The chef tops it off with a healthy drizzle of fruity olive oil. 
"St. Kilda's salmon and poached egg entree packs in more omegas and vitamins compared to the buttery hollandaise and white-carby English muffins you'd find in traditional Benedicts," Thole Summers says. 
By starting your day with this better breakfast, your heart is bound to be as happy as your stomach. "Consuming two 3 1/2-ounce servings of omega 3-rich fish each week, such as salmon, has been shown to reduce the risk of heart disease," Heims says. Plus, the potatoes are an excellent source of potassium, a blood pressure-reducer that most of us get only half as much as we need (4,700 milligrams is the magic number) per day. 
St. Kilda, 300 S.W. Fifth St.
515.369.7854; stkildadsm.com
---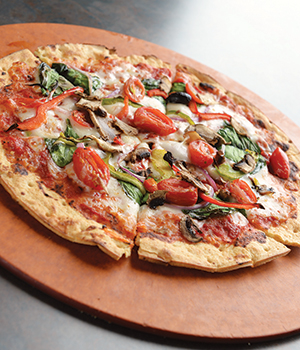 Craving:
Pizza
Order:
Farmers Market Pizza
with Cauliflower-Almond Flour Crust
($11.04 for an 11-inch pie) at Pie Five
Pizza Co. 
Nutrition info per half pizza: 
395 calories 
26 grams fat 
15 grams protein 
30 grams carbohydrates 
We're calling it: When it comes to versatile veggie superfoods, cauliflower is the new kale. "Cauliflower has definitely become the cool kid since it's easy to substitute for higher-carbohydrate competitors like potatoes and now pizza crusts," Heims says. "One slice of a typical vegetarian pizza can weigh in at over 200 calories and 35 grams of carbohydrates. This healthier option definitely allows for an extra slice." 
Savor three slices (half) of a Farmers Market Pizza from Ankeny's Pie Five Pizza Co. for about the same number of calories as two traditional slices, while saving about 40 grams of carbohydrates. The slimmer swap is piled high with marinara, tomatoes, mushrooms, red onion, bell peppers, spinach and mozzarella and is a nearly spot-on substitute for regular takeout. 
"Not only is the cauliflower-almond flour pizza crust lower in calories and carbohydrates, but it's also gluten-free," Thole Summers says. 
Pie Five Pizza Co., 1315 S.W. Oralabor Road, Ankeny; 515.289.0480; piefivepizza.com
---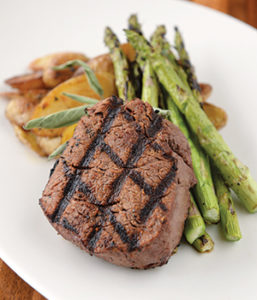 Craving:
Steak
Order:
Bison Tenderloin Filet
($38) at Range Grill + Golf 
Nutrition info for the bison filet:
282 calories
56 grams protein
5 grams fat
No one will be asking "Where's the beef?" when this 7-ounce bison filet with truffle fingerling potatoes and grilled asparagus hits the table at Range Grill, an Urbandale golf simulator/restaurant. 
"Bison, also called buffalo, is a type of red meat that's part of the same family
as cattle," Heims says. "While very similar in taste and texture to beef, bison tends to be a little sweeter and significantly lower in saturated fat while still providing plenty of protein." 
Red meat is never off-limits for Thole Summers. "I tell my clients: If you're hungry for a steak, eat a steak. Just be mindful of the cut of the meat, the cooking preparation, and only eat until you're no longer hungry," rather than polishing off the entire 24-ounce porterhouse.
Meat and potatoes fans rejoice: If you're in the mood for tender filet mignon and roasted spuds, this entree will surely satisfy. As will the cast-iron skillet chocolate chip cookie you're pretty much required to share after your virtual journey through 18 holes.
Range Grill + Golf, 11865 Hickman Road, Urbandale; 515.252.7500; rangedesmoines.com
---
Craving:
Sub sandwich
Order:
Buffalo Chickpea Piadini
($7) at Brightside Kitchen 
Nutrition info:
364 calories
21 grams fat 
9 grams protein 
38 grams carbohydrates 
Busy mornings sometimes mandate a grab-and-go lunch. But pick up a panini from a popular national sandwich chain and you're looking at 750 calories and nearly a day's worth of sodium, all before even thinking about dinner and dessert (because that's a given on said jam-packed days!). 
Step inside Mercy Health and Fitness Center in Clive and you'll discover Brightside Kitchen, a vegan cafe that's home to a smarter sandwich. Made with buffalo sauce-coated chickpeas, tahini and leafy greens all stuffed inside a tortilla, this creation is a nearly spot-on stand-in for a buffalo chicken sandwich. 
"Chickpeas are a great source of vitamin K, folate, iron, fiber and protein," Thole Summers says. "Combine it with some vegetables and a tortilla. This is a great vegan option that saves you calories from the cheese and bread in a normal panini." 
Legumes also star in several of the cafe's other options, from the chickpea "tuna" salad sandwich to the Brightside bowl of the day, a combo platter of whole grains, beans, slaw, veggies and dressings that's sold in different permutations every 24 hours.
Brightside Kitchen, 12493 University Ave., Clive; 507.276.5453; brightsidekitchen.com
---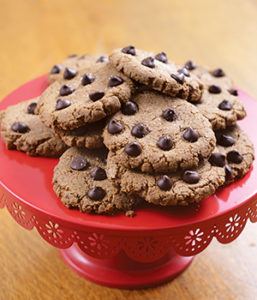 Craving: Cookies
Order: Salted Chocolate Chip Cookie
($25 per dozen) from the Cutler Kitchen 
(Nutrition information unavailable.) 
Cure your sweet tooth without the crash—or the unpronounceable ingredients you'll find in those cookie dough tubes—with this wholesome dessert that can be ordered online (thecutlerkitchen.com) and customized to your dietary needs. 
Made simply with almonds, coconut sugar, eggs, dark chocolate chips, baking soda and sea salt, these are among the "cleanest" cookies you can chew.
"Eating dark chocolate with at least 70 percent cocoa will fulfill your chocolate craving in a nutritious way, with less sugar than most other chocolates," Heims says. 
Plus, "the coconut sugar has a lower glycemic index than regular table sugar," Thole Summers says, meaning you're less likely to notice the blood sugar crash an hour later. 
Beyond personalized orders for pickup, you can find the Cutler Kitchen's vegan goodies such as lemon cookies at Brightside Kitchen in Clive, plus a selection of nonvegan items, including maple raisin bites, at Dogpatch Urban Gardens and Horizon Line Coffee.
---
Bonus Craving Cures
Still hungry? Here are three more health-smart swaps for your go-to goodies.
Craving: Bagel sandwich
Order: The Liberty, a scooped whole-wheat bagel with egg white, spinach, tomato and onion ($5.95), at Five Borough Bagels. Nutrition info: 300 calories; 3 grams fat;
22 grams protein; 39 grams carbohydrates. (5boroughbagels.com)
Craving: Hamburger
Order: Basil Turkey Burger, a 4-ounce turkey burger with quinoa and seasonal vegetables ($9.15), at Beefcake Fuel. Nutrition info: 281 calories; 10 grams fat;
28 grams protein; 21 grams carbs. (beefcakefuel.com)
Craving: Taco salad
Order: Walnut "Meat" Taco Salad (pictured), leafy greens layered with tomato, bell pepper, cucumber, walnut taco "meat" and ranch dressing ($9), from the Grateful Chef. Nutrition info: 598 calories; 47 grams fat; 24 grams protein; 30 grams carbs.
In addition to grab-and-go options including salads and soup, available Tuesday through Friday, the Grateful Chef (thegratefulchefdsm.com) offers a weekly menu of fully prepared, wholesome freezer meals for custom orders.