Above: Legion, a guide dog who helps his owner navigate the tricky terrain of downtown Des Moines, is "all business" when his harness goes on, but that doesn't mean he can't take a restful break when opportunities come along.
Writer: Larry Erickson
Photographer: Ben Easter
Photo Assistant: Annabelle Kunert
As downtown Des Moines has been revitalized over the past two decades, the environment has drawn residents back into the area, an increase of 10,000 by some measures. That has led to more and better restaurants, a grocery store, niche retailers and urban services.
And pets. 
Cats have always been easy keepers in apartments, most kept indoors, protected from traffic and other hazards outside. But as people have thronged to downtown's newer, larger housing units, we've enjoyed witnessing the rise of "the downtown dog," appearing in waves at leash-ends every morning, noontime and evening along sidewalks, trails and parkways.
Students of canine culture contend that size is a significant factor in the joie de vivre of the urban dog. Small dogs find enough room in an apartment to burn off excess energy. They're built to scale—easy to accommodate, needing less space and food, and not typically intimidating to neighbors they encounter in the close quarters of elevators and stairwells. 
Large breeds adapt well, too. Many are easygoing and happy to lounge by a window, finding all the exercise they want at the end of a leash on a leisurely stroll. One owner likens his Great Pyrenees pal to a heavy throw-rug, basking motionless in the light from an apartment window. 
Midsize dogs, especially hunting, herding and other working breeds, present a greater challenge. They need to be active, are big enough to get in the way, and seem to seek out ways to be underfoot. 
"All breeds can be urban dogs," says Josh Garrett, co-owner of the downtown pet shop Jett & Monkey's. Matching lifestyles is the key, he says. A high-energy breed paired with a recreational runner, for example, will work just fine. The same dog would be a terror of nervous energy cooped up in a condo with a couch potato.  
Downtown Des Moines is well-suited for dogs. Sidewalks are generally broad and uncrowded. Walking trails are plentiful and engaging. A dog park between the post office and the Des Moines River is a ready playground—with ready playmates. Many shopkeepers welcome four-footed customers, and diners are largely unflustered by therapy dogs under cafe tables. (Pets are legally prohibited from dining rooms, but legitimate therapy dogs are exempt from such laws.)  
Several old office buildings, now semiretired as towers of apartments and condominiums, have patio areas intended to serve the needs of their resident dogs. And some newer apartment complexes have courtyards that serve the same purpose. 
So much has been done to accommodate dogs, in fact, that we may need to update a common phrase. "It's a dog's life" was once a metaphor for anyone enduring an unhappy, subservient existence. A dog's life today? In downtown Des Moines, we should all be so lucky.
Mind Reader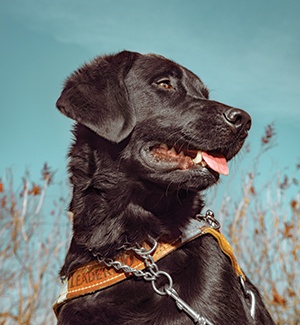 Like most downtown residents, Legion has a job to do. It's a lot of responsibility for a 3-year-old, who works as a guide dog for Terry Brannen. 
"He gets me up about 5:30 or 6," says Brannen, now retired. "We go to the park, come back to eat, then go for a two- or three-mile walk." 
His harness tells Legion when he's on duty. When the harness comes out, Brannen says, "he knows he's going to work, and he's all business."
Together for more than a year, "we're on the same page," Brannen says. "He can read my mind."
Legion seems to have an inner clock, too: "He knows exactly when it's time to go back to the park to play." 
Most important, Legion has a remarkable ability to solve problems. Walking on a downtown trail one winter day, the pair encountered a treacherous patch of ice—a real threat to someone who can't see it. On the same trail a day later, Brannen says, "he took me around that."
Legion has been good for Brannen's social life as well as his exercise and safety. "I've met a lot of people through him," he explains. Legion routinely draws inquiries from other customers at their regular hangouts—Java Joes, Hy-Vee and Buzzard Billy's.
"They know he's a working dog, but they're curious," says Brannen, who is happy to answer questions—and Legion enjoys the attention. 
Off duty, Legion is a fun-loving guy with a stash of toys and a sweet nature. He gives a gift each morning to Brannen's wife, Mary. It's a gentle presentation of one of his toys or a blanket. It's just in Legion's nature, as a man's best friend, to share.
Dynamic Duo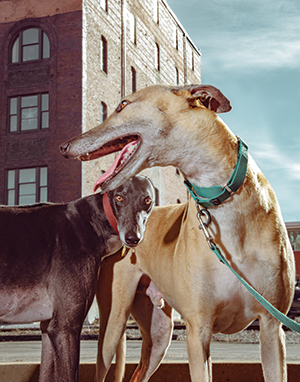 A dynamic duo among downtown dogs, Deffy and Snoo are retired racers. Most greyhounds retire after about a three-year career, then they typically get adopted as pets, dealing for the first time with odd new challenges like household rules, stairways, cars and their own names. But by all accounts, they're typically sweet dogs and eager to learn. 
Deffy's name was taken from his original racing moniker, Boc's Hi-Def, explains owner Houston Perrett. Snoo was adopted after retiring but was returned with the cartoonish name Snoopy. When Perrett then adopted Snoopy, he shortened the name to the more intriguing Snoo.  
They've been together for a year, ambling elegantly around their courthouse neighborhood in stylish winter coats. The coats are more about function than fashion; a greyhound's thin natural coat is no match for Midwestern winters. 
Crazy-quick on the racetrack, greyhounds are otherwise "couch potatoes," Perrett reveals. "They'll sleep 20 hours a day, but when I get home, they know things are about to happen," including trips to the Riverwalk dog park. "They're excited to go, but they don't really run a lot." 
In fact, a greyhound's thought process may include the sequence "No rabbit? No run." This is where toys fit into the lifestyle of Deffy and Snoo. "Anything that squeaks, they just kill it," Perrett says. In part, that instinct is in their breeding. And, they know fun when they find it.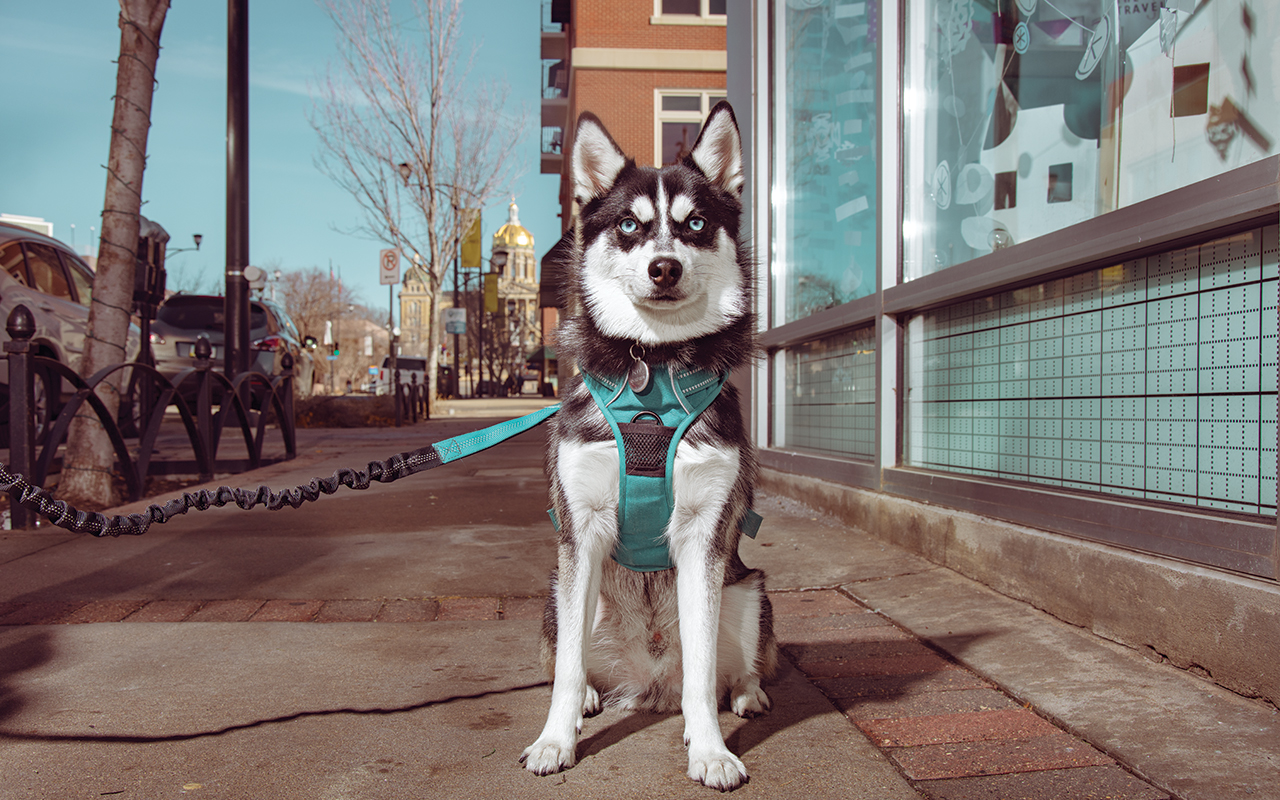 Watch Keeper
Rory doesn't miss much. From a fifth-floor balcony in the East Village, he keeps a vigilant eye on his city, with a particular interest in passing trains and street construction.
It's his job.
Rory isn't just a cutie, he's a Pomsky, a cross between a Pomeranian and a Siberian Husky. And it's that Husky side—like other working and hunting breeds—that needs a job to do. If you don't provide one, these dogs will create their own, sometimes to your dismay.
"He's intense," says owner Bobbi Pulley. "He's very curious and likes to work his brain."
Rory greets people with a wary gaze that flashes from bright blue eyes. "That's the smart part of him," Pulley says with a tone of pride. "He's measuring you."
Another challenge with such dogs is their abundant energy. To keep 1-year-old Rory busy, Pulley takes him to obedience classes and engages him in enthusiastic games of fetch and tug of war. She supplies him with appropriate toys to gnaw, so he doesn't discover the delightfully chewy aspects of slippers, for example.
Outings are essential, and Rory gets at least three daily, each from 30 minutes to two hours in length.
"Here in the East Village, we're lucky that so many shops are pet-friendly," Pulley says. 
Chasing leaves is a popular pastime, as are trips to Gray's Lake and the grassy expanses of the Capitol complex, where Pulley works. "He's definitely an outside, moving-around dog," Pulley says. "But I am a very active person, so it's not a problem for me."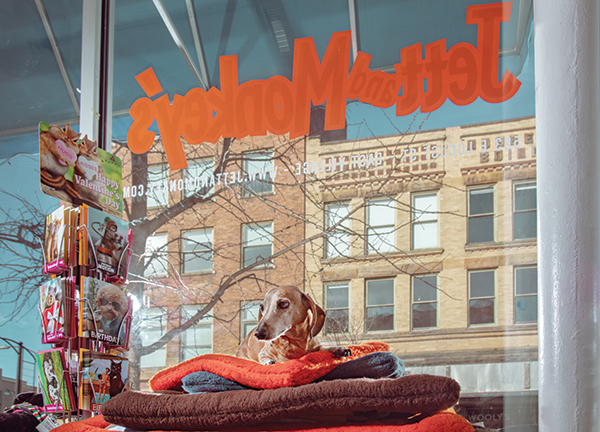 Jett-Setter
Jett is the Jett of East Village pet shop Jett and Monkey's. He's also a constant source of mischief and entertainment for Josh Garrett, a partner in the shop's operation.
A red dachshund, Jett is small enough to get exercise inside their Liberty Building condo, especially playing his favorite game, which involves 10 little toys. ("They don't squeak, which is great," Garrett says.) Toss the toys and Jett races around collecting them, not to retrieve but to stash by his food bowl. Game scoring is unclear, but Jett always wins.
Home life also involves a certain relaxed approach to Jett's day. Lounging in bed suits him. And while a balcony and elevators make going out easy, the marvel of "pee pads" makes it unnecessary if Jett isn't in the mood to deal with weather or the outside world in general.
An obvious art lover, Jett particularly enjoys strolling through the sculpture park when he's out on the town. Longer walks were more popular in younger days for this dog "of a certain age." (Jett is 13; his adopted brother Louie, also a dachsy, is 6.)  
"They thrive here," Garrett says of the dogs' downtown lifestyle. "They get to do whatever they want, basically." And for Jett, that means perfecting his role as a comfy "cuddle dog," Garrett adds. "He's awesome."
The Doorkeeper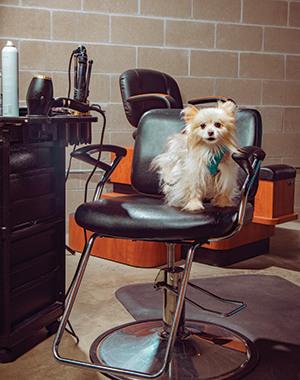 Slip into Salon Revolution on East Grand and your arrival will be announced in grand style by Lola. 
"She thinks she runs the place and wants everyone to know she's here," says salon owner Katie McGrath. She actually owns Lola, too, but the pixie pooch sees it as more of a partnership.
At age 9, Lola is "a very confident woman," McGrath says. Ironically, for one in the industry of hair care, little Lola suffers from a condition similar to alopecia, leaving her with thin, wispy hair that bothers her not a whit.
"I get asked if I cut her hair that way!" McGrath marvels. "Now, why would I do that?"
A delicate dog of uncertain heritage, Lola is "considered a Pomeranian," McGrath says. More important, she adds, "she keeps me company and lets me know if anybody is lurking outside my door." 
They found each other at Jett & Monkey's, the East Village shop that sells pet supplies and frequently has homeless dogs on hand that tug at the heartstrings of visitors. 
"I wasn't really a dog person at all, but was thinking about getting another cat," McGrath recalls. "But when I saw Lola, I had to have her." 
Since then, they've been essentially inseparable—days in the shop, nights in the apartment upstairs. "Lola likes to play with squeaky toys and go on walks," McGrath says. But only with a proper escort. When the shop door is open during nice weather, she shows no interest in venturing out on her own. Lola knows a good deal when she sees it, and she sees it whenever she looks up at McGrath or announces the next patron's arrival in the salon.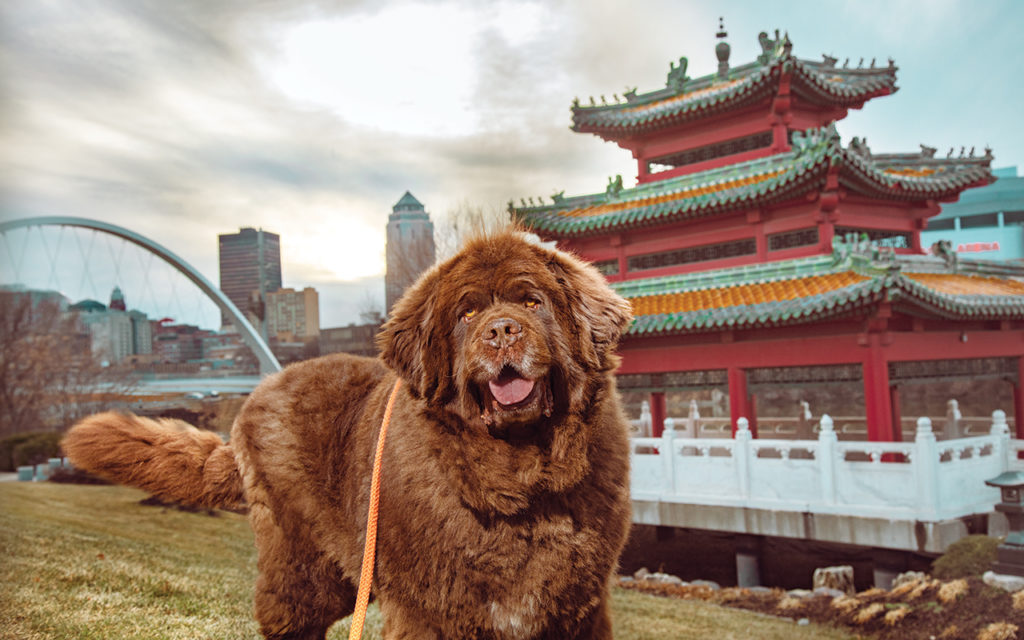 Largely Loveable
Imagine a big dog. No, bigger. That's Benson, a 150-pound chocolate Newfoundland. His grandfather was a champion show dog, but Benson doesn't let heritage go to his head. 
"He's a big goof," admits owner Lori Wilken. He, she, her husband, David, and youngest son Cole moved last year from an expansive home in a Minneapolis suburb to an East Village townhouse, close to the Asian pagoda. 
It's all good, as far as Benson is concerned. "He enjoys walks on the paths and seeing other dogs," Wilken says. Also known as Mr. Benson or Mr. B, "he's the most loved member of the family," says the mother of three. We're sure the kids understand.
With a heavy and permanent coat, he's also at the top of the thermostat pyramid. He prefers a cool room, thank you. "I have to wear a sweater," Wilken says, laughing in mock protest. "It's all about the comfort of dear Benson." 
At home, the big guy enjoys treats, naps and belly rubs, for which, Wilken says, "he rolls over like a grizzly bear." 
"He's really mellow, and at home he enjoys watching people walking past," Wilken adds. But in a household of three Wilkens, with two more in Minnesota, Benson knows his place: "He loves to be in the center of whatever we're doing."