Simplicity That Works
Writer: Wini Moranville
Rigatoni al forno? I'm not even sure why I ever ordered it. On the spectrum between simple-and-sublime and simple-to-a-fault, I feared it would veer unmistakably toward the latter, as so many restaurant renditions of baked pasta do. Seriously: pasta, marinara sauce, provolone cheese, all simply finished in the oven—how good could it be?
But then, I was at Lucca, a restaurant that trades on the Tuscan ethos of good ingredients, simply prepared. Here, the al dente pasta, swathed (not drenched) in a bright red sauce underneath a sheen (not a carpet) of buttery, lightly browned provolone cheese all added up to much more than the sum of its parts.
Still. I wondered just how a handful of ingredients could turn out so gratifyingly good at Lucca, when the same concept can fall woefully short at lesser venues. Did owner Steve Logsdon's recipe use some extraordinary olive oil and perhaps Italian imported San Marzano tomatoes and an artisanal cheese?
None of the above. While Logdson did specify using fresh basil and Barilla brand pasta, those and the other recipe ingredients are all everyday items we can easily source at a local supermarket. 
After watching him prep the recipe in Lucca's kitchen, I realized two things were key: the broiler and the à la minute (made fresh to order) way of cooking. By combining the sauce and pasta seconds before baking and running the cheese-topped combo quickly under the broiler (rather than giving it time to dry out in the oven), everything gets hot and bubbly, yet stays rich and moist. 
Add a green salad, open a bottle of red, and you're set for an easygoing Tuesday-night dinner that will make you and someone else very happy.
Lucca's Rigatoni al Forno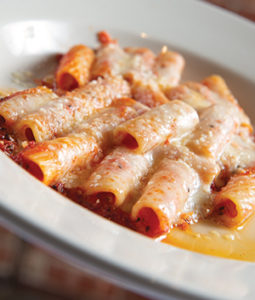 At Lucca, this dish is served as a main course at lunch or as one of the second-course choices on the nightly four-course dinner menu. The following recipe makes a perfect casual dinner for two. You can easily double the recipe to serve four, but you might have to broil it in two batches depending on the size of your skillet.
6 ounces dried Barilla rigatoni
1 cup marinara sauce (see recipe, below)
Salt and pepper to taste
4 deli-thin slices provolone cheese
Preheat the broiler. Cook the pasta according to package directions and drain well. Season the marinara sauce to taste with the salt and pepper. Toss the pasta with the marinara in a broiler-proof nonstick sauté pan. Arrange cheese slices in a single layer over pasta. Broil about 4 inches from the heat source for 2 to 3 minutes until the cheese bubbles and browns in places and the pasta is heated through. Divide between two dinner plates and serve immediately.
For the marinara sauce: Combine 1 14.5-ounce can crushed tomatoes, 1 to 2 tablespoons olive oil (to your liking) and 3 to 4 good-sized leaves of basil, finely chopped. Store any extra in the refrigerator.
---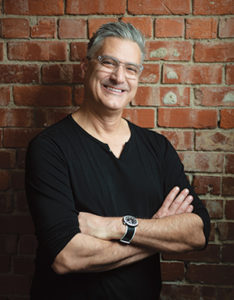 Chef's Tips
Attention to a few small details can make a big difference:
Be sure to drain the pasta well to avoid a watery dish.
Salt and pepper the marinara just before you're ready to use it (rather than in advance). 
Use a neutral-flavored olive oil to add richness without interfering with the flavors of the other ingredients.