Luscious Custardy Quiche
Writer: Karla Walsh
Photographer: Duane Tinkey
Eatery A is what I consider a unicorn of a restaurant. I can take my mom for a plate of lemon-ricotta pancakes at brunch. I can join friends to split a No. 14 pizza (chorizo, pineapple, jalapeño jam) during happy hour. I can wrap up a date-night dinner crawl down Ingersoll Avenue with a salted caramel budino. Nearly any time, nearly any company, nearly any craving, Eatery A fits the bill—and does so with style.
So when I heard Keith Johnson, the new executive chef as of January, was helping the kitchen launch lunches, I ran in. Johnson worked as sous chef under Nic Gonwa before Gonwa moved on to a new project with Jason Simon, the owner of Eatery A and Alba and co-owner of Harbinger.
"We figured we're here anyway prepping for dinner, so why not feed people, too?" he says, explaining why Eatery A chose to expand its hours to open at 10 a.m. every day (except Mondays, when the restaurant opens at 3 p.m.), rather than opening at 3 p.m. on all weekdays.
Johnson tweaked the current weekend brunch menu to build the new lunch lineup. Fresh additions include almost-too-beautiful-to-eat smashed avocado toast; fig and prosciutto-stuffed Pullman grilled cheese; and citrus bearnaise-topped wild crab Benedict (Johnson's favorite).
And a surprisingly complex and craveable quiche Florentine, which had me begging for the recipe at first bite.
"This quiche is Nic's recipe, which I tooled around with," Johnson says.
"I prefer my quiche to be more custardy than eggy, which is why I add more cream than the usual quiche might call for." 
Beyond the texture, what Johnson adores the most about this quiche is its customizability. "The filling is totally up to you," he says. "We do Florentine to keep it vegetarian, but you could definitely add bacon. Feel free to mix up the herbs if you like—you could even use dill for a pickle-inspired quiche. We use Gruyère, but you could use any cheese you like."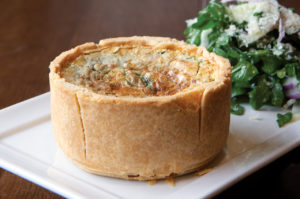 Quiche Florentine
Yield: One 9-inch tart or four 4-inch tarts
While the quiche can be served fresh from the oven, "this is actually best served the next day, since the flavors infuse," Johnson suggests. "After baking, chill overnight, then reheat for 10 to 20 minutes at 375 degrees."
Pastry
2 cups all-purpose flour, sifted
1 teaspoon kosher salt
8 ounces cold butter, cut into 1/4-inch pieces
1/4 cup ice water
Filling
2 cups milk
2 cups cream
1/4 cup fresh thyme leaves
1 teaspoon fresh rosemary sprigs
2 garlic cloves, peeled and sliced
1 fresh bay leaf
1 fresh, whole nutmeg
White peppercorns
1/4 cup grated Gruyère cheese
6 eggs
1 pound fresh spinach leaves, trimmed and blanched
1/2 teaspoon fresh tarragon leaves
For the pastry:
In a skillet over medium heat, heat 4 ounces of the butter. Swirl the skillet gently (to avoid burning) until the butter is a toasty-brown shade and begins to smell nutty. Take off the heat and place in the freezer to chill for at least 4 hours.
Before mixing the pastry, place the other 4 ounces of butter in the freezer for at least 1 hour.
In the bowl of a stand mixer, add 1 cup of the sifted flour. With the mixer running, add the butter, alternating between cubes of cold regular butter and cold brown butter. Mix until no chucks remain. Add the rest of the flour, then the water. Be patient: It will take time for this to come together. Remove the pastry from the bowl, press into a round disk and wrap in plastic wrap. Refrigerate at least one hour, or ideally overnight. 
Heat oven to 350 degrees.
Remove the pastry disk from the fridge. Dust a clean surface and a rolling pin with flour. Roll the pastry into a 12-inch circle, about 1/16-inch thick. 
If making small tarts, use a bowl about 5 inches in diameter as a tracer to draw four circles and carefully transfer them into four 4-inch tart pans. Otherwise, transfer the entire pastry into a 9-inch tart pan. Press down the pastry to even out the folds, and run a knife around the edge of the tart pan to slice off extra pastry. Use those scraps to patch any holes in the pastry.
Cover the pastry with parchment, then top it with dry beans or pie weights to prevent bubbles within the pastry.
Bake for 60 minutes, or until the pastry is golden brown.
For the filling:
In a saucepan over medium heat, bring milk and cream to a boil. Turn down to a simmer. Add thyme, bay leaf and garlic. Simmer for 30 minutes, then turn off the burner and allow the milk mixture to cool to room temperature. 
Strain to remove the solids from the milk mixture.
Using a microplane, shave the fresh nutmeg over the milk mixture six times. Crack in fresh peppercorns to taste.
In a blender, combine milk mixture, cheese and eggs. Blend for 30 to 60 seconds or until foamy on top.
To assemble: 
Heat oven to 325 degrees.
On top of the baked pastry, fill pan(s) halfway with filling. Top with spinach and tarragon, then top with enough filling to almost reach the edge of the pan.
Bake for 60 minutes.
---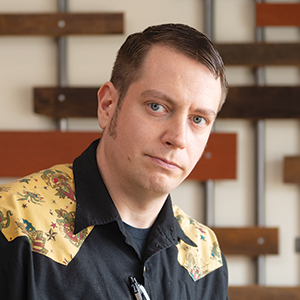 Chef's Tips
Whip it good. A blender is crucial for the filling. It adds air and lightens the texture.
Be patient. Tart dough is finicky, but it freezes well. Plus, once you have the method down, it comes easier. Do it a few times and you'll start nailing the texture. Feel free to make the pastry for multiple tarts, then freeze until ready to use.
Outsource. If you don't want to fuss with making pastry, buy a tart shell or pie crust at the store.
Think fresh. Use a microplane to grate fresh, whole nutmeg into the filling instead of using the pre-ground kind. Crack your pepper fresh, too, if you can.
Go nuts. It's worth taking the time to brown the butter to mix with the regular butter. It adds a nice nutty quality to the tart shell. Keep an eye on it: Black is burnt. It should be toasty brown.
Tools For the Trade
Tart pan(s)
Rolling pin
Parchment paper
Pie weights or dried beans
Blender
Stand mixer