Above: Riane Menardi Morrison is making her mark as a quilt designer. She hopes to bridge interior design and quilting by pursuing a modern aesthetic accessible to beginners.
Writer: Brianne Sanchez
Photographer: Austin Hyler Day
Stylist: Lauren Day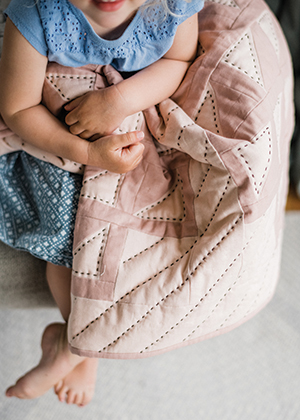 From above, Iowa is a quilt. Varied shades of green stitched together by highways, vibrant towns and cities pieced in at intervals between. 
That patchwork of tone-on-tone fields creates a minimalist aesthetic embraced by modern quilters whose take on the functional folk art is more West Elm than Cracker Barrel. 
Many of the quilts in Riane Menardi Morrison's "Inheritance" collection, for instance, look like Iowa in winter. She favors neutral backgrounds—snowy whites and creams in cotton and linen—populated with pops of color, and hand quilts with a Japanese Sashiko style in contrasting cotton thread. 
At 29, Morrison is part of a new generation creating and connecting through quilting—and making a career of it. The heirloom-quality materials, simple designs and labor-intensive techniques she chooses reflect her embrace of quilting as a productive antidote to scrolling and screen time.
"Having something to do with my hands after a full day at the computer is so rewarding," Morrison says. "A lot of the good ideas I have come when I'm stitching. You let your mind wander, and your hands stay busy."  
Morrison's grandmother taught her the basics of quilting when she was struggling to find her way as a freshly minted journalism school graduate. The Wyoming native and Drake alumna was living with her grandparents in Des Moines; her primary job prospect had evaporated when Meredith's ReadyMade magazine folded just as she was transitioning from intern to full-time employee. 
"At night, I'd go sew and drink wine and think about what's next," Morrison says.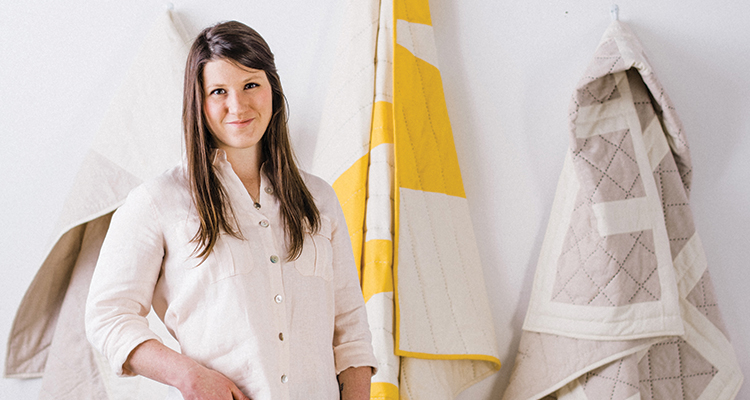 Riane Menardi Morrison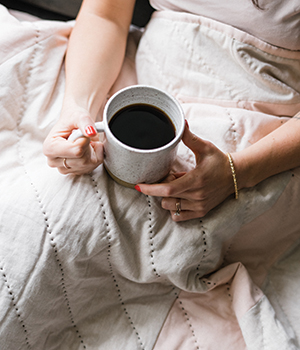 'Big Metaphor'
She dug through her grandmother's fabric scraps and, although the prints weren't her style, she found solace at the sewing machine. 
"I went block-by-block during that time, and by the end of the summer I'd finished the quilt, had a job and a new boyfriend who is now my husband," she says. "It just became this big metaphor for my life coming together." 
Morrison held a series of positions in the creative startup world before landing her current role as communications manager for the Modern Quilt Guild, an online community and global membership network. Her goal in publishing her work in a 168-page book, "Inheritance: Minimal Quilts for the Modern Home," is to make quilting accessible and to bridge the gap between interior design and handcrafted goods. 
Deb Gore Ohrn, a former crafts editor at Better Homes and Gardens, met Morrison at the beginning of her quilt journey, when they both worked for Goodsmiths, a now-defunct online craft marketplace. The two traveled together to the inaugural QuiltCon in 2013, which has become the largest modern quilting show in the world. Part of Morrison's role with the Guild now involves putting on the show in the United States and traveling internationally for quilting conventions in places like India and Australia. 
"Riane has the opportunity to meet the foremost quilters, makers and artists because they're coming to QuiltCon," Ohrn says. "As she goes to different countries, we're going to see her work evolve. She's going to blend styles and make it her own."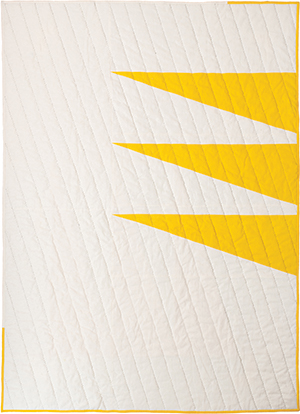 Inclusive Community
Ohrn sits on the board for the Iowa Quilt Museum in Winterset, and recognizes that although the modern quilt movement is a reinvention of a craft that's been around for ages, it's refreshingly representative. 
"The modern quilt community is so inclusive and diverse," Ohrn says. "It's not just millennials—you'll see every color and ethnic group." 
Morrison was instrumental in starting the Central Iowa chapter of the Modern Quilt Guild, which meets monthly in local libraries to talk techniques and collaborate on contemporary designs. The craft has much in common with traditional quilting, but fabric choice and design trend toward large-scale blocks, negative space and contemporary themes. 
"We all kind of coalesced around the same aesthetic," says co-founder Jessie Zeigler, who owns Threaded Quilting Studio in Adel. "I wanted to talk with people in person about what we were inspired by online." 
At a recent Guild meeting, the topic was transparency, and members practiced designing to create optical illusions wherein fabric pieces appear to float over one another. They brought works in progress, like an enormous, intricately pieced quilt with an elephant design, and planned squares for a charity quilt. 
Carol Noyes, one of the Central Iowa group's other founders, loves to use recycled denim, wool and cotton in her quilts and calls longarm quilting (which requires a special type of sewing machine) her "doodle therapy." Her daughter, Nyah, is featured in many of the images of "Inheritance," which was photographed and styled in Des Moines by Austin Hyler Day and Lauren Day. 
Meaningful Heritage
The modern quilter's quest to make something meaningful is in keeping with a heritage that's about much more than style. Noyes draws inspiration from the women of Gees Bend, an African American community in Alabama where generations of women have honed an art for improvisational quilting. And she's involved her daughter in quilting, too. 
"The use of old clothes of loved ones, repurposing sacks that held household goods and sustainability captured my interest and continues today, especially in the modern quilting community," Noyes says. "Modern [quilts] are meant to be used and loved, which carries on the traditions of ancestors." 
Quilts are also a way for their creators to speak out and find a voice through craft. 
From the political activism of Civil War-era quilts, which purportedly held codes to guide enslaved people along the Underground Railroad toward freedom, to the feminist and "resistance" quilts of today, each generation of quilters finds designs that feel relevant—even urgent. And then they take it slowly, pouring dozens of hours into each quilt. The results speak for themselves.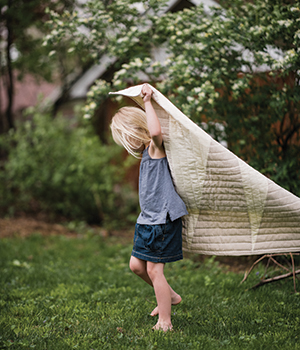 Riane Menardi Morrison's books:
• "Modern Quilts: Designs of the
New Century" (Stash Books, 2017).
• "Inheritance: Minimal Quilts for the Modern Home" (Material Goods, 2018).