Above: Faith may play a role in the recovery of residents at Bernie Lorenz Recovery House. It certainly helped organizers of the home's renovation, who had faith in the contributions that made the project possible.
Writer: Kelsey Batschelet
Photographer: Duane Tinkey
When Andy Rowland, owner of Rowland Construction Co., first visited the Bernie Lorenz Recovery House last year, he was shocked: "I thought, 'Oh man, this place needs some work.' "
Indeed, the 3,463-square-foot house on Kingman Boulevard—home to up to 17 women participating in a 60- to 90-day recovery program—had fallen into severe disrepair. Outdated and shabby, the house contained dilapidated furniture, worn-out cabinetry and carpeting, peeling walls, and antiquated appliances.
Rowland had been asked to tour the century-old house by community advocate Loretta Sieman and Speak PR CEO Carolyn Jenison, who works with Prelude Behavioral Services. Prelude runs the program at Bernie Lorenz, providing a transitional home for women who have completed primary drug or alcohol treatment and are preparing to lead independent lives.
"The correlation between positive living spaces and mental health is widely documented," says Ron Berg, CEO of Prelude Behavioral Services. "We know strengthening women's environments strengthens their chance of success in recovery."
Sieman and Jenison joined forces in 2019 to launch a $170,000 campaign to repair and renovate the house. "I donated my couch to the home when we opened it—and it's still in the living room," says Sieman, who was a member of Junior League when the organization established the residence in 1989. "How can we tell women their life will be better when they come here and [find the house is] worse than where they came from?"
Renovation Work
Rowland and his team have been rehabilitating the Bernie Lorenz house in stages so the women can remain in residence. "They've all been excited about the project," Rowland says.
The process has been a bit unusual for the company, which typically consults with homeowners throughout a renovation project. Since Bernie Lorenz's residents change, the construction crew has turned to the house's architectural plans when questions have come up. One challenge the team faced was when a wall believed to be non-load bearing turned out to be essential to the home's stability. Fortunately, Rowland says, it was simple to solve with the help of a structural engineer.
The '60s-era kitchen was gutted and now has minimalist flat-front cabinetry and sleek countertops.
"All the appliances were donated, and we've received discounts on the cabinets and flooring throughout the house," Rowland says.
As the heart of the home, the kitchen renovation may be the most important improvement. "The kitchen is gorgeous," Sieman says. "Carolyn and I were so proud; we went in and painted the walls ourselves because we just needed to touch it and be a part of it."
Four bathrooms also have been renovated to be more accessible; they contain all-new plumbing, showers and flooring, modern lighting fixtures, and new vanities. To ensure design continuity, the bathrooms' cabinetry, flooring and countertops are like those in the kitchen.
In addition, new mechanical and electrical systems have been installed.
Design Aesthetic
Work is continuing this spring on the rest of the house. Shelving is going up in all eight bedrooms, which are also now equipped with lockable, under-bed storage bins. The living room is being completely made over and will include new donated furniture.
The finishes throughout the home will share a modern, neutral aesthetic, with classic grays, whites and creams dominating the color scheme. All are intended to promote calm, purposeful living. "A person's mood and emotion are affected by color. A soft color palette will be used throughout the common areas, with some punches of color in the private spaces to create individuality and inspiration," says Becky Rogers of Daffodil Interiors, who is offering pro bono interior design services to Bernie Lorenz. "The goal is to create pleasing, engaging spaces where residents can gather in a family dynamic, while still having their own space to retreat for relaxation and reflection."
Once the interior is finished, the exterior will receive a face-lift as well, including fresh paint, additional landscaping and a safer fire escape.
"I went from being homeless to coming home to a warm, safe place every day—it was a wonderful feeling," says Jessica Thorne, who was a resident for three months in 2017 while recovering from 25 years of drug use. She has since started her own company, Maid in the Heartland. "If I hadn't been at Bernie Lorenz, I know I would have relapsed. Being sober is scary—it's a new world, and you need support."
When the renovation is completed later this spring, it will be ready to host a new group of women in its eight bedrooms. One woman will find herself in the same room Thorne slept in during her stay three years ago. But this time, the paint will be fresh, the bed will be new and at the foot, there will be a "hope chest."
"Each woman will receive a chest during her stay," Sieman says, "so when they leave, they have something to take with them."
Before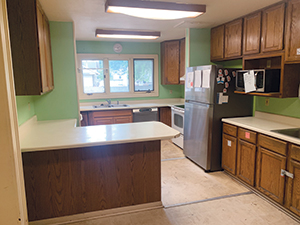 After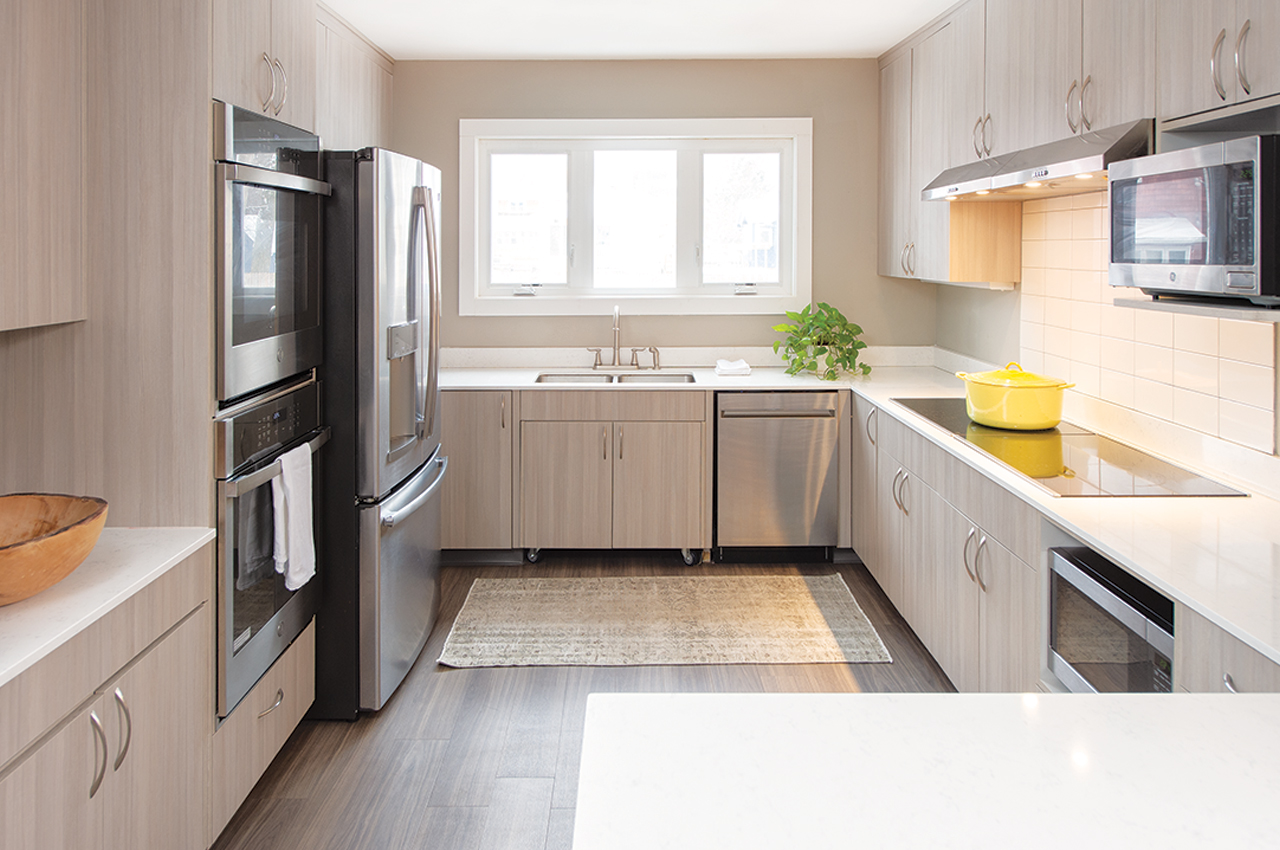 The new kitchen is the heart of this home, completed in a calming neutral palette.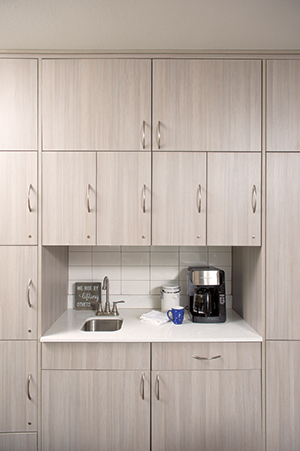 A cozy coffee nook adds a homey touch—and aroma—to the kitchen. The cabinets above and to the left serve as personal lockers for the residents.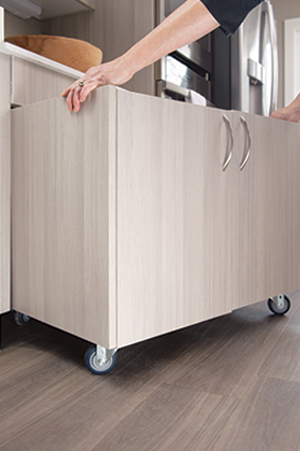 Roll-out cabinets offer plenty of space for storage. Moving them provides wheelchair access to the countertops.