Above: Chinese artist Ai Weiwei's work of hand-painted porcelain sunflower seeds helps Des Moines Art Director Jeff Fleming see that "we all share a connection through similar, yet vastly different, histories, desires and adversities."
Ai Weiwei (born 1957), "Kui Hua Zi" (Sunflower Seeds), 2009. Hand-painted porcelain, dimensions vary; Des Moines Art Center Permanent Collections.
Jeff Fleming
Director, Des Moines Art Center
A huge pile of what looks like sunflower seeds may seem like an odd choice for a work of art that gives me comfort and inspiration (see image, previous page). Nevertheless, I find this work's ability to illuminate the human experience reassuring. The Chinese artist Ai Weiwei creates hundreds of thousands of handmade, hand-painted porcelain sunflower seeds to illustrate his family's past in reeducation camps during the Cultural Revolution as well as the depth of his country's cultural and social history. Here, shared notions of tradition, aesthetics, labor and the familiarity of the everyday connect Ai to his world. I find inspiration in realizing we all share a connection through similar, yet vastly different, histories, desires and adversities. A simple accumulation of seeds can hold many stories.
Simon Estes
Operatic Baritone
In times of crisis, I turn to songs that have beautiful melodies, touch the heart and convey messages about love and caring for one another, like "You'll Never Walk Alone." The gospel song "Precious Lord, Take My Hand" is one of my favorites. I started singing it at age 7 in church in my hometown of Centerville. In 1968, right before a performance in Canada, I found out Martin Luther King Jr. had been assassinated. I was devastated. I went to the concert but changed my planned encore to "Precious Lord." Ever since then, I've sung it for my encore in nearly every concert I've given. I also draw solace from praying and reading the Bible every day and from the commandment to love your neighbor as yourself, which is as relevant today as it always has been.
Stephen King
Executive Director, Des Moines Arts Festival
I'm inspired by the voyeurism artists are keenly talented to provide, whether it's artwork or a song that comes on the radio just when you need it. Blaring Talking Heads' "Once in a Lifetime" gets my creative juices flowing and helps me work through a challenge. And then there is "Doc," an old man wise in his years with a twinkle of pride in his smile.
"Doc" is a monotype by Dale Rayburn that hangs on the wall next to my office desk. His glance always seems to find mine when I need comfort and assurance. He sees deep into my soul. It freaks me out. But in a good way.
Joseph Giunta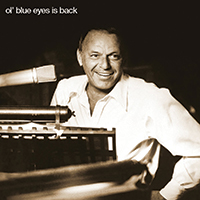 Music Director and Conductor, Des Moines Symphony
I have a couple of go-to places that always bring me comfort and peace. Any of the Unaccompanied Cello Suites by J.S. Bach or his Second Partita for solo violin bring me great inspiration. Also, being a big Frank Sinatra fan, the album he released in 1973, "Ol' Blue Eyes Is Back," is full of ballads like Sondheim's "Send in the Clowns," Paul Anka's "Let Me Try Again" and Joe Raposo's "You Will Be My Music." The arrangements are by the fabulous Gordon Jenkins and Don Costa. It just doesn't get any more inspirational than that!
Sally Dix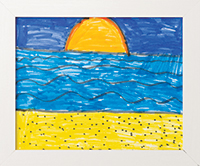 Executive Director, Bravo Greater Des Moines
Since I was a little girl, I have been lucky enough to travel with my family to Florida almost every summer. Flip-flops and swimsuits are all we need, and the white sand beaches, blue-green water and heavy salt air make me happier than almost anywhere else in the world. My husband and I are fortunate that we've been able to share this tradition with our kids, and a few years ago, my son Will drew me a picture for my birthday (pictured above).
He wrote "Welcome to Paradise" on the back, and it hangs right above my bedside table so it's the first and last thing I see each day. It brings back decades of happy memories and inspires me to think of sunny days yet to come.
M. Jessica Rowe
Director, Des Moines Public Art Foundation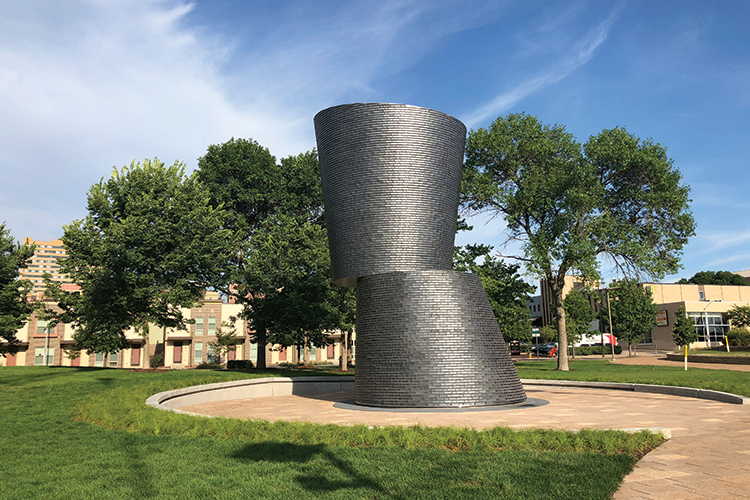 Using a form inspired by a West African talking drum, artist Kerry James Marshall created "A Monumental Journey" to honor the African American attorneys who founded the National Bar Association in Des Moines in 1925.
In the midst of the COVID-19 crisis, I find the public art project "A Monumental Journey" (2018) by artist Kerry James Marshall to be a powerful reminder that we all deserve to be treated equally and with dignity and compassion. The work honors the legacy of 12 African American attorneys who founded the National Bar Association at a time when attorneys of color were not welcome in the American Bar Association.
During a recent visit, I stood in awe of this 30-foot-high
sculpture at the corner of Grand and Second avenues. Using a form inspired by a West African talking drum, the artist created the notion of communication among diverse peoples and our legal system that strives to be balanced. Masterfully engineered with black brick and steel, the sculpture gives us a sense of stability, endurance and longevity. In these times, its message of hope, courage and resilience can inspire and sustain us all.
Jeff Chelesvig
President and CEO, Des Moines Performing Arts
A little known fact about me is that I've been a classical music buff since I was in college. When I was younger, I had the good fortune to sing in choral groups in four different cities, and with most of them I was able to perform large choral works with orchestras. Lately, I've turned to some of those works for solace, including "Gloria" by Francis Poulenc, one of my favorites. I also have been listening to some of the larger-scale works for chorus and orchestra, such as Mozart's Requiem and Symphony No. 2 by Gustav Mahler.
Robert Warren
Executive Director, Hoyt Sherman Place
I am excited and haunted by the human voice at all times. Currently I am drawing strength from those artists who you can tell by their vocals have lived through hard times. Etta James is a go-to, and my heart melts when I hear Shirley Horn sing "Here's to Life."
Peter Stevenson
Executive Director, Civic Music Association
After my father died in February, a friend gave me a book by the music critic Philip Kennicott called "Counterpoint: A Memoir of Bach and Mourning." It's a beautiful memoir focused on Kennicott's relationship with his dying mother and his lifelong study of Bach's "Goldberg" Variations, an astonishing piano composition comprising an aria and 30 variations on a musical theme. I finished the book, then started listening to the Variations. They are amazingly structured, so solid, so confident and assured. At the same time, they're simply beautiful and moving. Just what I need at a time like this.
Sue Woody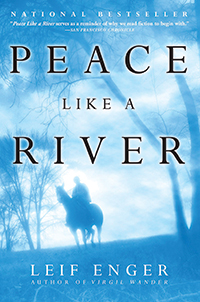 Director, Des Moines Public Library
With the library shut down and having run out of the books I had checked out, I turned to my own bookshelves and found that all of the books that I never had time to read were faithfully awaiting my return. So I pulled out "Littlejohn" (1992), a quiet, lovely book by Howard Owen. Next, I reread "Peace Like a River" (2002) by Leif Enger, a poignant story of family and faith with a touch of the miraculous. And then I found "Ordinary Grace" (2013) by Minnesota author William Kent Krueger. Krueger's writing was so exquisite, I wanted to read it slowly just to make it last longer.
Finding stories like these let me escape to different times and places, and when I resurface, I come back feeling thankful for the times in which we are living. As challenging as they are, there have been times far worse. And I wonder: What inspirational stories of strength and survival will we be reading in the future as a result of our struggles today?
Mitchell Squire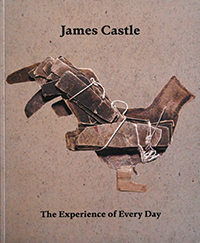 Artist and Professor of Architecture, Iowa State University
During the coronavirus crisis and its social distancing mandate, I've been thinking a lot about James Castle (1899-1977). Deaf from birth, the self-taught artist from Idaho never learned to speak, sign, read or write. He used "cardboard and ink made from stove soot and his own saliva … creating images and motifs based on his experiences on his family's modest farmstead," notes "The Experience of Every Day," a catalog produced by the Minneapolis Institute of Arts.
When I learned about Castle in 2017, his work and his story deeply moved me. They confirmed what I had been asking internally but did not know how to articulate: What does it mean to be an artist without the art world's trappings of exhibitions, reviews, acquisitions, grants, etc.? I found the answer in Castle: I must concede to being vulnerable and possibly derailed from my current path by my everyday surroundings and creative impulses. Although Castle had a loving family, one could say his was an uncommon isolation. Like Alain de Botton suggests in "The Architecture of Happiness," "happiness might … be found in frangible scenes of beauty that move us because we are aware of the darker backdrop against which they are set."
Michaela Mullin
Writer and Editor, Nomadic Press
The average visitor to a museum views each work for no more than 30 seconds. I've been thinking about how often we spend even less time than this when the art belongs to us. So I've been taking the time to look closely at the art by friends and local artists with which I surround myself at home—such as Phillip Chen, Larassa Kabel, Kathranne Knight, Dennis Atherton, Edgard Camacho, Rachel Buse, Rob Stephens, Jordan Weber, Robert Schulte Jr., Christopher Chiavetta and Christine Mullane—and it helps slow me, my mind and my heart rate.
Christopher Chiavetta
Artist
The "Metamorphosis" cycle by Philip Glass has served as my own personal soundtrack during quarantine. Named after Franz Kafka's story of a salesman who is transformed into an insect, it's evocative, repetitive and totally solitary in mood. I spend most of my time these days making simple, provisional objects in my backyard; making connections between the materiality and my actions in a direct manner is what I find most meaningful. Or as Glass puts it: "The emphasis of the music is on directness and about simplicity, and all that other stuff kind of just gets in the way."
David Kilpatrick
Executive Director, Des Moines Community Playhouse
When I'm feeling extra stress or really need an escape, I put on "Les Miserables," the entire show album. While listening to the music, I often "air conduct" and dream about what I would do when I can stage the show again. Even in a world of the downtrodden, the music is so inspiring and hopeful. And today, we sure need the hopeful!
Carol Spaulding-Kruse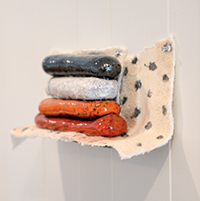 Author and Professor of English, Drake University
The work of Iowa artist Jim Shrosbree has been very much on my mind, particularly his sculptural pieces from 2016. I think we're living in an organic interregnum, a between-time full of possibility for rethinking our being in nature and culture. In an interview with Art & Object, Shrosbree talks about his pieces as "abstract organic shapes" inflected with an "industrial element." For me, they exist in a between condition, as potential, emergent. They're not particularly hopeful, but they're not not hopeful. The rest is up to us.
John Domini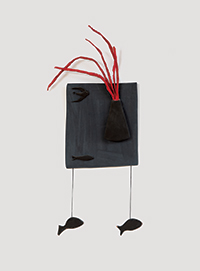 Author
The arts comfort me in many ways, and in some ways the most wonderful occasions come when that comfort surprises me. An old standby I turn to is the poet John Berryman, an American of the previous midcentury, and his "Dream Songs." These were composed over the last few decades of his life, 300 or so odd, short poems— busted sonnets, many of them. They meditate on both what's lost and what won't quit lingering, in ways that knock the head sideways, sometimes even eliciting a chuckle, yet always sounding some resonant note within.
Another source of comfort, one that's been out of the blue, is a rough ceramic wall-hanging I bought from an old friend in Naples, Italy, who works under the name Oni Wong. Until lately it'd always seemed mostly a sweet, imaginative reminder of Naples, with its volcano and the sea creatures, all almost hidden in the dark. Lately, though, its powerful balance of red and black has drawn me for closer looks, and I always come away feeling refreshed, even strengthened. Is it the vitality of the thing? Once when Vesuvius erupted, after all, it was the end of the world for a few cities—and yet look at those unconcerned fish, and the seabird putting her head down in order to fly through the storm.
Matthew McIver
Artistic Director, Iowa Stage Theatre
The art that lately has given me the most comfort is my CD collection. I've gotten CDs out of boxes, moved the stereo into my office at home, and have been going back through albums I haven't listened to in years, such as Lou Reed's "Magic and Loss" and Bob Mould's "Black Sheets of Rain." It's been wonderful to think back to the times and places in my life when I was listening to those songs and how much the music has meant.
Abbie Sawyer
Musician
During the pandemic, I've gravitated to the Indigo Girls' 1995 "1200 Curfews" live album. The songs light my soul, reminding me of a formative time in my own musical journey—when I first crowed harmonies at high volume and found comfort in the power of the voice. More than that, though, is the thrill of the audience and musicians captured on the recordings. It reminds me of the energetic charge we're missing from being in the presence of others in this time of quarantine, while mapping a course to what I hope is soon restored.
Michael Egel
General and Artistic Director, Des Moines Metro Opera
I find so much joy in the music of Mozart of all types—slow, fast, instrumental, piano or opera. To me, it always seems infused with divine nobility, wisdom, hopefulness, optimism and a laughter just below the surface waiting to burst forth. It assures me that better days are ahead. These days I'm listening to the fourth movement of his "Jupiter Symphony." I've just recently "discovered" it—or perhaps it just strikes me differently at this stage of life than in earlier student days when I was required to listen to it to pass a test.
Tina Haase Findlay
Vocalist
As much as I love music, lately I've been soothed by offerings outside my usual default. I like to let algorithms fetch me eclectic new things to explore, which helps me stay in a dynamic internal flow, not bogged down in external worry. For instance, the visceral visual art of Kandinsky and the moody classical music of Erik Satie have been feeding my soul. Both have strangely allowed me to briefly wallow in the panic of it all, while gently redirecting me to carry on.
Lee Emma Running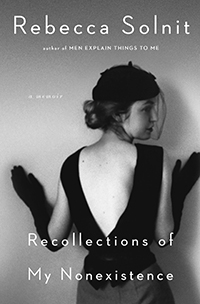 Artist
During the pandemic I listened to Rebecca Solnit reading her new book "Recollections of my Nonexistence." I love all of her work and found it incredibly helpful to have her voice in my ear as I moved back into my studio after a residency was canceled. I am inspired by the revelatory connections she makes between, art, urban life, the land, feminism and personal experience. I felt hailed by her reminder that the definition of encouragement is "a word that, though it carries the stigma of niceness, literally means to instill courage."
Larassa Kable
Artist
When I am feeling particularly stressed, I like to listen to "Long Ride Home" by Patty Griffin. It's a beautiful song about a man coming home from burying his wife, which I know doesn't sound very upbeat, but the lyrics—"Forty years go by with someone laying in your bed, Forty years of things you say you wish you'd never said, How hard would it have been to say some kinder words instead I wonder as I stare up at the sky turning red"—are a way of reminding me of what is really important in the broad scope of my life. More often than not my current concerns become smaller when I think about this long view of life, and I am able to redirect my attention to the things that matter most to me: connection and kindness with my family, friends and community.
Hannah Wolle
Violinist with the Des Moines Symphony and Dueling Fiddles 
When I need a source of comfort, I revisit my classical music roots and start listening to all different composers and eras again. I often begin with my favorite composers (Bach, Beethoven and Brahms), but then I begin exploring other composers and those more off the beaten path. This experience always gives me solace and reminds me of the beauty of the music I love playing and sharing with the community.
Oyoram
Artist
Diving into a new art project is my only way to deal with this crazy horse called pandemic. It's an illusion, I know, as all art is—a window looking outside yet pointing into your own soul. I'm actively working on my new immersive installation, "Le Ring II," that will be inaugurated in my studio as soon as restrictions are lifted.