Writer: Karla Walsh
Photographer: Dera Burreson
Stylist: Sammy Mila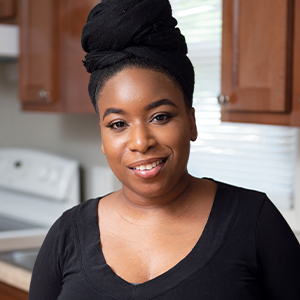 At age 3, standing on a stool next to her great-grandmother, Jasmine Hayes learned to love being in the kitchen. By sixth grade, she was sneakily experimenting with flavors and recipes.
"While Mom was out of the house, I'd take anything from the kitchen and play around," she recalls. "I often made crispy fried shrimp, and I tried to bake rolls a few times. It's not easy, especially at age 12 and without a recipe. Sometimes it turned out, sometimes it didn't."
Hayes spent years in the corporate world at businesses like Wells Fargo and Mercy, "but couldn't see myself doing it forever. I needed to focus on something that I love to do. That's cooking," she says.
So in 2015, she enrolled in DMACC's Iowa Culinary Institute to earn a degree in culinary and hotel restaurant management. By the time she graduated in 2017, Hayes had sharpened her skills with both savory and sweet—her almond petits fours were a hit during a baking exam.
Hayes launched her business, Jazz It Up, a personal chef service, in 2018. The name is a riff on her own name, Jasmine, plus "I jazz up a lot of different menu items and create art from something initially basic," she says. "I love to put my own stamp on comfort food from many different cuisines."
For this decadent dessert, she was inspired by a gift of homemade banana bread and knew she could enhance the flavor with some boozy bananas. "Now my husband won't stop asking for it," Hayes says with a laugh. "I usually don't love warm fruit, but for some reason, this is different."
No banana bread handy? Try the sauce over ice cream or yogurt, spoon it onto pancakes or French toast, or pile it atop a cinnamon-sugar doughnut or churros.
---
Bananas Foster-Topped Banana Bread
Serves 2
Ingredients
2 ripe bananas
1 tablespoon banana liqueur
1 tablespoon spiced rum
3 tablespoons butter
1/2 cup brown sugar
2 slices banana bread, warmed
Vanilla ice cream (optional)
Directions
1. Cut bananas in half, then cut each half into halves lengthwise. Set aside.
2. Melt butter in a saucepan, add brown sugar and stir until sugar is dissolved. Sugar should begin to bubble and caramelize.
3. Add bananas to the caramel mixture. Toss to combine or gently stir with a spatula.
4. When bananas are coated, remove pan from heat and add banana liqueur and rum. Return to heat. If using a gas stove, slightly tilt the pan and the banana mixture will set aflame. If using an electric stove, just light mixture with a lighter.
5. Once flames have gone out, let bananas cook for a few seconds more, then pour over warm slices of banana bread. If desired, serve with vanilla ice cream.
---
Secrets for Success
After testing this recipe multiple times, Jasmine Hayes discovered a few tricks of the tropical dessert trade.
Opt for salted butter. This way, the caramel sauce gives a nod to trendy (and tasty) salted caramel.
Play it safe. "If you're a beginner at flambéing, remove the pan from the heat source when adding the alcohol. This way, you can control when you are ready to light your bananas. If you decide to add alcohol while over the flame, be ready—it may catch fire as soon as you do so."
Use a long candle lighter to flambé. Again this is for safety reasons so you can be as far away as possible from the fire.
Shop smart. Stock up on small "shooter" bottles of rum and liqueur. They're typically 50 milliliters and will be more reasonably sized and priced than buying a regular-sized bar bottle.
---
Jazz Up Your Next Event
If you want to outsource the cooking duties this holiday season (and beyond), Hayes' specialty is private in-home dining. "I customize every menu based on a client consultation and have hosted birthday and anniversary gatherings," Hayes says. "I come to you, set up the table decor, cook and clean up so you can just enjoy your one-of-a-kind menu."
While each menu is unique, Hayes says her shrimp and grits are a popular request. They feature cheesy grits, jumbo seasoned shrimp, a salmon croquette, bacon, marinated rainbow cherry tomatoes, and Parmesan cream sauce. Check out @chef_jazz_ on Instagram for a sneak peek, then start planning your one-of-a-kind dinner party with Hayes on her Facebook page.